Dir/scr: Florian Gallenberger. Germany-France-China. 2009. 134mins.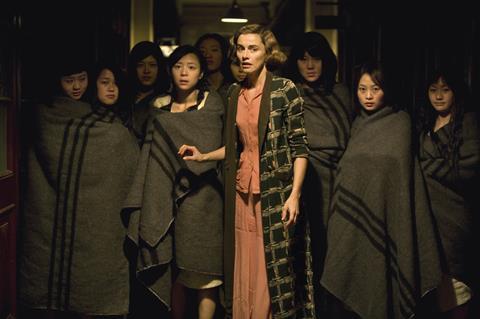 Courageous German businessman John Rabe, who was partly responsible for saving an estimated 200,000 people during the Japanese Rape of Nanjing, is given a worthy, stirring, old-style widescreen memorial in this $20 million epic.
Though the drama follows the time worn 'ordinary hero' template through a series of high-stakes challenges, the film is held back from slush and cliche - most of the time - by its play with the fact that the 'Schindler of China' was a fairly loyal, uncritical member of the Nazi party, and by its narrative grounding in the real John Rabe's diaries which only came to light more than forty years after his death in 1950.
Buscemi's argumentative cynical, hard-drinking doctor character serves his purpose well
The film also benefits from being well-crafted in just about every department, from veteran DoP Jurgen Jurges' painterly camerawork to Lisy Christl's emotionally sensitive costume design. It's early days yet, but it wouldn't be a huge surprise if this turned out to be Germany 's Oscar candidate for 2010.
However, this is very much a Western take on Rabe's moving story. The cast seems cleverly designed to appeal to a range of territories - Ulrich Tukur and Daniel Bruhl from Germany (though the latter can be considered an international draw by now), Anne Consigny from France, and Steve Buscemi keeping the Anglo-Americans happy. With the right pitch, and perhaps some tweaking of the unresonant title, this could notch up some action in Europe and North America outside of its German-speaking core market.
But success in Asia is less assured. Japan (which has never formally acknowledged its role in the Nanjing massacre) can pretty much be crossed off the list - one sympathetic Imperial Army officer is hardly going to be enough - and even China may demurr, despite the bait of local star Zhang Jingchu (Peacock, Seven Swords). Not because of the obscurity of the subject - Rabe is apparently the most famous German in the country after Marx and Engels - but because there is little appetite in the New China for stories in which the Chinese (mostly) serve and Europeans (mostly) command.
John Rabe opens with a swish choreography of extras and crane shots, setting a polished Cinemascope agenda as it establishes (via captions and some newsreel footage) the historical context. Having taken Shanghai, the Japanese army is now, on 1 December 1937, advancing towards Nanjing. Meanwhile Rabe, played with a winning mixture of stubborn strength and vulnerability by Tukur, is about to be transferred back to Germany with his wife Dora (Manzel) by Siemens, whose Nanjing factory he manages. But the aerial bombardment of the city delays the couple's plans for departure, and gradually, as the beseiged city's plight worsens, company and family man Rabe is transformed, to his slight bemusement, into a hero.
Buscemi's argumentative cynical, hard-drinking doctor, Consigny's passionnate headmistress dedicated to the welfare of her girls, the conscience-stricken young Japanese officer played by Kagawa - these are stock characters, but they serve their purpose well.. And with its deftly-managed conflict-and-rest structure, its graphic account of the suffering of war, its strong sense of moral indignation veined with moments of humour, this rousing, old-fashioned heroic melodrama doesn't really need to add originality to its other virtues.
Production companies
Hofmann & Voges Entertainment
EOS Entertainment
Majestic Filmproduktion
International sales
Beta Cinema
(49) 89 673469 80
Producers
Mischa Hofmann
Jan Mojto
Benjamin Herrmann
Cinematography
Jurgen Jurges
Production design
Tu Juhua
Editor
Hansjorg Weisbrich
Music
Laurent Petitgirard
Annette Focks
Main cast
Ulrich Tukur
Daniel Bruhl
Steve Buscemi
Anne Consigny
Dagmar Manzel
Zhang Jingchu
Teruyuki Kagawa