Jonathan Pryce was unsure about stepping into the role of Pope Francis in The Two Popes. He tells Screen why discovering the man's flaws helped him understand being God's messenger.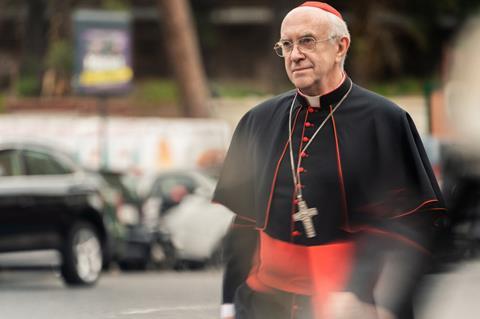 When Cardinal Jorge Bergoglio first put on the papal robe in 2013 and became Pope Francis, many film lovers suggested that a physical similarity made Welsh actor Jonathan Pryce a highly suitable candidate should there ever be an opportunity to play him on screen.
Pryce, however, was not quite so keen. "It's something you should run a mile from," he says, citing Robert Powell's role as Jesus in Franco Zeffirelli's 1977 miniseries Jesus Of Nazareth as an example of the pressures playing prominent religious figures. "You're on a hiding to nothing. You're not going to satisfy anyone."
It was only when he was given a script in 2017 by Anthony McCarten — the New Zealand scribe of Bohemian Rhapsody, Darkest Hour and The Theory Of Everything — that he understood the attraction. "Even if you took away the names, it still stands up as an extremely well-written argument between two men of faith," he says. "It's argued with affection and humour."
That dramatic engagement was more important than verisimilitude for Pryce, who has played real historical figures including writer Lytton Strachey in 1995's Carrington and Argentinian general Juan Peron in Alan Parker's 1996 musical Evita.
"I've played a lot [of real figures] — mostly dead, who can't sue me," he says wryly. "I've always thought if an audience goes in not knowing who Lytton Strachey was, or not knowing much about the Catholic Church, it has to stand up as a story itself."
Directed by Brazilian filmmaker Fernando Meirelles (City Of God), The Two Popes shot in the spring-summer of 2018 primarily in Italy and Argentina, before premiering at Telluride in August this year. It will have a limited theatrical release on November 27 in the US and November 29 in the UK, before hitting Netflix on December 20, just before the festive season.
The film gives a dramatic interpretation of a series of conversations that took place between the liberal cardinal and the conservative incumbent Pope Benedict (played by Anthony Hopkins) as Bergoglio discovers — to his own amazement — that he is being groomed as the pontiff's successor.
It is easy to see certain qualities that Pryce shares with Francis, who is widely considered to have moved the Catholic Church in a more progressive direction on issues including gay marriage and the environment. Both men speak in measured, soft tones, with kind smiles and an air of calm wisdom — plus an impish sense of humour.
Pryce recounts how, when asked at an early read-through if he was religious, he said he was not, "but fully expects to be by the end of the project".
Francis's popularity is in large part down to his perceived goodness — his ability to speak to believers on their level, and his humility even in such a gilded seat. But without direct contact to the Pope — the Church is notoriously private on such matters, so no access was requested — it was his faults that provided Pryce with a way to understand him.
"Yes, he's the leader of the Catholic Church, but he's also a flawed character, and he recognises his own flaws and weaknesses." In The Two Popes that includes a backstory in which a younger Bergoglio, played by Argentinian actor Juan Minujin, is beset by accusations of collaboration with the Argentinian military junta in 1976. "I think that's interesting — it's a multi-layered person," says Pryce.
Double act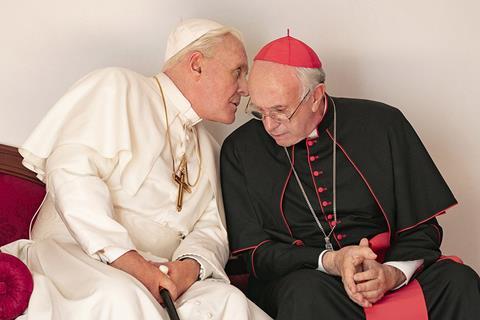 This is the first time Pryce has shared the screen with his compatriot Hopkins. His humour returns at the suggestion they are two of the UK's most esteemed actors — "We're certainly two of the country's most Welsh actors," he laughs.
A long-held admiration for Hopkins played into his character's own feelings. "I went into scenes with Tony where Bergoglio goes into scenes in awe of the Pope. I didn't think of it as 'God, I'm going with Tony Hopkins.' But something was happening where I thought, 'God, I feel like a teenager. I feel like I don't know how to act.' That was good for the early scenes."
Their differing styles complemented each other. "Tony is like a piece of classical music, all worked out. I'm jazz."
Making a film about the Catholic Church brings with it unavoidable baggage: McCar­ten's script includes brief early references to the rape and abuse of children that has damaged the Church's standing in recent years, as well as to Pope Benedict's past as a member of the Hitler Youth and time spent in the German military under the Nazis.
For Pryce, "the best kind of church is a socialist church", eschewing the extravagant displays of wealth and power that have been the hallmark of Catholicism for centuries. "That's what Francis embodies," he says. "He is saddled with a gazillion years of history and abuse in the Church; he wants to make changes and has found it very difficult in the Vatican to get that support."
As he speaks to Screen in the comfort of a central London hotel during October's BFI London Film Festival, protests continue outside from climate change action group Extinction Rebellion. "It's great, young people occupying the centre of London," says Pryce. "That's what Francis is talking about, where the hope lies with the young."
When asked about the ongoing discussion as to whether streamers are affecting cinema admissions, Pryce sees both sides of the debate. "Whether streaming is in any way less of an experience than seeing it in the cinema, I don't know. It's swings and roundabouts."
Experiencing the film's reception on the festival circuit has reminded him of the value of shared experience. "The great thing about seeing it in the cinema with a lot of people is that there is this group sensibility. The silent moments are really silent, and the laugh moments come as whammers.
"People are not going to have that experience on their TVs," he notes, before a final quip, "unless they are large Catholic families, and then they might."