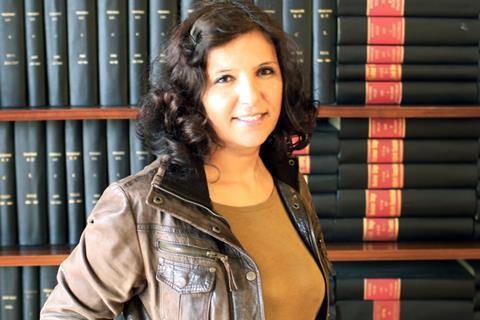 The recent exploits of the Banksy-funded refugee rescue boat the Louise Michel in the Mediterranean helped put the global refugee crisis back on the news agenda in recent days.
The world of contemporary art and refugees also come together in Tunisian director Kaouther Ben Hania's The Man Who Sold His Skin, which premiered in the Venice Film Festival's Horizons section this weekend.
Syrian actor Yahya Mahayni stars as a young Syrian man living in exile in Beirut. His life changes forever when he signs a Faustian pact with an artist in which he agrees to have a visa tattooed on his back and become an exhibit on a worldwide tour. He sees it as his ticket to Brussels, where his former girlfriend is living in a semi-arranged marriage.
The first seed for the film was planted by an exhibition at the Louvre in 2012 devoted to Belgian artist Wim Delvoye. It featured his infamous human work of art Tim Steiner, who was tattooed by the artist in 2006 and regularly goes on display in galleries around the world to this day.
"Seeing that work was the trigger. I started thinking about this guy who gets himself tattooed and the impact it has on his life but it was just a framework, it needed a story to nourish it," explains Ben Hania. "The story of the refugee came after but both worlds carry equal weight."
These two worlds would also lead Ben Hania to make her most international feature to date, after the Tunisia-set Beauty And The Dogs, which premiered in Un Certain Regard in 2017, and 2013's The Challat Of Tunis, which also toured festivals.
"It wasn't like I deliberately set out to do something more ambitious, or international. I don't work like that. But the worlds of contemporary art and refugees imposed the international scope of the project," she says. "On the production side, it's more ambitious than my past films, even though it was made with a lot less money than was needed. To make a film like this and secure the financing, you have to have proved yourself."
Other cast members include Belgian actor Koen de Bouw as the artist, Monica Bellucci as his hard-nosed fixer and assistant, and French-Syrian actress Déa Liane as the protagonist's sweetheart.
Ben Hania did not have any qualms about delving into the events of the Syrian civil war for the backstory of the main character even though she herself is Tunisian.
"I've got a lot of Syrian friends but it's not even about that. The main character could have been from anywhere, Gabon or Canada. The protagonist's nationality adds context but is not at the heart of what he is, or stands for. I don't subscribe to the school that you should only write stories based on your own family or neighbourhood," she says. "It's the personality that distinguishes the character, not the nationality."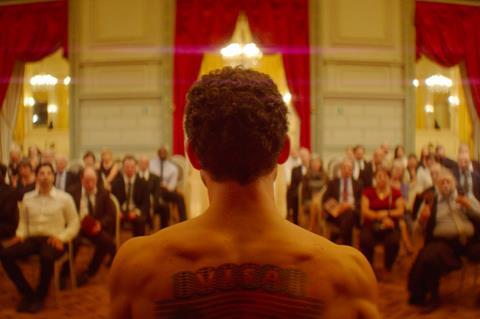 Mahayni, who Ben Hania found after viewing scores of self-tapes over a six-month period, did not let the weight of his country's recent trauma weigh on his performance either.
"Yahya has this quality of all great actors of being able to get deep into his character," says Ben Hania. "He wasn't trying to represent all Syrian refugees, or make a political gesture. He was in a professional mindset of getting into the character and playing him with all his tics and faults."
Ben Hania shot the film in Tunisia, Belgium and France last August and then spent five months editing with the expectation the film would launch earlier in this year until the Covid-19 pandemic brought the film industry to a halt.
"We're really happy to be in Venice," she says, where she has been joined by her producers Nadim Cheikhrouha at Paris-based Tanit Films and Habib Attia at Tunis-based Cinétéléfilms.
"I had the impression at one point that I'd made a film that would never get shown anywhere. It was like having a screenplay in the drawer, only this one had a cast and crew attached," she explained.
On a personal level, Ben Hania reveals the lockdowns of the last few months have not been hard to bear, and she spent her time writing and organising "several" projects that are in various stages of development.
"I already go into voluntary confinement quite a lot," she reveals. "I love the energy of the shoot and being surrounded by people on set. But afterwards, I want to be by myself to reflect, to clarify my ideas and above all to write… the only difference this time was that everyone else was in confinement too."
Upcoming project
She is hoping to be able to shoot a long-gestating documentary following a mother and her four daughters, two of whom followed their ISIS militant boyfriends to Libya and are now trapped there in a prison camp. Ben Hania has been developing the project for some five years.
"It took me a long time to work out how to structure and present their story but I've figured it out. It will now be a documentary bordering fiction," she says.
Under her plans for the work, Ben Hania has cast actresses to play the real-life characters. The film will follow the interaction between the actresses and the real-life protagonists as the former talk to them to prepare and get into their roles for a re-enactment of their story. "They will act like a mirror," says Ben Hania.
Provisionally entitled Olfa's Daughters, the film secured advance on receipts funding from France's National Cinema Centre (CNC) over the summer, which Ben Hania see as an encouraging sign. Ben Hania's long-time producers Cheikhrouha and Attia are both on board the project.