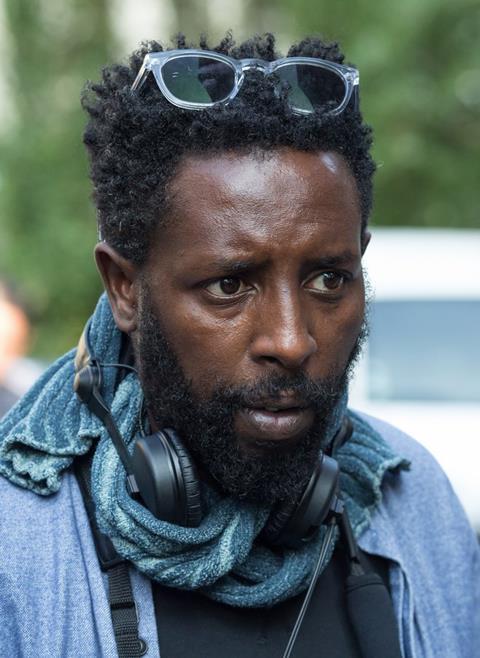 "Just being in Cannes is a victory, regardless of whether we win an award," says French director Ladj Ly about the selection of his debut fiction feature Les Misérables for the main Competition this year.
Unfolding in the La cité des Bosquets estate in the tough suburb of Montfermeil, where Ly grew up, the hard-hitting drama gives a rare insight into life in one of France's most socially-deprived areas and the impact of heavy-handed brutal policing on its inhabitants.
"Les Misérables is a film about social misery in the first instance but also about the universe of the French banlieue, touching on police violence, education and the place of children in these neighbourhoods. It's a very political film," says Ly.
It takes its title from the fact that a number of locations in Victor Hugo's 19th-century classic novel were based in places in Montfermeil. Some of them still exist today, like the 17th-century fountain frequented by the peasant character Jean Valjean. "I wanted to make the point that a century later the same social misery still exists," says Ly.
Montfermeil was among the neighbourhoods caught up in infamous riots in 2005 following the deaths by electrocution of two teenagers – Bouna Traore and Zyed Benna – after they ran into a power substation in neighbouring Clichy-sous-Bois to escape a police control.
Ly says his film has been given fresh relevancy by the yellow vest movement, which was launched to protest growing working-class precarity in France.
"I like to say we've had our own yellow vest movement in the banlieue for 20 years, since 2005. They like to represent us as the bad guys, as 'scum', but the protests were part of a social movement by people fed up with living in such conditions."
Ly, 41, has been filming life in Montfermeil for more than two decades, working closely with the Kourtrajmé collective, created by Kim Chapiron and Romain Gavras in 1994, and supported by the likes of Vincent Cassel and Mathieu Kassovitz.
Past credits include documentary 365 Jours à Clichy-Montfermeil, capturing the social tensions in 2005, and more recently Speak Up, about a group of deprived youngsters who participate in a debating contest, which he co-directed with Stephane de Freitas.
"I've been carrying a camera and filming everything going on around me since I was 17, making short and documentaries and also doing 'cop-watch' for four years."
"Cop-watch", he explains, involves filming the activities of the police officers operating in his neighbourhood. "There is a special police brigade for the suburbs. They can be very violent, very tough," he explains.
In 2008, he shot footage of French riot police striking a handcuffed man with a baton and needlessly firing a flash-ball weapon. "I put it on the internet and it resulted in the police officers being suspended. It was the first time this had happened in France," says Ly.
The incident would inspire a French César award-winning short, which has now been expanded into Ly's feature-length Palme d'Or contender.
Aside from the three main actors, Damien Bonnard, Alexis Manenti and Djibril Zonga, the rest of the cast are non-professionals drawn from the neighbourhood. "That's part of my concept: when I put projects together, I try to get everyone from the neighbourhood involved. There were 300 local people working on this feature," says Ly.
In the same spirit, Ly has also spearheaded the new Kourtrajmé Film School, which opened its doors to 30 students this year, teaching them the basics of scriptwriting, directing and editing.
It has been created within the framework of the Ateliers Médicis project aimed at supporting culture and creativity in Clichy-sous-Bois and Montfermeil and has a small amount of funding from state French broadcaster France TV.
"It's run on a shoestring budget," he says. "France TV has come on board with a small amount of finance but we're on the hunt for other sponsors. We had some 1,500 candidates for 30 places. The aim is to make five short films with the participants, one of which will then be selected to be developed into a feature-length film."
Both the short and feature-length versions of Les Misérables were produced by Toufik Ayadi and Christophe Barral at Paris-based SRAB Films, with Rectangle Productions on board as a co-producer for the feature.
"I never wanted to work with a producer. I wanted to stay independent but they were really keen to work with me so we met. We're the same generation with similar objectives so it made sense," says Ly.
Future projects in the works include a biopic about the late Clichy-sous-Bois mayor Claude Dilain, a paediatric doctor who went into politics to combat the poverty he encountered in his work. "I filmed him a lot over the years. He was an amazing man. It will be a sort of tribute to his work," says Ly, adding that the lead role has yet to be cast.
Beyond his solo film projects, Ly has also collaborated with street artist JR for nearly two decades on a series of projects capturing his neighbourhood, including Les Bosquets, featuring a ballet performed by Lil Buck, and Portraits Of A Generation, comprising giant portraits which were pasted to buildings across the estate.
"He was the set photographer on a short film I was working on and we hit it off. I Introduced him to the Les Bosquets and it all began from there," says Ly.
The pair are currently preparing a new collaboration involving the tower block where Ly lives which is soon to be demolished as part of a scheme to regenerate the neighbourhood.
"It's the last tower left so its demolition is very symbolic. It's a shame for us as it made a great setting for our work but of course it's good for the local inhabitants that improvements are being made."