Belgian filmmaker Laura Wandel brought her camera down to the level of her school-age subjects in Playground. Screen talks to her about the immersive bullying drama.
Laura Wandel likes to stick tightly to the point of view of her central characters, seeing the world through their troubled eyes. In the Belgian filmmaker's 2014 short film Foreign Bodies, it was a war photographer struggling to cope with the loss of his leg. In her award-winning debut feature Playground — selected as her country's entry to the international feature film Oscar — it is a seven-year-old girl for whom school offers its own psychological and physical battlefield.
While its subject is school bullying, the feature's Belgian title Un Monde (translation 'a world') is more apt, given Wandel's starting point was the idea of school as a microcosm for the world at large.
"The main focus was the idea of integration, the necessity to fit in," she says. "It's very universal, we all need to belong to a community. I spent months observing children in schools and what I inferred is that one of the most important things in playgrounds is territoriality — children try to allocate the space in a certain way. This is very similar to the world of adults."
Like the teachers in her film, Wandel discovered "the mechanics of bullying are hard to notice. I had a general view of the playground, but to detect that behaviour you need to be very close to the children."
Her camera is certainly close, remaining at the eye level of protagonist Nora throughout the film while maintaining a shallow depth of field. "I wanted this to be a very immersive experience for the audience, for them to feel like Nora feels," she says. "Also, all the things you don't see, that are outside the frame, are very important to me; I like the audience to try to imagine what's happening."
This required an innovative approach, with director of photography Frédéric Noirhomme harnessing a camera at his waist and Wandel walking alongside with a portable monitor, directing her young actors.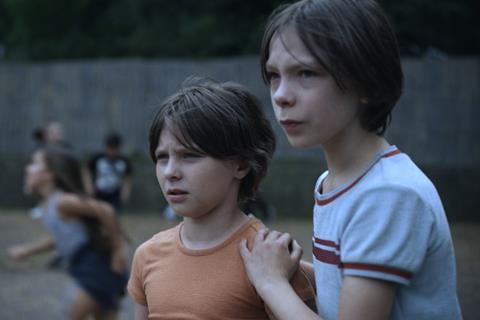 Maya Vanderbeque plays Nora and Günter Duret her bullied brother Abel, who she misguidedly tries to protect. The pair are remarkable as siblings whose bond is almost destroyed by the pressures of the playground. Wandel smiles when she recalls how Vanderbeque stood out in the casting process. "Two hundred little girls showed up. But this one, who was seven at the time, said to me, 'I want to give all my strength to your movie.' I knew immediately I had found the right person. I was overwhelmed by her."
Wandel worked with the kids for three months, alongside a specialist educator, explaining the situations of each scene and having them improvise what they thought would happen next. "It was very important for me to use their creativity," she says. "The last step was that they would draw the scene. When we started shooting, they could look back at their own storyboard to know exactly what mental state they needed to be in for that moment."
Finding her voice
After graduating from Belgium's IAD film school in 2007, Wandel "did a bit of everything" on other people's films, mostly as unit production manager, while developing her own work. The selection of her third short Foreign Bodies for Cannes' short-film competition in 2014 proved significant, not least because it was there she met filmmaker Luc Dardenne.
"Luc kind of became my mentor [for Playground]. He read two versions of the script and gave his advice on the editing. One of the things he said was to accentuate Nora's difficulties, so the audience would empathise with her more. In some ways, he encouraged me to go further."
In fact, Playground shares the uncompromising and unflinching approach of filmmakers she cites as influences, including the Dardenne brothers, Bruno Dumont and Michael Haneke. "Yes, they do show the darker side of human nature, but because of their gaze they can also show the best parts," she elaborates.
Playground debuted in Cannes' Un Certain Regard this year, before collecting the Sutherland Award for best first feature at the BFI London Film Festival in October and selling to Film Movement for the US that same month. International sales are handled by Indie Sales, and Tandem releases the film in France.
"One of the things I'm proud of is that this is a real Belgian film," she says. "It is produced by two companies — Dragons Films is French-speaking and Lunanime is Flemish. We received subsidies from both parts of Belgium."
For her next project, Wandel is swapping school for hospital, spending time on the wards. Her "up close and personal" approach is about to become even more discomforting.