While she is annoyed The Kindergarten Teacher was so difficult to finance, Maggie Gyllenhaal is playing her part in knocking down obstacles for women in the film industry.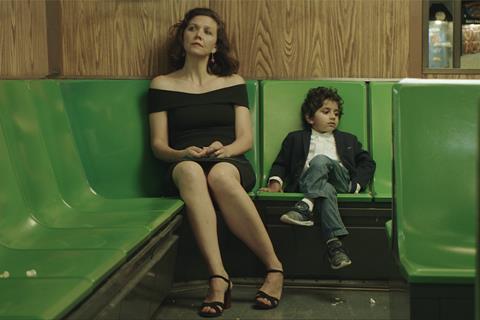 Maggie Gyllenhaal was so excited by writer/director Sara Colangelo's The Kindergarten Teacher script she said yes to the project without doing her usual due diligence on a potential director. "I loved the script so much that I never watched [Colangelo's] first movie [2014's Little Accidents], which is very unlike me," Gyllenhaal says. "I thought, 'I just want to make this.' I still haven't seen it."
She pauses. "I should see it." And goes on to explain: "[The script] was speaking to my experience as a woman in the world in a way not that many scripts do."
The Kindergarten Teacher is a remake of Nadav Lapid's 2014 Israeli drama Haganenet and a co-production between Pie Films and Celine Rattray and Trudie Styler's Maven Pictures. Gyllenhaal plays a Staten Island teacher and frustrated poet who obsesses over a five-year-old student prodigy, nurturing the youngster's talent until she eventually oversteps a boundary.
"I loved working with Sara," says Gyllenhaal of Colangelo. "We had a really singular kind of collaboration. The movie in a lot of ways was made by women. Our DP was a man and I always joke that he was a lover of women. It was financed by women. It was produced by women. It was directed and written by a woman… There was something about this interaction and it comes from Sara."
The film shot on a shoestring in Brooklyn, Queens, Staten Island and upstate New York in the summer of 2017.
"I'm sure you won't be surprised to hear this was not an easy movie to finance and yet there's a part of me that's like, 'Why should we have to make this movie for nothing? Why should everybody have to defer their salary? Why should we have 23 days [to shoot]? And why should I be changing in the bathroom on the Staten Island Ferry?'"
Netflix picked up the film after its Sundance Film Festival debut in January this year. "I know there's some controversy around Netflix and making films with them," says Gyllenhaal, "but they have been the major supporter of unusual, honest, human work financially… I feel excited that the money is in the hands of people right now in some places who are looking to support really interesting work and in my experience that includes work for women. It's the same with HBO."
It is late September and Gyllenhaal has just finished watching the combustible confirmation hearing of Brett Kavanaugh to the US Supreme Court. "A lot of women are waking up right now to the feeling that they have not been satisfied, that they've been living in a way they told themselves is okay but is actually not okay. I have so much compassion for [The Kindergarten Teacher protagonist] Lisa who is waking up to that and yet is so confused about how to change it. It's sad. It's hard to watch.
"I've come to believe the movie is about the consequences of what happens when you starve a vibrant woman's mind," she continues. "It's not about a crazy lady who kidnaps children, and yet she's driven crazy for this short period of time and it's partially by the culture she lives in, and the culture she lives in is the same one that we live in."
Opening doors
Gyllenhaal says she does not particularly look for female-skewed projects, just material to which she responds. "In particular I think about Hugo Blick, who wrote and directed [the BBC mini-series] The Honourable Woman with me," she explains. "That was very much a realistic expression of a feminine experience and it was a great collaboration, but very different. I believe the door has been closed for women and that it's worth doing some work to open it. So on The Deuce, for example, out of eight directors for the second season one was a man and the other seven were women. There was a conscious effort made on their part and I appreciated it."
She loves doing TV and has derived immense pleasure playing Candy [the fictitious 1970s Times Square sex worker-turned-porn director] in HBO's The Deuce, the sex industry drama that has been renewed for a third season. "I'm so glad we have one more season, I'm not ready to say goodbye to her. I love her and I'm so grateful for this new experience of playing this woman over so many years."
Gyllenhaal is adapting Elena Ferrante's novel The Last Daughter as her first directing project, and will produce alongside Pie Films, with whom she partnered on The Kindergarten Teacher. She relishes remaining behind the camera on this one. "Part of what interests me is working with actors and helping somebody else as they move through a complicated trip."