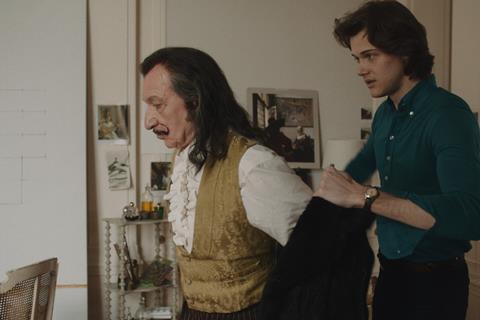 Mary Harron was only too happy to reunite with her American Psycho producer Ed Pressman when he sent her a project about Salvador Dali. The only problem was that she didn't immediately warm to the story.
"I had done I Shot Andy Warhol and didn't know if I wanted to do another picture about an artist," says the Canadian director of Dalíland, which makes its world premiere as Toronto's closing night film on September 17.
Fortunately her husband, screenwriter John C Walsh with whom she had collaborated on TV projects but never a feature until now, highlighted two appealing elements of the story: the terror of death and ageing that stalked the Spanish giant of the surrealist art world and his wife and muse Gala, and the pair themselves.
"It is a portrait of a marriage," she says, "a particularly crazy marriage." Harron and Walsh shifted the narrative thrust onto these themes and away from the project's initially more pronounced focus on art fraud, industrialised by associates of Dali using his signature on thousands of blank lithographs.
Ostensibly a coming-of-age tale about James, a fresh-faced assistant to Dali in the run-up to an important New York show, Dalíland takes the young man and the viewer behind the velvet curtain. There, deeper themes play out against a 1973 backdrop fuelled by hedonism, excess and extreme personalities. In short, familiar Harron territory. "They really liked the script," says Harron of the producers.
Then life got in the way. "It just takes years to get a film made," sighs Harron. "I went off and made this Netflix series Alias Grace and then I made Charlie Says, so I had to ask everybody to wait. Things will get made when they should get made."
By 2021, some seven years after Pressman first proposed the project, Dalíland had reckoned with scheduling delays, cast changes and Covid-19 and was approaching the start line. Ben Kingsley would play the moustachioed maestro opposite Barbara Sukowa as Gala. The celebrated German actress and Rainer Werner Fassbinder protegée replaced Lesley Manville, who had left to honour a prior commitment.
Ezra Miller, who plays the young Dali, was initially cast as the starstruck assistant James and when the actor pulled out to be in Fantastic Beasts: The Secrets Of Dumbledore, Harron's casting director sent her links to drama school showcases. She found Christopher Briney, a graduate of New York's Pace University.
David O Sacks Productions and Pressman Film were the title's principal financiers alongside private investors from the US, UK, France and Asia. Production was ready to start in Portugal, which had been fairly Covid-free until it no longer was and went into lockdown, whereupon UK producer Chris Curling of Zephyr Films helped relocate principal photography to the UK.
The producers — who include Pressman's son Sam Pressman, Curling, David O Sacks and Daniel Brunt — accessed the UK tax relief and the government's Film & TV Production Restart Scheme, while international sales agent Bankside Films received marketing support from the UK Global Screen Fund. CAA Media Finance represents US rights.
Dalíland shot over 25 days from March to April 2021, mostly in Liverpool's Adelphi Hotel, which became The St. Regis New York where for four decades Dali kept a studio and visited each winter with Gala and their hard-­partying entourage.
Anglesey in Wales doubled for Cap de Creus near Cadaques, the Catalan resort where the artist would holiday in his earlier life. "You have to carefully angle away from the sheep," recalls Harron with a smile.
Emerging talent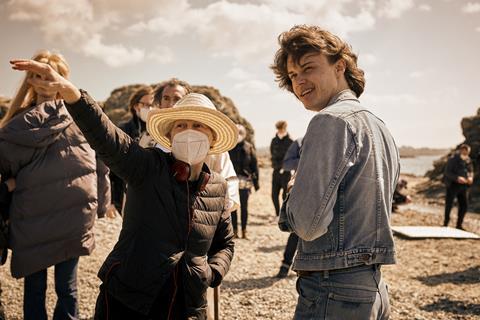 The director notes that newcomer Briney showed "gravity and maturity" from his first day on set. "Ben and all the actors were very kind to him." In fact on the first day the youngster was late because he had just auditioned for the male lead in YA series The Summer I Turned Pretty for Prime Video, which became a hit and saw his Instagram following balloon from several thousand to 1.6 million. "He will have a great career," says Harron.
Sukowa, who starred in Margarethe von Trotta's Hannah Arendt and Rosa Luxemburg and Fassbinder's Lola, among many others, was not fazed by the busy shoot. "She would say, 'It's okay, Fassbinder used to give me one take,'" the filmmaker recalls, adding that "Ben arrives with a completely realised performance — it's very intense, he has incredible focus before he comes on set".
On directing Kingsley, the Academy Award-winning lead of Gandhi whose credits include Schindler's List and Sexy Beast, Harron deadpans: "You sort of hesitate because it's a bit like approaching the Pope, but he's always very respectful to directors. He's really good at improvising although I don't think it's his favourite thing to do. And he's very good at comedy."
As Dali, the sun around which the avant-garde New York arts scene orbits, Harron says Kingsley saw a chance to play the one role he did not take on in his time at the Royal Shakespeare Company. "He says this was his King Lear," Harron reveals.
Sukowa poured passion, fury and love into Gala, says Harron. "[Gala] breaks the stereotype of the muse… She was this very vital, violent force."
Her fondness for young male lovers is in plain view in Dalíland and, similarly, Harron presents Dali's instruction to models to daub their derrieres in paint as a perfectly reasonable workplace occurrence.
"It was the '70s," Harron says. "Dali loved nudity and excess and orgiastic scenes. He was a voyeur, which we show some of. I was young in New York in the '70s and in some ways it was an innocent time."
Miller plays the young Dali in a handful of scenes. The film locked before the actor's controversial behaviour and battles with mental health problems emerged. "It's terrible for everyone about what's happened with Ezra," Harron says, "but the film is done. It would be so damaging [to remove the scenes]. [Ezra is] a really important part of it."
Chronicling extremes without attaching moral judgment has been a defining feature of Harron's career. Her depictions of controversial figures, wilfully or other­wise, in I Shot Andy Warhol and The Notorious Bettie Page, or studies in psychopathy in the Bret Easton Ellis adaptation American Psycho and Charles Manson drama Charlie Says have earned her a cult following.
The closest she has ever come to directing a story about a contemporary personality was a TV movie about the late Playboy cover girl and model Anna Nicole Smith. The director has done a fair amount of contemporary TV, but on the whole remains wary of famous living figures. "It just seems too close and then you have to deal with how they feel about it. If it's in the past, it's a bit more like fiction."
When considering her career milestones, Harron cannot resist namechecking most of her features and one TV endeavour. I Shot Andy Warhol (1996), she feels, is special because it was her first feature, while American Psycho (2000) "had the biggest impact". Margaret Atwood adaptation Alias Grace in 2017 was significant because she directed all six episodes of the series and likens it to "doing one long movie". Charlie Says from 2018 remains a source of pride that she wishes had received more attention.
"My favourite is usually the most recent, which is Dalíland," Harron asserts. She and Walsh are working on another feature and there are other projects in the mix, although she declines to say what's next. "I don't want to upset anyone.