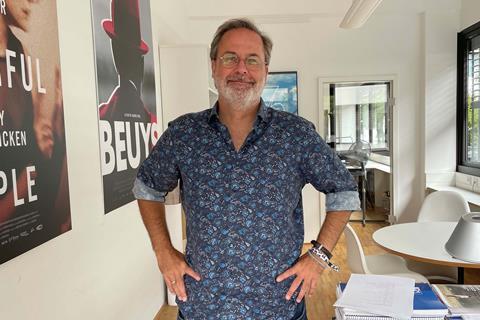 Having co-founded Oldenburg International Film Festival in 1994, Thorsten Ritter joined Bavaria Film International's marketing department in 1999, working on films including The Man Without A Past, Good Bye, Lenin! and vampire tale Let The Right One In, before he segued to Beta Cinema in 2012 as EVP acquisitions, sales and marketing. At Beta he has been part of the international success of films including The Happy Prince by Rupert Everett, Woman At War by Benedikt Erlingsson, Florian Henckel von Donnersmarck's Never Look Away and Maria Schrader's I'm Your Man.
What is your office like?
Hot, these days. The air conditioning seems to fail a lot more often than usual.
What is the first thing you do when you arrive in your office each day?
Get an espresso from the kitchen and then read ScreenDaily, of course.
Who do you look up to in the industry and why?
To my boss and colleague Dirk Schürhoff. I'm not saying this because I'm eyeing a pay rise. He always keeps calm and has a natural command. He loves what he's doing and is quite simply the best sales agent I have ever met. He is always the smartest person in the room — and only occasionally lets you feel it. The other is the late Karl 'Baumi' Baumgartner. He was the most generous person and for sure the best football player in the industry. I still miss him.
Who helped you most when you were first starting out?
The editor of the city magazine Diabolo in Oldenburg. He sent me to the Berlinale and other festivals so I could write reviews of films that would then never make it to the city. He planted that film bug in me.
What was your favourite film growing up?
Not my favourite, but a formative one: The Day After. Everything was grim and desperate in 1983 in the provinces of Cold War Germany, and a nuclear winter was as big a concern as it is now.
Who's the most famous person in your contacts book?
It's got to be Rupert Everett. We helped finance and sell his directing debut The Happy Prince over the course of many years. It was such a long journey that Rupert turned it into a book, aptly titled To The End Of The World: Travels With Oscar Wilde.
What's the biggest professional mistake you have made?
There are too many to single out one. But how about passing on [Paolo Sorrentino's] Il Divo in my Bavaria days? Luckily the film landed where I am now, at Beta Cinema.
What is your favourite festival and why?
Berlin for the bitter cold and the fact that audiences defy the cold when they are camped out in front of the box office. It's not as glamorous as Cannes and Venice, but always accessible and strikes that balance of being an industry event and for cinemagoers. And it's great to see German films go on to have a career after launching there. It used to be like a kiss of death for them for so many years. Yes, this is a nod to Dieter Kosslick.
With whom would you most like to take a meeting?
Christopher Nolan.
What excites you about the future of the business?
That's a tough one. The world is getting ever more fragmented. But being forced to keep being inventive is not a bad thing. If only our industry was more so… Getting audiences back to better cinemas with better films, that will be exciting.
What job would you do if you didn't work in film?
Sell guitars. It's my other passion. I wasn't good enough to pursue a career as a rock star, but I am content now with playing in my free time — and jamming with the world's greatest blues guitarists via online courses.
What book are you reading?
Joachim Bauer's How We Become Who We Are — The Emergence Of The Human Self Through Resonance. It's a book I gave to my daughter. That backfired — it pinpoints all the mistakes we made in parenting.
Who would play you in the biopic of your life and who would direct it?
It would be Michael J Fox and John Landis directing. Back To The Future and The Blues Brothers were other formative films for me. It wasn't all grim back in 1980s Germany, even if I make it sound like it.
What project are you working on?
An exciting script by Christopher Hampton with Jan Komasa set to direct.