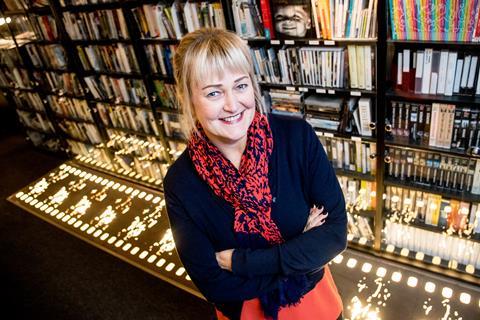 Tallinn-based Edith Sepp has been the CEO of the Estonian Film Institute (EFI) since 2013.
After starting out as an assistant film director in the late 1980s, working with international crews throughout the 1990s, Sepp moved away from production and became a film adviser to the Estonian Minister of Culture in 2010.
She led the creation of the Estonian film industry's growth strategy for 2013-2020, which included the successful Estonian Republic100 film Programme, funding several features to mark the centenary of the country's founding as an independent state. Sepp is also vice-president of EFAD (European Film Agency Directors association).
What is your office like?
Our office is in the medieval old town of Tallinn. The building itself is from the end of 19th century and has belonged to the Filmmakers Union since the 1980s and today also has a cinema. The big screen is downstairs but we sadly don't have a 35mm projector at the moment. It has been upgraded to digital.
What was your first job in the film industry?
I started out processing 35mm film stock in the lab. The reason was that I went to the state-run film studio, Tallinfilm, and asked to be made an assistant director. They laughed but said, "We do have availability in the lab," to which I replied, "I'll take it". I stayed there for seven months before moving to become an assistant director.
Who helped you most when you were first starting out?
The biggest influence was Jüri Sillart, who was the Soviet Union's best director of photography in the 1980s. Like me, he also wanted to become a director and I became his assistant. Early on he would tell me, "You will become the minister of film for Estonia one day." [Professor and film executive] Alan Fountain also was a great influence during my studies at Sheffield Hallam University's Media School in the UK and we remained friends up until his death.
What was your favourite film growing up?
Once Upon A Time In America by Sergio Leone and The Godfather. I recently watched Once Upon A Time In America again and I love it just as much as when I first saw it in the cinema.
What do you like best about your job?
I enjoy being of service to the film sector in Estonia. Importantly, I don't feel like I'm running the Estonian Film Institute but that I'm a part of the industry. This togetherness is the true motivation for me to keep doing this job.
Of what are you most proud professionally?
I'm proud of what came out of the Estonian Republic100 film Programme. I'm not so proud that we had to fight for the money and prove that our filmmakers were worthy of the funding. But I'm very proud of the films that came out of the programme, such as Truth And Justice, and all showed that if you invest in Estonian filmmakers, they can provide strong stories and success.
What's the biggest professional mistake you have made?
This is a tricky one. I don't know if it's a mistake but I graduated as a film director and wanted to make films myself. I made the decision to give up my own filmmaking career to run the Estonian Film Institute. It was a hard decision because I knew it meant I was unlikely to ever make a film on my own. But I don't regret it. One persons career is nothing when you look at everything we have achieved.
What is your favourite festival?
Aside from Estonia's Black Nights Film Festival, I love Trieste Film Festival. I'm trying hard to get Estonians to collaborate more with Europeans and I generally prefer smaller events for arthouse films.
If you didn't work in film what job what you do?
I can't really think outside of the film industry. I was even a clapper girl during my school holidays when I was 16. But within the film business, I'd like to try and become a film editor. When I started my studies at Lodz Film School in Poland, I would physically cut my 35mm films on a table. I find it fascinating.
What book are you reading?
I recently visited New York and, on my way back, I began reading 1491: New Revelations of the Americas Before Columbus by Charles C. Mann. It is a pre- history of America before Europeans entered the continent.
What's the one TV series everyone should watch this year?
The latest series of The Crown was really good. I find it interesting how it plays with history, with no one questioning what is truth and what is fiction. People believe whatever Netflix tells them.
What project are you working on now?
At the end of this year, we will decide what support schemes will introduce in 2022. One of the new programmes will gather ideas for new films, called "The Boiler of Ideas", selected by representatives of our film unions and designed to collect totally fresh and new ideas from a wide writing pool. But you don't even need to be a scriptwriter. Anybody can put in an idea of what could be turned into a script. The representatives will also make the decision as to which idea gets to be developed.
What do you do to unwind?
Every morning, I do one-and-a-half hours of hatha yoga. I try to go to the theatre, especially with my mum, at least once or twice a month. I also like jazz and went to Birdland when I was in New York. If I can go to a jazz club in Estonia or anywhere around the world, I'll always take that opportunity.
Who would play you in the biopic of your life and who would direct it?
Hopefully, Helen Mirren would take the role and the director would have to be Christopher Nolan. We'd love to bring him back to Estonia [where he shot scenes for Tenet].