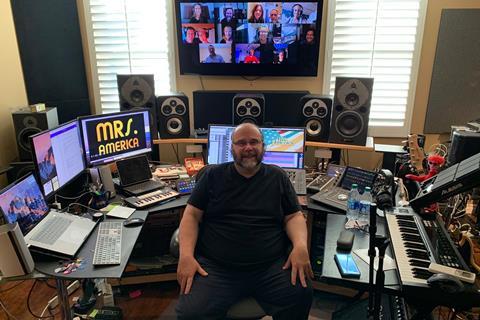 Scott Gershin is the award-winning sound designer behind features including Star Trek, American Beauty, Shrek and Hellboy 2.
His latest project is TV drama Mrs America, which explores the history of the 1970s women's movement as seen from the perspective of its fervent opponent, arch-conservative Phyllis Schlafly, played by Cate Blanchett.
When Gershin - who runs Sound Lab at Keyworks Studios - found himself in lockdown in Los Angeles, he realised the need to keep working in order to meet the release date and came up with some innovative solutions to some unique challenges.
Working in post-production, have you been able to continue working remotely throughout the pandemic?
Yes, we had to quickly find solutions to continue working and meet our release date. We needed to continue editing from home, but still include the showrunner, picture editors and producers in the creative process. We needed a way for them to be able to preview our work both editorially and during the mix in real time.
Did you need any special equipment installed at home or were you already set up?
We used Zoom to communicate with each other, Airtable to gather and track everyone's notes and Streambox HD to send feeds from the mix stage to everyone's houses. We needed to make sure that all the technology was easily available and could be utilised on laptops and tablets.
Another issue was that - since all the households in the area were having their kids going to school online - the data speeds were severely compromised. We were constantly adjusting the technology to compensate.
What were the challenges of recording from home a 'walla group', where actors come together during post to create the background sound of a murmur of a crowd?
Lockdown had just come into effect and we hadn't finished shooting the walla group for the last episode. Patty Connolly and Mark Susman from the Loop Squad and I worked out a plan to record our actors from their homes. We spent time teaching the actors how to record and use the technology, and I decided to have them record themselves in their closets. Some had recording booths in their houses but most didn't. I ended up using Zoom to direct them and they were able to view pictures from my computer while they recorded. They sent me their recording, which I edited and manipulated to fit in the large spaces in the show. At times it was a white-knuckle ride… but it all worked out.
What was the most unusual thing you found yourself having to work on for Mrs America during lockdown?
The challenge for the sound design of the show was capturing the voice of times, making sure the vernacular was correct. I discovered there weren't any sound libraries of just women, so I had to create it all from scratch. When you see people and crowds talking, chanting, or singing on screen (other than the principal actresses), they were just moving their mouths silently. It all had to be created. And because the show was covering different cultures and regions within the United States in the 1970s, all the accents, customs and vernaculars had to be authentic and convincing. It took a lot of research and attention to detail.
Also, we only had budget for a small number of actors and actresses, so I had to design a way of making 8-15 people sound like hundreds - and sometimes thousands - talking, chanting and singing throughout the show. That was the challenge… and the fun.
How much time did you spend daily on video conference calls?
Since we had a feed from the mix stage, it was all day long. I had two to three separate feeds going. One streaming from the mix stage; another communicating with the dialogue mixer Christian Minkler and FX mixer Andy King; and another communicating with crew and clients. I was working way over 12 hours a day.
Have you maintained a daily routine during lockdown?
It was all about focus. It's like running a race during a storm, while everything is starting to catch fire around you or there's a world health crisis, which there actually was. I was always looking at the data that was available to us in LA and then making quick strategic decisions while trying to not lose focus. As far as routine: wake up; work; walk around the yard; continue working; then sleep.
How do you differentiate the weekend from the week?
I go for walks, play with our dog and would sometimes go for a swim with my son. You have to make the time to stop, especially when working from home. It's too easy to just keep working.
Has working in lockdown given you any insights you might use in your career going forward?
There are pros and cons to working in lockdown. My ability to focus is better, because there are less distractions. I also ended up working longer hours than normal, as my studio is just another room in the house. I might be struck with a new inspiration after dinner and end up experimenting with a new idea until two in the morning… so the pros can also be cons. I suspect it'll be a combination of both going forward.
What positive change might this bring to the industry?
I think lockdown has allowed people to work from home, which might become an alternative norm. The time is right for new technologies to be created to better connect each other in secure ways. To share information – that especially contains a lot of data like HD picture and multi-channel sound - with lower delay times and consistent high speed data rates both 'up' and down. A lot of companies are discovering the benefits to lockdown, which might allow a slightly different lifestyle for all of us moving forward. I think we'll all be working in a hybrid approach for the foreseeable future.