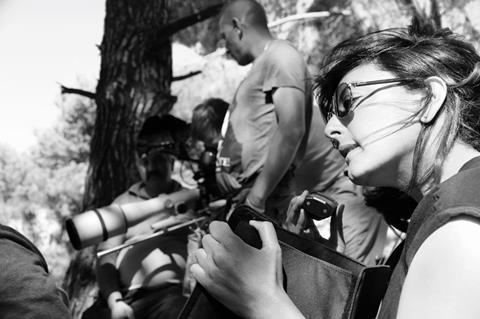 In the opening scene of Palestinian director Najwa Najjar's new film Between Heaven And Earth, a sassy looking young woman rocks up at her former marital home in Ramallah in a vintage blue Mercedes with red-leather seats, music blaring.
Inside, she finds the place in disarray and her estranged husband idling in the outdoor pool.
The romantic road movie, marks a departure in terms of tone and register, if not political intent, for Najjar after hard-hitting West Bank-set dramas Pomegranates And Myrrh and Eyes Of A Thief.
The film premiered in the international competition of the recent Cairo International Film Festival and went on to win the best screenplay prize.
"It's a different type of vision from what people want to see of us," says Najjar, in reference to what audiences and the industry may expect of Palestinian cinema. She reveals she was advised to cut the pool shot. "I was told it wasn't edgy enough."
The film proved a crowd-pleaser at a packed world premiere in the 1,200-seat main hall of the Cairo Opera House. It prompted a 10-minute standing ovation and praise from some of the toughest cinema critics in the Arab world.
But it has yet to find a European or North American festival berth or an international sales agent. Najjar suggests this could be in part because it challenges their preconceptions around Palestinians.
"We've been dehumanised on TV and in Hollywood and Israeli movies. I push comfort zones by presenting a Palestinian character who is clearly damaged but lives a comfortable middle class life," she suggests. "I wanted to make a movie that reverses our dehumanisation."
She also questions whether a sub-plot exploring a real-life Israeli scandal involving the abduction of thousands of new-born babies from newly arrived Jewish Arab immigrants in the 1950s and 1960s, has also pushed buttons.
The central storyline is about a young Palestinian couple on the verge of divorce. Palestinian actors Mouna Hawa, best known internationally for her role in Maysaloun Hamoud's 2016 festival hit In Between, and Firas Nassar, who played militant Nidal Al Makdasi in Israeli TV series Fauda, co-star as the estranged couple.
Inspiration from a falafal stall
Najjar reveals how a chance conversation with the owner of one of her favourite falafel stalls in Haifa sowed the seed for the film.
"He told me his son was driving him crazy because he had just won a scholarship to study at Goldsmiths College in London but he didn't want to go because he was one of the 'Guardians of Iqrit'. To my shame, I had no idea what he was talking about," she recounts.
These so-called guardians, she discovered, are a group of youngsters who guard the site of the depopulated Palestinian village of Iqrit in Northern Israel, the inhabitants of which fled in 1948, to prevent it being seized by Israel on the grounds of absenteeism.
Najjar and husband and producer Hani Kort decided to find the village. It was not marked on Google Maps but they found it instead on iNakba, an App showing the locations of all the Palestinian villages that existed before 1948.
"Even then it was struggle to find. We were zig-zagging back and forth not far from the Lebanese border. I'm surprised we didn't get arrested," she recounts. "Hani finally spotted a church which was approached by narrow path, where we found a couple of young men and a woman in their twenties… later as we headed home, I was thinking how do I turn this into a story?"
Over time, Najjar slowly built up a storyline and characters combining elements of the road trip and the spirit of resistance of the youngsters she met in Iqrit with a deeper reflection on the split and yet identical destinies of Palestinians living on either side of the 1948 Green Line. She was fed by the stories and experiences of friends and aquaintances living in both Israel and the West Bank.
The filmmaker watched every road movie she could get hands on. "I watched everything, from Jim Jarmusch, La Strada and Il Sorpasso to Thelma And Louise and Wild Strawberries… literally everything," she says.
For the soundtrack, Najjar pulled together a selection of contemporary Arab music including tracks by Ramallah band Al Raseef, Golan Heights "mountain rock reggae" group TootArd (Strawberries), Egyptian-British singer Natascha Atlas, Tunisian folk group Yuma and Algerian Berber singer Souad Massi, who also starred in Eyes Of A Thief.
Shooting under the radar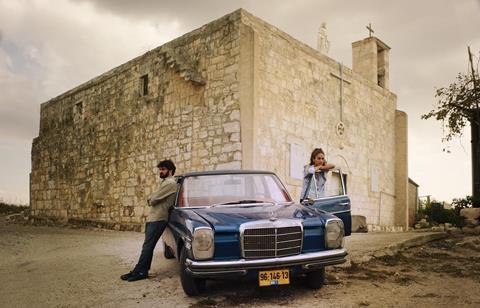 Kort lead produced the film under the banner of their production company Ustura Films with the support of Fahad Jabali at Icelandic production house Oktober Films, and Luxembourg's Adrien Chef and Paul Thiltges at Paul Thiltges Distribution.
The film was shot in Israel and the West Bank over 24 days. Sensing they were unlikely to get shooting permits to shoot in Israel, Najjar and Kort decided to go under the radar for that part of production.
"We had four key crew from Iceland and the rest were Palestinian. When we were recruiting, we made it clear that we were going to wing it but that as the main producers we took full responsibility and would never endanger the crew," she said.
Their theory that it would be impossible to get official permission to film in Israel was proven correct early on when they went to shoot a flashback scene in the Ras Al-Naqoura caves on the border between Israel and Lebanon.
A production assistant had diligently filled out the paperwork and believed she had secured a permit but on their arrival at the site, the crew were informed it was void.
"Thankfully I had a great cameraman," says Najjar, referring to Icelandic cinematographer Tomas Orn Tomasson. "He immediately got it. He simply took the camera apart and put it in his bag and said, 'Let's go'. We got inside the cave, shot what we needed and left."
In one case, the prop manager was arrested at a checkpoint as he tried to take fake uniforms and guns back to the hire shop, even though the documentation was in order.
"The production manager then also got detained went to the prison to try to get him out," recounts Najjar.
In another incident a make-up artist with a West Bank ID was picked up after she crossed over into Israel without the proper permits to work on the Israeli-leg of the shoot.
"We advised her not to but she was determined. On the peneultimate day of the shoot she was picked-up. They detained her for eight hours and then slung her back into the West Bank," says Najjar. "The next day she was back on set. We were like, 'Are you crazy?'. She replied: 'I'm not missing the wrap party'. You have to admire resilience like that."