The head of production for Madrid-based El Deseo talks about the joy of working in an office that is "pure Almodovar", her cameos in Pedro's films and saying no to Julio Medem.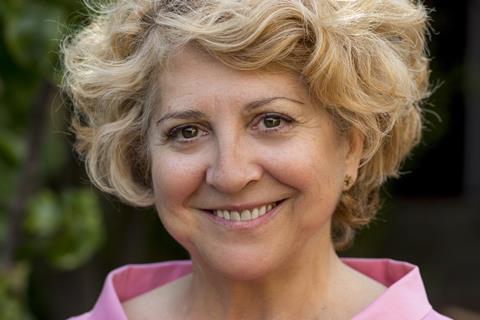 Esther Garcia was going to be a teacher but chance took her to the set of Pedro Olea's Pim, Pam, Pum, Fire! in 1975. She started working at El Deseo, the production company named after Pedro Almodovar's Law Of Desire, more than 30 years ago, with Pedro and his brother, the producer Agustin. Together they have made seminal films including Women On The Verge Of A Nervous Breakdown, All About My Mother, Talk To Her, Volver and most recently Pain & Glory.
What is the first thing you do when you arrive in the office each day?
I say hello to all the people who work on the ground floor when I come in. Then I switch on the computer, check my email and after that I go up to the third floor to have a coffee with my assistant, Cova. We talk about her children, my parents…
What makes your office such a special place to work?
The building used to be a furniture shop, with lots of room and natural light. We remodelled it in the style of Pedro — it's pure Almodovar.
I work on the second floor with an open-plan layout that allows for many people to work together when production of a new film starts, including a small space dedicated to hair, make-up and costume tests. Pedro and Agustin are on the first floor, along with press and other offices. The kitchen is the busiest place in El Deseo —that's where we have coffee and lunch or watch the Oscar nominations, that's a tradition. Pedro comes up too and we watch it all together.
Do you enjoy shooting your cameo roles in Pedro Almodovar's films?
I love them. When he gives me a screenplay to read, I'm always trying to spot who he has in mind for me to play. The one that was the hardest was in Talk To Her where I played a pregnant prison guard. I had a lot of lines. I also had bit parts that were a struggle: in Alex de la Iglesia's Mutant Action as a TV presenter and in Isabel Coixet's My Life Without Me, in the hairdresser's scene, where I said something like, "I'm from Segovia, I'm not interested in manicures." My English was terrible and learning those lines was agony. Not to mention the clothes and hairstyle Isabel had in store for me — my God!
Who do you look up to in the industry and why?
Producer Cristina Huete, with whom I worked after starting out as a secretary and production assistant on TV series Curro Jimenez. The production was run by men, very traditional and quite chauvinistic. When I worked with Cristina on [Fernando Trueba's 1986 film] Year Of Enlightment, I appreciated her approach, as somebody who looked for consensus and didn't run her team military-style. I have tried to do the same.
What's the biggest career mistake you have made?
Oh, that's easy because it's one of those mistakes not easily forgotten. Julio Medem came to us with his first project, Cows. I read the screenplay and he looked so gifted, so articulate when he came to talk with me, but I confess I couldn't make head nor tail of the story. Literally, I couldn't picture the idea of going into the eye of a cow, going through the digestive system and coming out at the animal's rear. I said no to him and I have regretted it to this day.
Of what are you most proud professionally?
Pedro, Agustin and I make a good team. I am also proud of having launched other filmmakers. After Tie Me Up! Tie Me Down! in 1989, we thought it was time to help new talents. We approached veterans like Victor Erice and Gonzalo Suarez, and new names at the time like Alex de la Iglesia, Julia Solomonoff and Isabel Coixet. Later on, co-producing with Argentina, we have worked with Lucrecia Martel, Pablo Trapero and Damian Szifron.
With whom would you most like to take a meeting?
I would love to meet Kathryn Bigelow to find out what she is like. She must have fought so hard to get where she is. I would also love to meet the writer Siri Hustvedt.
If you didn't work in film, what job would you do?
I would have liked to be a teacher or an archaeologist.
Who would play you in a biopic of your life and who would direct it?
Erica Rivas would play me and Damian Szifron would direct.