Norway is booming creatively with a diverse array of films and TV series that are travelling globally. But producers say more government support is needed.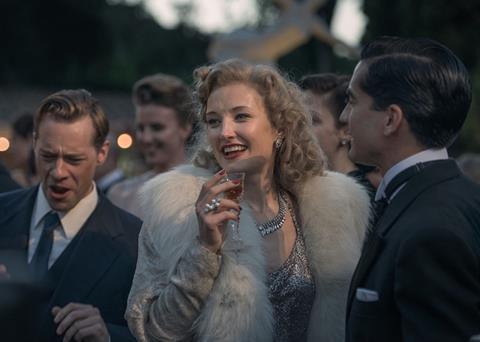 Norway is ready for its close-up. The Nordic country has been chosen as the European Film Market's Country in Focus this year and 10 feature productions and co-productions have been selected to screen in the Berlinale, led by Hans Petter Moland's Out Stealing Horses in Competition.
The country has other reasons to celebrate. In 2018, box-office admissions increased 7% and market share for local films was at a record 25.2% — led by ambitious disaster film The Quake. In 2016, the country's long-lobbied-for filming incentive was introduced.
"We have strong storytellers and highly professional producers and production companies, and they're entering the global market at a new pace and with more confidence than before," says Lars Loge, head of the development and production department at the Norwegian Film Institute (NFI). "The future looks bright."
The NFI's levels of feature film funding are "quite stable from year-to-year", says Loge. The total sum allocated to feature films in 2018 was around $35m (nok295m), including commissioner-led development and production support, the market scheme, co-productions, slate funding, the New Ways talent scheme, script support and retroactive support triggered by box-office receipts.
The NFI has been allocated an additional $5.8m (nok50m) in overall funding this year by the country's coalition government, putting the funding back in line with past years, following earlier cuts. The 2019 feature film funding — usually about 64% of the overall NFI budget — is likely to be "a little higher".
Supply and demand
As with anywhere in the world, producers are simultaneously grateful for the production funding — and wish that it were more.
Ruben Thorkildsen of Ape&Bjorn, whose credits include The Almost Man, says the films being squeezed are "the medium-budget films, which should be the heart of our business."
Yngve Saether of production company Motlys, which is in post on Dag Johan Haugerud's Beware Of Children and is shooting Thomas Robsahm's music documentary a-ha — The Movie, suggests: "You can never feel safe about public support for film as long as you have a right-wing government."
According to Loge, the NFI receives many more applications than it can fund. "When it comes to production support, only about 25% of the applications are accepted, and our commissioners have a difficult job choosing between a lot of good projects.
"The Norwegian film industry is fast-growing and becoming more and more professional," he continues. "We also see a growth in all formats and increased interest from the international industry all over the board. This needs to be reflected in the NFI's budgets as well."
Janne Hjeltnes, producer at Storyline Studios, which has been a post-production house and is now co-producing projects such as the forthcoming feature documentary Born 2 Drive and a TV series for NRK's digital channel P3, believes the government could do more to support and grow the country's film and TV sector.
"The support of the government is a disappointment," she says. "Film production can be one of several alternatives to our national income after the oil business [becomes] history and this government is sitting on the fence."
Even when more government support would be welcome, the country is delivering quality films — Norwegian productions are especially strong in children's films, genre pictures and titles about the Second World War, for instance.
Whatever the subject, films need to travel. "It's difficult to make a living out of an audience of 5 million people," as Saether puts it.
Leading production company Maipo has a crop of films ready for the international market: Sonja: The White Swan, a biopic about figure skater turned film star Sonja Henie, just premiered at Sundance; animated feature Louis & Luca — Mission To The Moon premieres in Generation at Berlinale; and The Ash Lad — In Search Of The Golden Castle is being delivered in the autumn.
Maipo CEO Synnove Horsdal agrees it is vital Norwegian filmmakers have a global outlook. "We have a good system in Norway and a healthy industry, yet there is a limit to how many local films our local market can take," she says. "Having said that, there is untapped potential in the market for a wider variety of films and there is an increasing international audience on our films."
Ape&Bjorn's Thorkildsen says the international appetite has been strong for Norwegian projects on his slate — Indie Sales recently picked up teen romance Psychobitch and the company's German co-production The Sunlit Night premiered at Sundance. "We are experiencing a lot of more interest from international sales and that's a good indication Norwegian films are doing well in the market," he says.
International attention is certainly shining on Norway's growing TV drama offerings. Recent hits include the groundbreaking teenage show Skam, thriller Occupied, noir Valkyrien, Netflix's Lillyhammer, comedy Norsemen and political drama Nobel. Many of the big producers working in feature films have now also branched out into more episodic work — echoing trends in other territories. "People look to Norway to find originality and diversity in series, and they are damned right in doing so," Saether says with pride.
Finding the right balance
Motlys' forthcoming series include the second season of Home Ground, which will be presented in the Berlinale's Drama Series Days, and conspiracy thriller series Hacker, being pitched at the Co-Pro Series in Berlin.
Ape&Bjorn is working with Liv Karin Dahlstrom on comedy series Women & Wine for NRK, and with Arild Andresen's new series Midwife & Mayor.
Maipo's State Of Happiness, a series set against Norway's oil rush, has been a local hit and the company is now financing a second season. Horsdal would like to see further government support for the TV sector.
At present, drama series receive just 13% of the total allocated funding from the NFI. "It's important to start acknowledging the big increase in the TV drama industry," she says. "We also need progressive politics on how to make this a healthy and prospering industry."
Working across both film and TV, the NFI is keen to support more diverse voices. "When it comes to gender balance, NFI has an ongoing focus and plans for more equality in the film industry. We have a goal of 50/50 gender balance by 2020, and it looks like we can reach it," says Loge.
"We also want more new voices, new perspectives and ambitions in Norwegian film," he continues. "We just launched a new activity plan for more diversity and better representation in the Norwegian film industry, where we focus on diversity both on screen, in production and among the audience. Hopefully this will lead to a higherrepresentation of underrepresented groups."
Saether is bullish on the storytelling prospects from all kinds of Norwegian talents. "We must continue to deliver high-quality, both commercially and artistically. We can always challenge ourselves to become braver."
Scaling Norway's incentive
James Bond has travelled everywhere from Jamaica to Geneva, and now — Norway. In January it was confirmed that the 25th Bond film, submitted under the code name B25, has been earmarked for Norway's largest-ever shooting grant, at $5.5m (nok47m). Truenorth Norway will handle production services for the Eon production directed by Cary Joji Fukunaga.
Also approved in this 2019 round are Kim Fupz Aakeson's TV series Wilderness for Paradox and HBO, as well as series Fenris produced by Nordisk Film Norway for Viaplay. Those three projects drain the scheme of its 2019 cap of $8.8m (nok75m). The Norwegian government offers the filming rebate — in the form of a grant — of up to 25% of local costs, which came into effect in 2016. The budget requirements ($3m for a feature film or $1m per episode for a drama) mean 30% of financing needs to come from outside of Norway as the incentive has been mostly used by international films (The Snowman, Downsizing and Mission: Impossible — Fallout), or high-end TV co-productions (Netflix's The Innocents).
"We're getting a good mix of projects and we're very happy with the number of projects that apply," says Dag Asbjornsen, head of international relations at the Norwegian Film Institute. However, the spending cap — which started in 2016 with about $5m per year and has grown only slightly to $8.8m (nok75m) for 2019 — is prohibitive."If we spend all the money in early January, then we have to say, 'Okay you have to wait to apply in November so that means it is not as flexible as we would hope for," Asbjornsen says. It is understood the government is starting to recognise this issue. "The new government has proposed to look at the incentive scheme and to expand it," Asbjornsen explains, adding it could either increase the cap or create an automatic scheme without a cap. Janne Hjeltnes of Storyline adds: "My main concern is that the tax incentive should be expanded to be an automatic scheme, as in other European countries."
The incentive is important as Norway is more expensive than most other shooting destinations. But the country is a draw because of its stunning natural beauty, as well as highly skilled crews who speak English. Plus, "the more Norwegian crew you use, the more refund you get," says Asbjornsen. "In terms of infrastructure, skills and level of technology, we are competitive."