In 2013, Screen profiled a new generation of business-to-business websites seeking to capitalise on rapid technological changes in the industry. Colin Brown reports on how far things have come.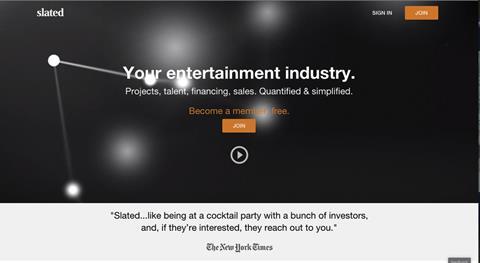 As an online 'market network' of film professionals, Slated boasts some eye-catching numbers: 15,000 producers, 10,000 writers, 9,000 directors, 1,500 investors, 500 sales agents and 200 distributors. Collectively, these members have had 109 Oscar nominations and 18 wins between them. Two-thirds of the films sold at this year's Sundance, not to mention another two-thirds of films that won prizes there, all involved Slated members in some producing capacity. Films listed on the platform attracted $322m in production financing last year.
Slated's mission now is to convert such a potent community into a frictionless marketplace that overcomes many of the real-world obstacles to getting even more films financed and seen by paying audiences. Until Slated came along, only one side of that equation was being adequately addressed through technology.
"The biggest disruption to date has been on the distribution side," observes Stephan Paternot, the co-founder who took over the reins as CEO in early 2014. "We've obviously gone from cable company/TV network linear programming 'push' experience, to a consumer-driven on-demand, on-all-devices, all-you-can-eat 'pull' model. What hasn't changed much yet is sourcing, packaging, financing and selling of content."
Slated's activities have been refocused with all that in mind. "The biggest strategic shift we made was in recognising that producers are our key customers, which meant relocating to Los Angeles to be closer to our community and focusing our efforts on making the platform as effective for them as possible. Secondly, we chose to go from being an 'invite-only' community to being open to everyone in the industry. What this meant was removing the social-vetting barriers that frustrated so many and replacing it with a more egalitarian scoring system."
Those scores not only allow members to be matched more efficiently, they are about to unlock an entirely new form of film funding: online 'syndicates' of financiers that are aligned behind a lead investor. Any project on the platform that scores 60+ qualifies for full service financing and is put in front of all investors on the site.
Launch date 2012
Key executives Stephan Paternot, CEO; Jason Scoggins, president & chief operating officer. Cost to users Membership free. $995 to obtain a project's script analysis and financial projections.
Ownership structure Privately owned. Investors include Mexican producer Alex Garcia.
Business model Revenues derived from multiple sources including analysis services and film financing management fees.
www.slatedc.com
www.slated.com