Screen spoke to Cosima Spender, grand-daughter of English writer Sir Stephen Spender, about her remarkable fourth documentary Palio, from Senna and Amy producer James Gay-Rees.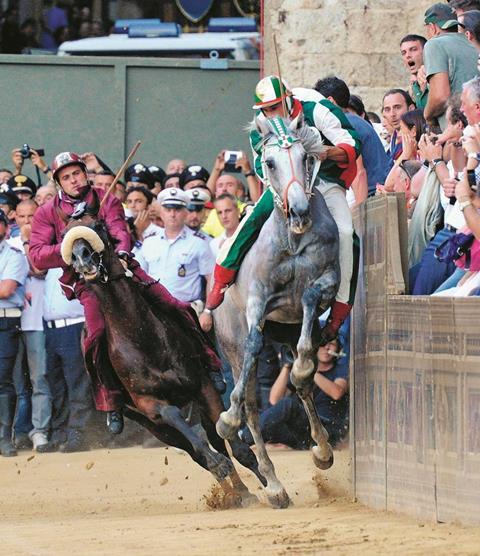 After a handsome apprentice from a foreign land rebels against his former master's network of absolute power he must undergo a rigorous training before facing him in a gladiatorial battle set against the backdrop of a throbbing Colosseum…
It's not your average documentary plotline, but those in need of an autumn pick-me-up after death-by-spandex-covered-Hollywood-actors-strutting-between-green-screens need look no further than Cosima Spender's (Without Gorky) remarkable new documentary Palio, whose narrative arc and visuals better that of any blockbuster.
Spender, the grand-daughter of English writer Sir Stephen Spender, had long-wanted to make a film about the Palio, the iconic horse race that takes place twice a year in the Italian city of Siena, the city of her childhood.
The fiercely contested 90-second road-race, whose origins date back to medieval times, sees ten horses and riders, bareback and dressed in the appropriate colours, battle to the winning line at breakneck speed to secure victory for one of Siena's ferociously competitive 'contrade', or districts.
Spender's film charts the tradition, pageantry, intrigue and corruption at the heart of the Palio through the rivalry between legendary and wily veteran Luigi 'Trecciolino' Bruschelli, the most successful active Palio rider with 13 wins, and emerging jockey Giovanni 'Tittia' Atzeni.
The director's impressive production team includes Amy and Senna producer James Gay-Rees, The Program and Philomena editor Valerio Bonelli (who is also Spender's husband), Mandela: Long Walk to Freedom and The Last King of Scotland composer Alex Heffes and Fire In Babylon DoP Stuart Bentley.
The film was financed by London-based investment firm Archimedia, owned by John Hunt.
Amy sales and distribution outfit Altitude handle international sales and will release in collaboration with Picturehouse in the UK on September 25.
The ultimate subject
"Palio was the ultimate subject for me as a documentary maker," says Spender, who has described the exhilarating and brutal race as "a medieval game of strategy, deals and machinations".
At first, Spender's choice of the mild-mannered Giovanni as a focus proved controversial.
"The producers were a little antsy when I told them I was focusing on Giovanni. But I chose him because he was an insider-outsider, like me: an English woman who grew up in Italy."
"When we started I knew what the themes would be but we also knew we couldn't get into too much depth and wouldn't be lucky enough to follow the race winners," she continues. "No film about the Palio has ever achieved that."
Spender and the team had to navigate various layers of local politics.
"The Italian's are obsessed with the Bella Figura so some were unhappy about Aceto [colourful jockey Andrea Degortes] being in it. Then Gigi didn't want to be filmed after not winning one or two Palios so we had to go through Mark Getti. Also, Giovanni's wife is the ex-girlfriend of one of the other jockeys so that brought difficulties when capturing his home life."
Hurdles
Access was always the greatest hurdle.
"It's a very guarded world," explains the filmmaker. "You must get the local authorities' permission for everything, even if you want to print an image of a symbol of a contrada on a t-shirt. They own all rights to images."
"[Among features] Only James Bond [Quantum of Solace] had previously managed to put cameras in the Piazza Del Campo, I think."
After much negotiation the team were finally afforded unique access to the event. But with the race only lasting 90 seconds there were no second chances.
"It's very hard to get a good vantage point - you need to be near the start of the race. We had a man sleeping in a specific corner of the Piazza all night just to ensure we got the details of the horses' feet. They hated us going about with our boom - 'the British crew'. I don't think anyone else will get that access."
"We had five cameras but the city itself has another seven for the TV broadcast. We also had access to their footage. But they only do wide-shots. They don't like the close-ups in Siena. Much of the drama is in the close-ups."
Contract
The Commune's tight control of the race's image meant that the filmmakers had to sign a contract relating to their footage. The race has a poor animal rights record and jockeys have also been attacked for failing to deliver the goods to their contrade.
"We show that it is a brutal race, for the horses and the jockeys," explains Spender. "The contract specified that we weren't allowed to show injured animals but we did manage to show some of the resulting wounds.
"Thankfully no horses were seriously hurt the year we shot [2013]. We didn't want to make a picture post-card film or propaganda piece but we had to fight to keep final cut."
Ultimately, the filmmakers had to cede some ground to the Commune but never lost control of their message.
"The Commune have sanctioned the film and are happy with it but did ask for some minor changes," she adds. "For example, they asked us to take out the moment when Bastiano [Palio jockey Silvano 'Bastiano' Vigni] discloses how much a Palio might cost to 'buy', which he estimates to be be around €1m."
Greek drama
"The narrative between disciple and master became stronger and stronger during the edit," explains editor Bonelli, whose work won the film a Best Editing, Documentary Feature award at Tribeca, where the film debuted earlier this year.
"Cosima always had the idea of structuring the film like a Greek drama with the older jockeys playing the role of the chorus, commenting on things that the new jockeys can't talk about."
"The whole thing was an exhausting process," confirms Spender. "Valerio shot two films at once [Stephen Frears' The Program was also in post-production]. The edit was like seven days a week for eight months. We're still slightly in recovery."
The final product posits Palio alongside Senna as that rare breed of kinetic sports documentary that unspools like a fast-paced thriller.
Next project
Palio captures the city's year-round obsession with a familial level of scrutiny, a quality that Spender now hopes to carry into her next project, a drama about the relationship between her father and grand-father, the poet Stephen Spender.
"I've written a short fiction that I'd like to make into a feature. It has been researched as a documentary," she says.
"It is based on the moment my father realised his father was homosexual. It's about a family Christmas when a mother goes away and the father invites a young writer to stay with the family."
Spender is seemingly surrounded by intriguing subjects. If her feature can get close to replicating the intrigue and passion of her documentary viewers will be in for another special ride.