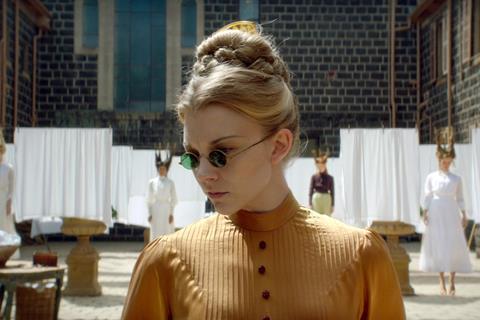 Larysa Kondracki likes to quote a review of Picnic At Hanging Rock that on the face of it doesn't seem particularly complimentary.
The limited series, on which Kondracki was showrunner and primary director, "teeter[s] on the brink between atmospheric excellence and stylistic overkill," said The Guardian's Australia edition when the first of the six episodes was screened for press earlier this year.
But you can see why Kondracki appreciates the review (besides the fact that it also says the opening installment keeps "on the good side of the divide" and that even watching it teeter is "a blast"). Because the up-and-coming Canadian writer-director clearly relished the chance to deliver a provocative, stylish and female-centric take on a classic Australian novel (written by Joan Lindsay in the sixties) previously made into a revered Australian feature (directed by Peter Weir in 1975).
"Yeah, we went for it," Kondracki says. "But we had a lot of fun."
The series, with Game of Thrones' Natalie Dormer leading a young international cast, radically reimagines Lindsay's Victorian era tale about the unexplained disappearance of three schoolgirls and a teacher during a Valentine's Day excursion to an ominous landmark in the Australian bush.
Produced by FremantleMedia Australia for that country's Foxtel pay TV platform, the show was picked up by Amazon for the US and the BBC for the UK and got a prestigious premiere in the TV sidebar of this year's Berlin film festival.
For Kondracki – who broke through with her 2010 prize-winning feature The Whistleblower - Picnic is "really about control and rebellion. And the issues are entirely relatable today. Take away the corsets, and the fact that there are horses and not cars, and it's like, you try and stand up as a woman and be true to who you are. It's still pretty tough."
The script for the series, mostly written by Australian playwright Beatrix Christian, was "very emotionally specific, but very open to interpretation," says Kondracki, who personally directed the first three episodes. "It's a tough script to nail into a certain genre: there's comedy, there's some horror, there's some melodrama, there's hysteria…"
So the director went for a Stanley Kubrick-influenced visual style, with heavily saturated colours and carefully composed framing, and a tone that owes something to teen movies of the eighties.
"The idea was how do you do Kubrick with Heathers and The Breakfast Club," she says. Dormer's character – the mysterious widow who rules over her school for young ladies with an iron fist – is "not dissimilar to Jack Torrance [Jack Nicholson's character in Kubrick classic The Shining]. A lot is happening in her head."
To help her create the mood, Kondracki cast the series, which has frequent spells of dialogue-free action, with actors "that could really be human. You need real craftsmen that are able to communicate in different ways.
"And we definitely wanted an eclectic and new cast – there's a lot of young girls that you don't know [in the show] and I think a lot of them are going to do very well."
Other projects
Picnic isn't the only piece of high profile TV on which Kondracki – who since The Whistleblower has directed episodes of US series including Better Call Saul, The Americans and Halt and Catch Fire - has recently left her mark.
Earlier this year she directed the pilot for The Fix, the US network series co-written by – and based on a novel by - O J Simpson lead prosecutor Marcia Clark. When the legal drama was ordered to series by ABC, Kondracki became part of a group of female directors that this year achieved an unusually high pilot-to-series success rate in the notoriously selective - and male director dominated - world of broadcast TV drama.
"I'm seeing some change," Kondracki says of a sector in which women directors have recently been seriously underrepresented. But, she adds, "I don't think anyone can pat themselves on the back and say it's all done yet. It's got to get to the point where it just becomes natural, where it's gender-irrelevant, or diversity-irrelevant.
"Right now I'm glad to see that people are creating a lot of room for young women or diverse talent to get their first shots. Then hopefully they keep going and it gets to the point where it just becomes normalised. But it's going to take a while."
For her own future, Kondracki is hoping to keep going on projects that might include feature Innocent Monsters, based on Elaina Perpelitt's Black List screenplay about a writer whose new novel begins to bleed into her life, and limited series The Way The Crow Flies.
The latter, which Kondracki says is currently in the works at Heyday Television, producer David Heyman's joint venture with NBCUniversal International, is written by Whistleblower co-writer Eilis Kirwan.
"She's still writing but there's been a lot of interest," Kondracki reports. "It's a beautiful show."