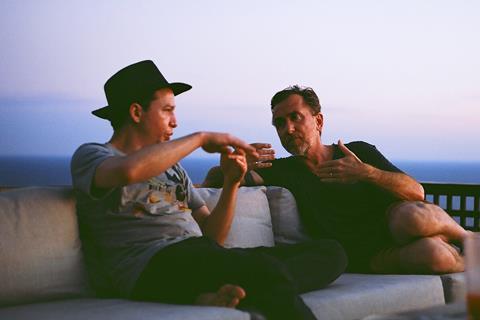 Leading Latin American filmmakers, business partners in the Teorama production outfit and firm friends Michel Franco and Lorenzo Vigas return to Venice this year after their last triumphant outings on the Lido. Franco's English-language drama Sundown — about a remote event that disrupts a wealthy family's vacation in Acapulco — is his follow-up to New Order, which earned the Silver Lion last year and reunites the Mexican filmmaker with Tim Roth, who starrred in his 2015 film Chronic,, and Charlotte Gainsbourg.
Six years after his feature debut From Afar won the Golden Lion, Venezuela-born Vigas returns with The Box (La Caja), a Mexico-set drama about a young boy sent to collect his father's remains.
The Mexico City residents hone their craft by producing each other's films — Franco produced From Afar and The Box for Vigas, while Vigas worked on New Order and April's Daughter for Franco. Their Mexico City-based production company Teorema, launched in 2018 and has produced films by other Mexican directors.
Sundown is a Mexican production in co-production with Sweden and France. Teorema financed with Videocine and post-production was funded through Mexico's Eficine fund and Film i Vast in Sweden through CommonGround Pictures. Luxbox and The Match Factory were invovled with the project since development.
The Box is a Mexico-US production with US-based SK Global, Teorema and Mexico's Labodigital as the three equity co-financiers. The Match Factory handles worldwide sales on The Box and international on Sundown, with ICM Partners representing US rights. Both films will also play at Toronto.
The friends talked to Screen about working togther, the reality of everyday violence in Mexico, the time Franco was kidnapped and their acceptance of streaming.
Why did you decide to create Teorama together?
Michel Franco: We've been friends for 20 years and, without realising it, we've been getting ready for this moment since we met. We were making short films, commenting on films, going to the theatre all of the time and talking. The name is an homage to the [Pier Paolo] Pasolini film.
Lorenzo Vigas: We both had the dream of becoming directors. It was obvious that we shared some of the same vision of filmmaking. In a way, we complemented each other. We have a very different pace of working, because Michel is like he has a rocket in his little hole and I have a different pace.
Franco: He has a much bigger hole.
Vigas: But even though we're very different, we share a vision of filmmaking and honesty — honesty towards the material, honesty towards ourselves. And we try to help each other. Michel gives me his first-draft screenplays and I do the same.
Franco: It's not only us [at Teorema]: there's Erendira Nuñez and Cristina Velasco as producers. We also produced La Civil [directed by Teodora Mihai] which was in Cannes, and we just wrapped the second movie of David Zonana [2019's Workforce] so the company is very active with other directors. [Producer/director] Gabriel Ripstein is part of the gang as well.
Vigas: I would put Gabriel at the same level [of involvement] as us, even though he now is doing more TV series. Both Michel and I are very stubborn about the form of film.
Franco: That doesn't mean Lorenzo and I will never get into TV, but so far we're keeping loyal to film.
Do you have lively creative debates about each other's projects?
Franco: It's unpredictable. When I show something to Lorenzo, I'm always guessing what he will say. He makes me write another draft or edit for an additional month and I'm the opposite — I'm cutting short his process. But our rule is that the director is always right and has the last word.
When you produce each other's films, does it change how you approach directing your next films?
Vigas: When I work with Michel, there's something subconscious about the process that gets inside me.
Franco: I would say that I help Lorenzo cut the bullshit in his movies and he does the same for me. At the same time, I push him into being courageous and taking risks.
When did you shoot your latest films? Were you on each other's set?
Vigas: I shot The Box two years ago. I'm not there when Michel shoots. The work between us is done before and after.
Franco: I shot New Order two-and-a-half years ago and Sundown just before the pandemic. I wrapped on March 5, 2020; I was lucky.
Did the pandemic disrupt your work?
Franco: The pandemic affected the release of New Order here and there but it gave me time to slowly finish both movies.
Vigas: The pandemic in a way was good for us. I decided not to premiere The Box last year and I got the time to really edit and finish it. My editor Isabela Monteiro de Castro lives in Paris, so I was there for a while with her and then I came to Mexico and kept editing here.
What does Venice mean to both of you?
Vigas: For obvious reasons it's very special. From Afar shot in Venezuela [and] it was the first time Venezuela had a film in Venice. First feature, Golden Lion. It was completely unexpected and a big surprise.
Franco: I had been in Cannes four times. From Afar opened the door to Venice for us and now Venice is like going home. Since Lorenzo won the Golden Lion, we've both been on the main jury and I went back last year and won the Silver Lion.
What are your new films about?
Vigas: The premise is this young 13-year-old Mexican boy going to the north to pick up his father's remains from a common grave. He takes a bus to go back to the big city and gets off when he sees this man walking around who looks like his father. He decides to stay there to find out who this man is, and then this huge universe opens up to the boy: the north of Mexico, the big factories there, and the thousands of women who disappeared in the north of Mexico.
Franco: I'm back with my pal Tim Roth. It was great to shoot with him and Charlotte Gainsbourg. I'm trying not to give away too much.
Lorenzo, why did you not film again in Venezuela? Is it hard to shoot there?
Vigas: No, not at all. It's interesting to make a film in Venezuela right now with the [turbulent political and economic] situation. But I've been in Mexico for 21 years, my son is Mexican and my heart is Mexican. For me, it was important to shoot a film here. I had the screenplay for The Box even before I shot From Afar. In a way it's a gift to this country that gave me so much. I came to Mexico with the dream of becoming a director 21 years ago, invited by the writer Guillermo Arriaga. He helped me produce From Afar and then I met Michel and Gabriel. I was planning a two-month trip to write From Afar and ended up staying here 21 years.
Lorenzo, you describe this as the final entry in your trilogy about the father figure, after Cannes 2004 short Elephants Never Forget and From Afar. Are you satisfied with where you've ended up?
Vigas: It's a chapter I think I've closed. My relationship with my own father was a very good one, but my films are kind of the opposite. What is more common in Latin America is the father that is never home, but it's not a personal experience. Latin America is a very matriarchal society with the mother at home raising the kids. Many fathers are at home, then they live with another girl and have two or three homes. Sometimes they leave, like the actor Hatzin's [The Box star Navarrete] real father.
Your films speak to social disparity and how that spurs desperate acts. Michel, what is it that drives you to shine a light on that?
Franco: It's not like I'm wanting to use film as a vehicle to talk about it, but it's part of our daily life. Mexico is very split like the rest of Latin America. In Mexico, there are 60 million poor people and half the country is lacking basic needs. You've got to be crazy to not notice that in your daily life. That will never be something I accept as normal.
The threat of violence is often present in your work. How do you steer clear of the 'misery porn' depiction of Latin America that festivals often showcase?
Vigas: We don't use it as a means of getting attention: if violence is part of the story, it's because it's impossible to avoid.
Franco: When I talk to foreigners about this and they ask why is there so much violence in my movies, I ask them how many times have they had a gun pointed at their head. They laugh but it's a serious question. I've been kidnapped and had a gun pointed at me. It's a regular thing in Mexico.
Vigas: And even if you haven't been kidnapped, you take the newspaper and you read about those thousands of women that have disappeared in the north of Mexico. If you're an honest artist, it's impossible not to have those issues in the stories.
Michel, can you tell us a bit about when you were kidnapped?
Franco: It's no big deal because it was an express kidnapping, a small one.
How long before it was resolved?
Franco: Six, seven hours. It's a fun story if I will tell it in more detail. And by fun, I mean you would see how demented we are to accept this as a daily thing. Of course, I remember every minute of those six, seven hours. This happened in Mexico City, 22 years ago.
Michel, tell us about your cast in Sundown.
Franco: This is my first movie with Iazua [Larios]. She's an experienced actor but the rest of the Mexican cast are non-actors, who we found in Acapulco and trained them. Tim and I have very close sensibilities, if you've seen [Roth's 1999 film] The War Zone. We did Chronic together and I produced [Gabriel Ripstein's] 600 Miles, which he was also in. Since we are now very close friends, we've had more arguments than before on this movie. Charlotte was a dream. I didn't write it for her but my New York casting director came up with the idea. It was kind of a simpler role and she added a lot of complexity to it. I'm crazy about Charlotte, I want to work with her again.
Lorenzo, what was it like to work with your actors — the young Hatzin Navarrete?
Vigas: It was a big risk with Hatzin. I like combining actors and non-actors. On From Afar I worked with Alfredo Castro, a huge star in Latin America, and found Luis Silva to play the boy. In this film it was kind of the same. Before we found Hatzin, we had done workshops for three, four months but I wasn't convinced by the kids we had. A week before the end of the process, I saw a video of a kid in a school in a poor part of Mexico City. He had something and I took the risk.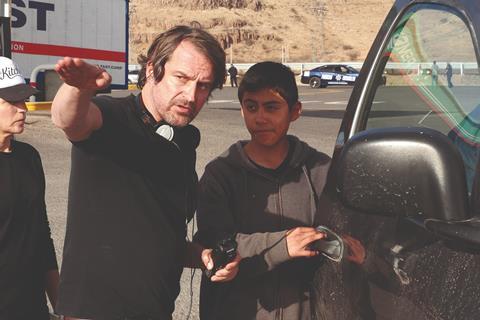 Did you shoot only in Chihuahua?
Vigas: Only Chihuahua. It's the biggest state in Mexico and I wanted to have the factories from Ciudad Juarez, the sierra, the snow and the plains. We had 12 locations — it was a complex production. The Box was a small story but it was important to make the project grow as big as possible. I wanted to shoot in 35mm and find a real maquiladora [factory], which took a year to find.
Did Sundown shoot only in Acapulco?
Franco: Acapulco, and a tiny bit in Mexico City. I've always wanted to make a film in Acapulco because it's a place I would go to often as a kid.
Do you both want theatrical distribution first and foremost for your films?
Franco: We've been a bit stubborn and romantic about it. I guess New Order is ultimate proof of that. I could have given it to streaming worldwide. [But] even during the pandemic it kept showing. It's now being premiered in the UK and it's still in theatres in Israel and got half a million admissions in Mexico. Not bad during the pandemic. At the same time, it's hard not to consider two things about streaming: the millions of viewers you can get, which I'm not sure is my priority but it counts; and the money to keep going. At Teorema we want to make two films per year and that's what we're doing now.
Vigas: We have to take advantage of both. Cinemas give you something unique. I also enjoy watching films at home. It's important not to lose theatrical and to have both possibilities.
What's next?
Franco: I try never to talk about what I'm doing next. I do have a couple of movies in my head. At the same time we're developing things with other directors and we're planning to do something with Diego Boneta [who starred in New Order], something slightly more commercial.
Vigas: I want to make an American film. We are part of this continent and we're sensitive to things that are happening in the north.