Grimur Hákonarson, who serves on Jerusalem's international jury, talks about the lessons he learned during a year of promoting his festival and box-office hit Rams.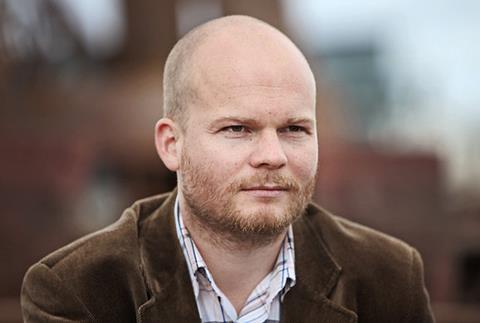 It has been the best kind of busy year for Icelandic writer-director Grimur Hákonarson, whose film Rams played at more than 150 festivals and collected nearly 30 awards, beginning with the Un Certain Regard prize at Cannes 2015.
Now, Hákonarson wants to give back to the festival community that showed him so much love over the past 14 months, and is serving on the jury for Jerusalem Film Festival's inaugural international competition.
"When I get these jury requests, I see it as being part of this film community. I have an obligation to be on the other side of the table," he says.
Not that he finds this "obligation" an onerous task; Hákonarson is a keen traveller who is excited to visit Israel for the first time. And, like most film-makers, he's excited to get dedicated time to watch and discuss films.
"When you have a popular film like Rams you are at so many festivals, but you're not able to watch that many other films because you're busy with your own film. On a jury, I can see new films; I can sense what kind of waves are out there and maybe get inspired for my own projects."
A new yarn
Hákonarson has a post-Rams project in the works called The County, and recently finished the first draft. "It's about a middle-aged housewife who comes out of the closet in a small rural community in Iceland," he says. "It has a similar tone to Rams but much more feminine and much more political. This time it's about women and cows, not men and sheep."
He plans to start shooting the film from February 2017 in Iceland, reuniting with Rams producer Grimar Jonsson of Reykjavík-based Netop Films and employing much of the same cast as Rams. Even the 'brothers' from Rams, Sigurður Sigurjónsson and Theodór Júlíusson, will take small roles.
Hákonarson was able to write the script despite the time commitment required to take Rams to festivals (he went to "30 or 40" personally) and also promote the film for its successful theatrical releases in key territories including the US, UK, France and Germany (New Europe Film Sales sold the film to more than 40 territories). At one point, he was on the road for two months without returning home to Iceland.
While touring the international circuit, he relished the opportunity to learn how audiences saw Rams differently around the world. The story is about two estranged brothers – rival sheep farmers – who have to come together to save their sheep during a blizzard.
"I noticed that in the US people tend to look at it more as a comedy. They laugh a little bit more. In Europe, and especially in Eastern Europe, they don't laugh as much."
The story of feuding brothers has touched people around the globe, who have shared their own stories with Hákonarson. In Ireland, he heard about two brothers who divided the pub they ran together into two venues after they became estranged. The brothers' story in Rams is so universal that Australian film-makers are considering a remake — although presumably without the epic snowstorm in the original film.
Hákonarson's Rams world tour has also brought an authentic glimpse of rural Iceland to the rest of the globe. "Rams is helping some people decide to visit Iceland," he says. "But also I think it helps Rams that Iceland is a bit trendy at the moment as a country."
He also heard about people who "hadn't spoken to their siblings for a long time, then they saw Rams and they decided to start speaking. That's the best compliment a director can get. I'm not changing the world with Rams but maybe I can manage to make some people's lives a little better."
The film has been consistently acclaimed, which is an unusual position that Hákonarson knows he might not experience again. "Everywhere I go I get good reactions; we have had very few negative reviews. It almost feels too comfortable — you know you can't get good reviews everywhere."
"I'm hoping my next film is going to be controversial," he concludes with a laugh.