Jerusalem Film Festival is paying tribute to late Israeli actress and director Ronit Elkabetz. Her friends and colleagues tell Melanie Goodfellow about their beloved collaborator.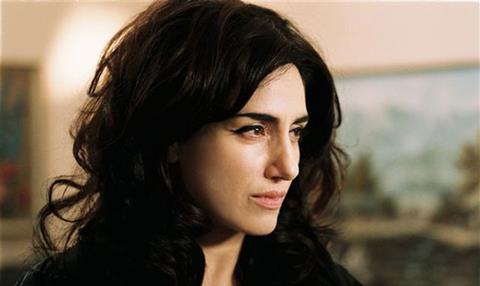 A hurricane, a perfectionist, irrepressible, generous, tough, charitable, larger-than-life and a one-off. These are some of the many, many words used to describe Israeli actress and director Ronit Elkabetz, who died in April from cancer at the age of 51.
Her's was a life and a career cut short in its prime. On the big screen, Elkabetz's roles over her 25-year career ranged from sensual single mother Judith in Dover Koshashvili's Late Marriage in 2001, to big-hearted restaurant owner Dina in Eran Kolirin's The Band's Visit in 2007, to tragic Tel Aviv prostitute Ruthie in Keren Yedaya's Or (My Treasure) in 2004.
Her defining role came in the latter part of her career in the persona of Viviane Amsalem, the long-suffering Haifa hairdresser and mother of four, demanding children trapped in an unhappy marriage to Elisha (Simon Abkarian). Elkabetz co-created the character with younger brother Shlomi and incarnated her on the big screen three times over the course of a decade, beginning with 2004's To Take A Wife, 7 Days (2008) and Gett: The Trial Of Viviane Amsalem (2014).
To Take A Wife introduced audiences to the character of Viviane as well as her antagonistic relationship with her husband and her complicated love life. The film also marked Elkabetz's directorial debut alongside her brother, with whom she co-wrote the script.
To Take A Wife producer Marek Rozenbaum of Tel Aviv-based Transfax Film Productions remembers how he first saw Elkabetz's talent and commitment as a producer on Late Marriage. He boarded To Take A Wife without hesitation.
"I knew she was capable and when she and Shlomi came to me with the project it was not a difficult decision to make," says Rozenbaum. "Although she had no formal training, Ronit was as remarkable behind the camera as she was in front of it. She had this innate ability."
Mining her past
The character of Viviane Amsalem, as well as the Moroccan-Israeli community against which the trilogy is set, were inspired directly by Elkabetz's own upbringing. She was raised in a religious family of Moroccan origin in Beersheba and then the blue-collar coastal town of Kiryat Yam, north of Haifa.
Rozenbaum suggests that starring in Late Marriage in 2001 inspired Elkabetz to delve into her background for inspiration. For that film, director Koshashvili drew on his Georgian Jewish roots to create the tale of a bachelor being pressured into marrying a young, virgin bride over the love-of-his life Judith, an older divorcée (Elkabetz).
"Late Marriage showed her it could be done, that it was acceptable to show these sorts of stories on the big screen," says Rozenbaum. "This encouraged her to delve into her background."
Just before To Take A Wife began to come together, Elkabetz met compatriot film-maker Keren Yedaya. Both women were living in Paris at the time and had been told by a mutual acquaintance they should meet. "We kept putting it off until one day I returned to France after visiting family and friends in Israel and felt incredibly lonely," says Yedaya. "I called her and she said, 'My God, why are you calling me now, I'm packing to go back to Israel tomorrow.'"
The pair decided to meet in a café, nonetheless, and ended up talking until the early hours of the morning.
"We sort of fell in love," Yedaya says. "I sometimes say it was really like a man meeting a woman. They closed the bar on us but we couldn't bear to say goodbye so we went back to my house and continued talking until the sun came-up. When she went to leave, it was like saying goodbye to a lover. From that moment on she was my best friend, my actress and my colleague. I followed her films and she followed mine."
During that first meeting, Yedaya told Elkabetz about her debut feature Or (My Treasure), which she was writing at the time. Elkabetz immediately declared she wanted the role of Ruthie. Yedaya refused, saying Elkabetz was too young and beautiful to play the beat-up 45-year-old prostitute.
"In the script, Ruthie looks terrible because her body and spirit have been destroyed by years of prostitution," she says. "Ronit was 38 and gorgeous. She looked more like a 30-year-old. I said, 'You're too beautiful, too young and too healthy.' She simply replied, 'No, I want to do Ruthie. I want this role, trust me.'"
Yedaya relented and Elkabetz proved worthy of her trust. Over the course of a year, she stopped looking after herself, ditching exercise, eating badly and letting her beauty regime slide. She gained six kilos and acquired the unkempt appearance and downbeat look required for the role of Ruthie.
'A madness and determination'
It was just one example of the meticulous preparation Elkabetz would undertake ahead of a role or taking the director's chair. For Gett: The Trial Of Viviane Amsalem — which follows Viviane's five-year battle to secure a divorce from her husband in a Rabbinical Court — the Elkabetz siblings spent months studying the Israeli legal system and hanging around courthouses, attempting to listen to the proceedings taking place behind flimsy walls. They co-wrote the first draft in the space of a month.
Their attention to detail paid off and producer Sandrine Brauer at Paris-based Elzevir & Cie was thrilled the first time she read the screenplay. "I was lying in bed and I nearly fell out," Brauer reveals. "It was as if the bed wasn't big enough to contain my excitement at what I was reading. There was such a precision and energy in the screenplay. It was incredibly strong. At the same time, I was wondering how it could be turned into a film."
Any concerns Brauer had were dispelled some 18 months later on the first day of the shoot. Elkabetz, who had given birth to twins in the meantime, returned from maternity leave focused and ready to shoot.
"Ronit was more than ready," says Brauer. "She had rehearsed and rehearsed with Shlomi and they knew exactly what they wanted to achieve. There was a sort of madness and determination that united them when they were on set. They worked in perfect tandem and never stopped until they were sure they had achieved what they wanted."
Released in 2014, Gett premiered in Directors' Fortnight at Cannes before winning a slew of awards at home and abroad as well as a Golden Globe nomination.
Brauer and the Elkabetz siblings had been due to collaborate for the second time, on a film about the final year in the life of opera singer Maria Callas. The producer reveals Elkabetz clung to the hope she would be able to make the film right up until the final months of her life — even working on a shooting schedule. The project, which was at the final-draft stage, may be revived in the future, according to Brauer.
"Shlomi and I have to sit down and think it through," she says. "Ronit in the role of Maria Callas was a pillar of the production. We have to consider if there is anyone who could, or we would want to, take on that role."
Enduring legacy
Looking back over her career, Elkabetz — who has been called Israel's Greta Garbo or Marlene Dietrich by some commentators — is likely to go down in history as one of the country's great actors and directors. She also worked extensively in France, having moved there in 1997 to broaden her horizons, in films including André Téchiné's The Girl On The Train in 2009.
Film-maker Nir Bergman captured her life in France in his 2010 documentary A Stranger In Paris, for a TV series about Israeli 'cultural heroes'.
"The series' producers weren't sure she could be already considered a cultural hero at that time," Bergman says. "But I said for me she was a cultural hero because the relationship she and Shlomi had written in their trilogy was the best depiction of a relationship ever written in Hebrew. The amazing thing about their work is that they made films which touched arthouse and mainstream audiences and not a lot of film-makers can do that."
Bergman describes Elkabetz's early days in France as a "Cinderella tale". Back home, her star was rising with roles in the coming-of-age tale Sh'Chur and Amos Gitai's Metamorphosis Of A Melody. In Paris, she famously cleaned toilets at Ariane Mnouchkine's Theatre du Soleil, as part of the process to win a place at the stage company, and waitressed on the side to support herself.
It was just like Elkabetz not to take the easy route, notes Bergman. "She was quite extraordinary. She had no limits to how she perceived herself or her career. She was always open to more and more options," he says. "When I look back at the time I spent with her in Paris, it was like being caught up in a hurricane. She was always so, so busy, always had so much going on. It was hard to keep up." ns
Jerusalem Film Festival is screening To Take A Wife on Thursday, July 14, in memory of Ronit Elkabetz. It will be followed by a conversation with her brother, Shlomi Elkabetz. A selection of her film's will also be shown as free screenings at The First Station.