In their film Flying Paper, political documentarian Roger Hill and co-director Nitin Sawhney travelled to the Kite Festival in Gaza in summer 2010 to shoot a world record kite-flying attempt.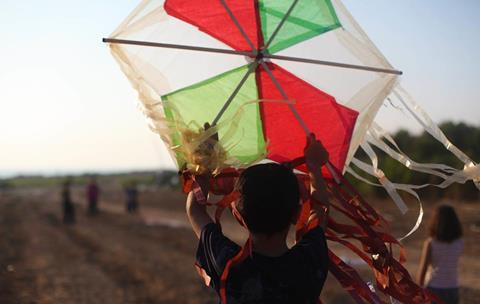 Flying Paper will be screened on Friday October 11 at the Arclight Documentary Film Festival in Hollywood and is set to screen across the US. Hill spoke to Jeremy Kay about his adventure.
What's Flying Paper about?
It's an uplifting story of these youths in the Gaza Strip and their quest to shatter the Guinness World Record for the most kites ever flown.
Why kite flying?
There's a very rich cultural tradition of kite making and kite-flying in the Gaza Strip and across the Palestinian diaspora. The children hand-made most of the kites [you see in the world record attempt.]`
What was the record before their attempt?
A little over 3,500 kites.
How many did they get in the air?
You'll have to watch the movie.
Who invigilated the attempt and how did they do it?
Because of the [Israeli] blockade the Guinness people weren't able to get there so they instructed the festival organisers on how to oversee the record attempt. The children had to launch the kites and a siren goes off and after 30 seconds the officials count the number of kites that crash and subtract that from the total [number of kites launched.]
So how many did they launch and how many crashed? OK that was a cheap trick. Ahem, when did you go to the Gaza Strip?
Most of the film was shot in 2010. We shot initial footage in the winter and we went back in the summer and shot the bulk of the film. Nitin went back in 2011.
How did you manage to enter Gaza?
It's very difficult to get into Gaza. Nitin has Indian citizenship and the Indian embassy advocated for him to get in. I spent about three months with embassies and was able to get my press credentials to enter Egypt, from we entered Gaza.
How did you and Nitin meet?
We met on a plane to Egypt. Both of us were trying to join a delegation on the Gaza Freedom March to bring supplies into Gaza. Egypt actually revoked our entry permission on that occasion so we spent some time in Egypt, about one year before the revolution, which was a very interesting time. We did a media training programme in a refugee camp for Palestinian youth aged 10-15. That's where we met most of the young children who joined the production team. About 10 of the kids helped us conduct interviews and shot footage.
Do any of the children stick out?
There was a 16-year-old girl at the time called Abeer Ahmed who's 19 now and goes to university to study journalism. She impressed us with her dedication and intellect. She organised follow-up shots up until this past year. There was a brother and sister, Musa and Widad, and they were pretty memorable. Musa got the idea to get a giant kite to film the festival with a camera attached to the kite and he designed it himself.
How did you get support for the film?
We got a small seed grant from National Geographic and we did a successful Kickstarter campaign last year. We also received a few other small grants and both myself and Nitin donated money to the project as well.
What's the distribution plan?
The movie will play at the Arclight Documentary Film Festival and we will self-distribute in other cities. We hope to do a week-long run in spring. We've entered into a number of other film festivals and we will screen at a premiere film festival in the Middle East that I'm not allowed to mention yet because they haven't made the announcement.
When is that festival?
November.
Any thoughts in closing?
Flying Paper focuses on a story within the larger political process the story is about these kids who live in that environment and are trying to succeed at something and express their creativity and resilience. Most children in Gaza suffer from PTSD, especially after the bombing campaign in 2009 called operation Cast Lead. Children we interviewed experienced that one year before and you can see evidence of trauma, even though the kids try to put a brave face on everything. This really is the kids' story. They had a big hand in making the film and speak in their own words."
For more details about the film where it is playing, visit the official film site www.flyingpaper.org.