In director Rebecca Hall's 1920s-set 'Passing', Ruth Negga plays a character who risks losing her true sense of self by choosing to 'pass' as white.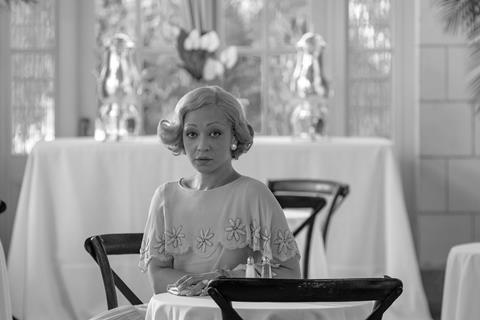 For Ruth Negga, there isn't a "before" when it comes to roles like Clare in Passing, or Mildred in Loving. "It's hard to figure out when you started thinking about [a character like this] because they become such a part of your own psyche," says the Ethiopian Irish actress who was Oscar-nominated in 2017 for Loving, a film about the real-life married couple who helped dismantle America's miscegenation laws in the 1960s. "My job is an extension of myself, so I can't remember life without Mildred or Clare because playing them had such a powerful effect on me."
Passing, which premiered at the 2021 virtual Sundance, is adapted from Nella Larsen's 1929 novel by first-time screenwriter and director — and veteran actress — Rebecca Hall. Starring Negga as Clare and Tessa Thompson as Irene, it tells the story of two light-skinned Black women in 1920s New York City — with Clare choosing to "pass" as white while married to a wealthy racist white man (played by Alexander Skarsgard). After meeting her friend Irene again by chance, Clare is drawn to exploring her own Black identity.
Hall — whom Negga calls a "rare bird" due to the duality of her intell­ectualism and intuition — had written the script 14 years ago after reading Larsen's novel and discovering the role passing played in her own family history, on her mother's side. By the time Negga crossed paths with her during the 2017 Oscar campaigning season, Hall had meticulously storyboarded the film and Negga instantly committed to the yet-to-be funded project.
"It was my curiosity that led me to play her," says Negga, who has picked up a SAG nomination for the role in the supporting actress category. "I was interested in peeling away the layers of performance that Clare brings to the story. Where does the performance end and one's own self begin?"
Funding still took some time, with independent finance coming from a variety of sources, including the UK's Film4. Netflix then acquired Passing out of Sundance for a reported $15m. "Just a few years ago," says Negga, "the idea of two women of colour being centred in a film was apparently preposterous."
Social oppression
Negga has previously spoken of the "ridiculousness of race", and today she reiterates her point.
"It's laugh­able if it wasn't so cruel and dangerous and horrific," she says. Negga calls herself "privileged" to have been part of films such as Loving and Passing, because "these movies are deconstructing all of that".
She adds that America's reconstruction — the 12-year period of civil-rights advancement beginning in 1865 — was undermined by the "deconstruction" that followed. "Another oppressive social and political system was put in place," she says. "We have to be vigilant in our attempt to deconstruct this pois­onous thing called race that doesn't really exist."
In 2018, Negga took a co-exec­utive producer role on Preacher, the AMC series in which she co-starred for its three-year run. She is also an exec­utive producer on Passing and on the upcoming Josephine, the ABC Sig­nature limited series that sees her play the Jazz Age dancer, singer and wartime spy Josephine Baker.
While Negga admits she still has a lot to learn about this new creative role, she wants to take more control over her career.
"For me, it's being listened to in your contribution, whether it's [relating] to the script or your character," she says. With a TV series, "You do become part of a group. You take it personally. You become concerned about everybody's health and wellness, and is everyone treating each other well. This is a natural role that I enjoy."
"With Josephine," she continues, "I hope I have a strong, heard voice [regarding] casting and hiring. [Director] Millicent [Shelton] is a Black woman, so we're taking diversity — another strange word — very seriously. Being in control of people telling myriad stories is so import­ant because whose eye is looking through the lens makes a difference to what's shown on the other side. There's a lot of power in that."
Speaking of Josephine, Negga says she is "fucking nervous". She says she gets nervous as a habit, but this series seems to have especially piled on the pressure. Adrenaline can be a motivator, but it can also be inhibiting or debilitating. Negga is, of course, opting for the former. "I'm trying to use [the nerves] in a way that serves this project, to focus and go, 'Fuck, I better brush up on my dancing game, my singing game, my charisma game, my spy game.' Josephine Baker was an extraordinary woman."
Negga has, by design, picked wildly different roles over her 18-year career and has floated across film, television and theatre (in March, she is set to play Lady Macbeth opposite Daniel Craig in her Broadway debut, produced by Barbara Brocc­oli and directed by Tony winner Sam Gold). If anyone thinks she is going to pigeonhole herself into historical drama by taking on Ms Baker, Negga doesn't care because, well, it's Josephine Baker.
"I just don't see labels like that," says Negga. "I think, 'Does it interest me, and can I contribute to this project in a way that will provide some kind of illumination and positivity?' And if I think it will and think I can, then I'll do it."