Turkish film-maker talks to Screen about his debut feature, which played in Sarajevo's competition following its Cannes premiere.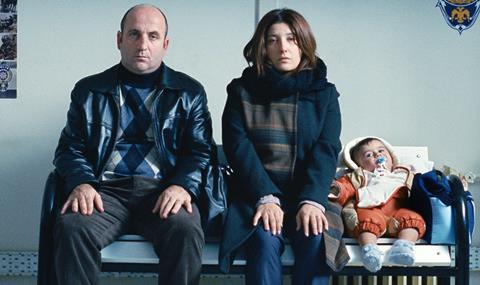 Album by 27 year-old Turkish writer-director Mehmet Can Mertoğlu world-premiered in the Cannes Critics Week, where it won the France 4 Visionary Award. It now screens in competition at this week's Sarajevo Film Festival (Aug 12-20).
The co-production between Turkey, France, and Romania definitely has traits of the Romanian New Wave, not only because it was lensed by the Police, Adjective DoP Marius Panduru, but also because it focuses on social conventions and problems.
However, this merciless look at the brutality of traditional Turkish society is distinctly Mertoğlu's.
Turkish society has many taboos. Why did you decide to examine the one of child adoption?
I have friends who were adopted, and when they learned their mother and father were not their biological parents, it became a huge problem in their lives. It actually leads to disastrous results. So the theme was familiar to me, but it was just an element. My main idea was to make a film about creating history. I'm very interested in the epistemology of history, that's why I tried to make a film about a fake history of a family.
The introduction segment of the film, with the couple making fake pregnancy photos, occupies quite a large chunk of the running time…
I tried to explain the process of adoption in Turkey. It usually takes at least three years to adopt a child. It's a common thing in Turkey, to prepare fake photos. I tried to convey the sense of time, that a lot of time is passing in this process.
Sometimes you push these elements to the level of absurd, like in the scene in the tax office with people sleeping at their desks, or the scene when two women are literally screaming, and smoking cigarettes, over the sleeping baby's crib, delighted at the child's new clothes.
These two scenes are really different. As for the tax office scene, it is absurd, and it comes from my experience. Even in the film industry you have to deal with a lot of bureaucracy. When I go to the Ministry of Culture in Ankara, to sort out some paperwork, I usually have to wait ten hours for a signature. When I sit there waiting, I feel like everybody is sleeping. So it is the way I see this place.
For the second scene, it's not absurd. It is really common. Even I don't understand it, but also in my family, people react really grotesquely to these baby clothes.
You establish a very peculiar rhythm in the film. You use off-screen voice, but you fix the camera on a person that is not necessarily the one speaking, and who maybe does not relate to the dialogue in any way.
I tried to experiment with this. The lines or who is saying them are not that important to me. Also, in other scenes, people are talking about things that are not so specific for that particular scene. For instance, in the police station they talk about football betting. I tried to achieve a kind of cumulative stream of consciousness.
There are a couple of scenes displaying the attitude of the main characters, and their brutal view of the world, that make the viewer very uncomfortable. But one does not get the impression that you hate these characters.
Of course I don't agree with their views, but it is the society that makes those people think and act in this manner. This is really a typical couple in Turkey, especially in Anatolia. They are racist, homophobic, and all that, it's really common in Turkey. But nobody talks about it. Even more now with the political situation, Syria and ISIS, people do not have the time to talk about these big issues.
Even on Turkish television news programmes, the language they use is racist. These people do not even know it's wrong. And the majority of people do not have any option to see a different point of view. Also the education system contributes to this. In history books, the language is also very racist, so the kids grow up as racists. And the quality of teaching is very low. The Ottoman history is very long and full of changes and stories, and the teachers only know some specific parts.
But the main character in the film is a teacher and he seems to be very respected.
It depends on the region. There are two classroom scenes in the film. One is in Antalya, and Antalya is a much more secular place. You can see the kids are joyous and acting almost like in Linklater's Dazed And Confused. But Anatolia is much more conservative, and in the second scene which is set there, you can see that teachers are much more respected.
What kind of films do you like personally? I thought I detected many different influences.
I have to say I'm not a film professional, but I'm a big cinephile. I watch 700 films a year and there's a lot of influences- Roy Andersson, Ulrich Seidl, Cristi Puiu, Corneliu Porumboiu, Elia Suleiman, and from older times, Jacques Tati and Pierre Etaix.
What kind of film would you like to make next?
I would like to make an ensemble cast film next, something like Robert Altman films. I would try to adapt a novel for this project, but it depends of course on available funding. I will start writing it in September, and I hope to shoot in 2018.