Screen's critics have selected their top films of the year, plus the best documentaries and standout performances.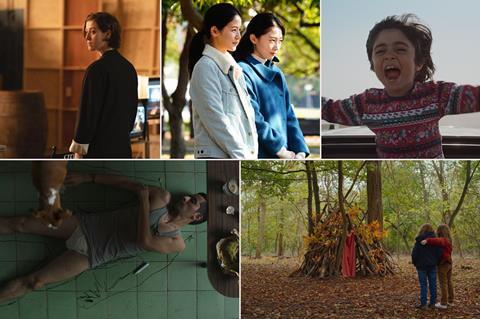 Fionnuala Halligan
Screen's chief film critic and reviews editor
Top film: The Souvenir: Part II (Joanna Hogg)
It's hard to reflect on The Souvenir: Part II without bringing The Souvenir to mind, so this could be a rating for both films combined. Either way, Hogg's formally daring return to the world of her alter ego Julie (Honor Swinton Byrne) — a portrait of the artist as a young filmmaker — is a dazzling piece of cinema, open and honest and brave — and, unlike The Souvenir — frequently funny.
Tim Grierson - senior US critic
Screen's senior US critic, based in Los Angeles, has written for the publication since 2005
Top film: Petite Maman (Céline Sciamma)
A magical modern folktale, Sciamma's latest runs a little over an hour yet it feels far more expansive, exploring grief and mother-daughter relationships with uncommon delicacy. Where Portrait Of A Lady On Fire boldly announced its greatness, Petite Maman sneaks up on you, delivering an emotional impact equally unexpected and overwhelming. Few films have been so wise about our need to truly understand our parents as Sciamma's devastating gem.
Allan Hunter
Hunter has worked for Screen since 1990. He is based in Edinburgh and is co-director of Glasgow Film Festival
Top film: Drive My Car (Ryusuke Hamaguchi)
Hamaguchi's haunting adaptation elevates a short story by Haruki Murakami into an epic, intricately woven reflection on love and death, loss and regret. It is a melancholy film full of intriguing contradictions in which words matter but important things often remain unsaid.
Wendy Ide
Ide joined Screen in 2015 as a UK-based critic, and also writes for The Observer and Sight & Sound
Top film: Hit The Road (Panah Panahi)
A family road-trip deep into the mountainous border country of Iran, an unspoken agenda, an ailing dog, a hyperactive child and a soundtrack full of pre-revolution Iranian pop: Panahi's sublime debut feature effortlessly negotiates tonal gear changes and manages to be both joyously entertaining and wrenchingly sad — at times, all within a single shot.
Jonathan Romney
A longtime contributor to Screen, Romney also writes for Film Comment, Sight & Sound and The Observer, and teaches at the UK's National Film and Television School
Top film: A Cop Movie (Alonso Ruizpalacios)
It could have been listed as documentary of the year, but this remarkable Mexican feature takes genre distinctions down to the station and gives them a thorough interrogation. The latest from Ruizpalacios (Gueros, Museo) is the story of Mexico City cops Teresa and Montoya — partners on the beat and in life. The film explores every corner of their existence, recreated in a vivid, almost glamorous crime-genre style with hints of Scorsese, Lumet and Errol Morris's The Thin Blue Line. Then performers Monica Del Carmen and Raul Briones step out of their uniforms, their video diaries showing how these professional actors trained to play the real-life police duo.
Lisa Nesselson
Paris-based Nesselson is an in-house film critic for the English-language channel of France24, and has reviewed for Screen since 2008
Top film: Onoda: 10,000 Nights In The Jungle (Arthur Harari)
The perfect candidate for a stranger-than-fiction film festival. French writer/director Arthur Harari's three-hour Japanese-language film magnificently portrays honour, patriotism, duty and fake news via superb performances, imparting an unfailingly cinematic sweep (Harari's brother Tom is the DoP) to the true story of a Japanese soldier who, reluctant to surrender and accept Japan lost the Second World War, went on living in the Philippines jungle for 30 years longer than necessary. Wrenching, harrowing, lump-in-throat viewing.
Neil Young
Young is a film critic, film curator and filmmaker. He joined Screen at the start of 2021
Top film: State Funeral (Sergei Loznitsa)
Sergei Loznitsa's found-footage documentary State Funeral — which played at Venice in 2019 and enjoyed limited distribution in UK and US this May — was my clear number one film this year. The 135-minute compendium of official material of the spectacular pompes funebres of Joseph Stalin in 1953 Moscow is augmented with immersive foley sound design. A time capsule of a lost era, it turns the cinema into a kind of Tardis through which we vicariously experience this turning point of 20th-century history. Of the 2021 premiering films yet to find proper distribution, meanwhile, Norika Sefa's Kosovar coming-of-ager Looking For Venera and Franziska von Stenglin's Vietnam-village documentary The Dust Of Modern Life are two of the most deserving.
Lee Marshall
Marshall joined Screen in 1996 as an Italy-based film critic. He also writes on travel, design and culture for a range of UK, US and Italian publications
Top film: Petite Maman (Céline Sciamma)
Céline Sciamma's latest has you smiling and welling up at the same time. One of the things that makes us grin is the sheer brilliance of Petite Maman's tightrope act as it balances fairy-tale imaginings ("What if an eight-year-old could meet and befriend her mother aged eight?") and sharply observed emotional realism in one perfectly formed, 72-minute package. I also loved two other films by female directors: Julia Ducournau's audacious Titane and Maggie Gyllenhaal's brilliant Elena Ferrante adaptation The Lost Daughter. And with The Hand Of God, Paolo Sorrentino has dug himself out of the impasse he reached with the Silvio Berlusconi biopic Loro to deliver a sensitive autobiographical work that is also a love letter to his hometown, Naples.
Amber Wilkinson
Wilkinson is an Edinburgh-based journalist with more than 20 years experience. She has been writing for Screen since 2019
Top film: Petite Maman (Céline Sciamma)
A polished gem of a modern fairy tale, connecting a mother and daughter through a time-travel device that is as subtle as the autumn leaves falling gently through the film. Although dealing with melancholic themes including loneliness and grief, this is chiefly about found rather than lost connections. Sciamma views magic with the open-minded acceptance of a child, so a new friend, a pancake-making session or a shared bag of crisps with mum are just as enchanting as more mystical connections with the past. Claire Mathon shoots with a warmth that matches the film's emotions.
Jonathan Holland
The Madrid-based film critic and teacher joined Screen this year
Top film: Maixabel (Iciar Bollain)
Iciar Bollain is Spain's leading female director. Following screenings at San Sebastian of her challenging, inspirational Maixabel, about a staged meeting between a widow and the terrorist who killed her politician husband, some cried while others sat in stunned and thoughtful silence. Finally, everyone applauded, at length. Made in the compassionate spirit of Ken Loach, superbly co-scripted by Bollain and Isa Campo, and grounded in political, historical and emotional truths, Maixabel is a film that wants not only to show, but also to do something. It takes on the challenge of speaking to both sides of the struggle in a country that famously refuses to face up to past issues. But it goes beyond that, asking in these divided times that we keep talking — and listening.