Wendy Ide joined Screen in 2015 as a UK-based critic, and also writes for The Observer and Sight & Sound. Read our other critics' top tens here.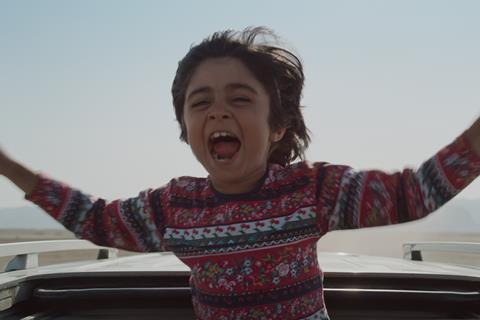 Top ten
1. Hit The Road
Dir. Panah Panahi
A family road-trip deep into the mountainous border country of Iran, an unspoken agenda, an ailing dog, a hyperactive child and a soundtrack full of pre-revolution Iranian pop: Panahi's sublime debut feature effortlessly negotiates tonal gear changes and manages to be both joyously entertaining and wrenchingly sad — at times, all within a single shot. The picture combines influences from the greats of Iranian filmmaking — the director is the son of Jafar Panahi, while Abbas Kiarostami was a mentor — and references to a wider cinematic realm — a fantasy riff on 2001: A Space Odyssey is a moment of heartswelling beauty. Panahi's storytelling is firmly rooted in the universal truths of family life and its sometimes prickly embrace, and, at the same time, it is thrillingly inventive and unexpected.
Read Screen's review
2. The Lost Daughter
Dir. Maggie Gyllenhaal
Fascinated by a woman and her daughter during a holiday on a Greek island, literature professor Leda (Olivia Colman) recalls an earlier period in her own life. Gyllenhaal's excellent directing debut unfolds against a picturesque backdrop that is, under the surface, crawling with bugs and decay. Between them Colman and Jessie Buckley, as the younger Leda, create a vivid portrait of a defiantly difficult character.
Read Screen's review
3. Zola
Dir. Janicza Bravo
Based on a viral Twitter thread, Bravo's accounts of a stripper road trip to Florida is an uproarious voyage to the dark side of erotic entertainment. Featuring Taylour Paige as Zola, the eye of a storm of sociopaths, habitual liars and deadbeats, the film playfully toys with its social-media origins rather than appearing slavishly in thrall to them. Plus the skittish, witty score from Mica Levi is terrific.
Read Screen's review
4. The Power Of The Dog
Dir. Jane Campion
Campion's sensual western floods the traditionally macho landscape with discomfort and homoerotic tension. Benedict Cumberbatch is a revelation as rancher Phil Burbank: flint-eyed, his character chiselled by malice, he tortures his brother's new bride with a whistled refrain that reminds her, and only her, of her own failings. Ari Wegner's cinematography makes eloquent use of the mercurial play of the light on the surrounding hills.
Read Screen's review
5. Azor
Dir. Andreas Fontana
Beneath the rarefied gloss of Buenos Aires high society is a swirl of murky rumours and dirty money, in this atmospheric financial thriller. Fontana's feature debut evokes a sense of the rotten core of privilege that finds a kinship in Lucrecia Martel's 2001 feature La Cienaga; everything from the colour palette to the costume choices to the claustrophobic cocktail parties reeks of tainted wealth.
Read Screen's review
6. Titane
Dir. Julia Ducournau
Read Screen's review
7. The Souvenir: Part II
Dir. Joanna Hogg
Read Screen's review
8. What Do We See When We Look At The Sky?
Dir. Aleksandre Koberidze
Read Screen's review
9. Brother's Keeper
Dir. Ferit Karahan
Read Screen's review
10. The Worst Person In The World
Dir. Joachim Trier
Read Screen's review
Best documentaries
1. The Velvet Underground
Dir. Todd Haynes
Haynes' masterful music documentary combines not just a history of one of the most influential bands of the 20th century, but also the social, political and artistic amniotic fluid that birthed them. Highlights include John Cale's mellifluous tones and Moe Tucker's scathing dismissal of flower power.
Read Screen's review
2. Flee
Dir. Jonas Poher Rasmussen
On the brink of marriage, Amin, an Afghan refugee who has made a life in Denmark, shares the story of his past in this handsomely animated documentary.
Read Screen's review
3. Summer Of Soul
Dir. Ahmir 'Questlove' Thompson
A wealth of hitherto neglected footage of the 1969 Harlem Cultural Festival is deftly assembled into a celebration of Black talent, in this exhilarating debut from Questlove.
Read Screen's review
Performance of the year
Agathe Rousselle in Titane (dir. Julia Ducournau)
The physicality of Rousselle's performance in Titane is a formidable thing. She is a horribly compelling presence, simultaneously seductive and repellent, virtually reptilian in her movements. She is relentless but Rousselle also taps into an almost comically relatable moment of physical exhaustion during a killing spree. And it's through this focus on the body that we engage with a character so broken that she has the emotional depth of chrome plating. Rousselle blurs the boundaries between female and male, predator and victim. And somehow, she makes us sympathise with a monster.