Tim Grierson is Screen's senior US critic, based in Los Angeles, has written for the publication since 2005. Read our other critics' top tens here.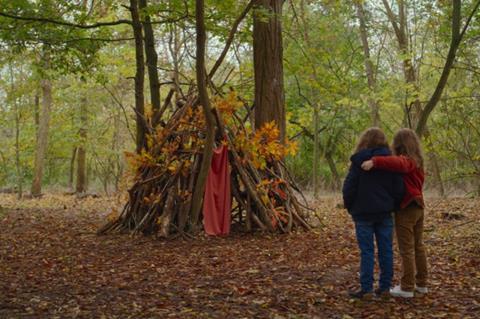 Top ten
1. Petite Maman
Dir. Céline Sciamma
A magical modern folktale, Sciamma's latest runs a little over an hour yet it feels far more expansive, exploring grief and mother-daughter relationships with uncommon delicacy. Joséphine Sanz plays Nelly, an eight-year-old girl who has just lost her grandmother, a death that is affecting both her and her struggling mother (Nina Meurisse). When Nelly meets another girl in the neighbouring woods, Marion (played by Joséphine's twin sister Gabrielle), they form a bond that goes beyond friendship — and suggests a more cosmic connection than Nelly first realises. Where Portrait Of A Lady On Fire boldly announced its greatness, Petite Mamansneaks up on you, delivering an emotional impact equally unexpected and overwhelming. Few films have been so wise about our need to truly understand our parents as Sciamma's devastating gem.
Read Screen's review
2. Memoria
Dir. Apichatpong Weerasethakul
Tilda Swinton stuns as Jessica, a woman who becomes unglued by a strange sound only she can hear. Apichatpong turns Jessica's quest to uncover its source into a meditative exploration of isolation and renewal. Shooting outside of Thailand for the first time, the Cemetery Of Splendour director combines the everyday in Colombia with the inexplicable, reshaping the world into something more beautiful and mysterious than we could ever grasp.
Read Screen's review
3. Passing
Dir. Rebecca Hall
This confident directing debut boasts two outstanding performances, as Tessa Thompson and Ruth Negga play childhood friends reunited in adulthood, one living a small life in Harlem while the other, who passes for white, enjoys the luxuries of Manhattan. A study of racism, identity and self-hatred, Passing slowly turns into a psychological thriller, building to a heart-stopper of an ending.
Read Screen's review
4. The Worst Person In The World
Dir. Joachim Trier
In his late 40s, Trier has fashioned a compassionate drama about stumbling into your 30s, highlighted by Renate Reinsve's nuanced performance as Julie, an aspiring photographer who cannot decide between two romantic partners. Tender rather than cute, profound instead of patronising, The Worst Person In The Worldargues that coming of age is an undertaking one never completes, requiring endless courage and curiosity.
Read Screen's review
5. Red Rocket
Dir. Sean Baker
The Florida Project director's passion for characters on the margins comes with a twist in Red Rocket, the story of a manipulative, washed-up porn star who returns to his small Texas hometown, plotting his latest comeback. Simon Rex is magnetic as this charming monster, and the picture's 2016 setting cannily critiques an America about to elect a world-class scam artist to the White House.
Read Screen's review
6. Dune
Dir. Denis Villeneuve
Read Screen's review
7. C'mon C'mon
Dir. Mike Mills
Read Screen's review
8. Licorice Pizza
Dir. Paul Thomas Anderson
Read Screen's review
9. The Green Knight
Dir. David Lowery
Read Screen's review
10. The Lost Daughter
Dir. Maggie Gyllenhaal
Read Screen's review
Best documentaries
1. Summer Of Soul
Dir. Ahmir 'Questlove' Thompson
Both a celebration and a cultural history, this look at the 1969 Harlem Cultural Festival — nicknamed the Black Woodstock — doesn't just unearth some never-before-seen performances from music titans including Stevie Wonder and Nina Simone, but also analyses the impact of these shows on the Black community during the civil rights movement. This is a concert film that's as thoughtful as it is emotional, combining first-person testimonials with electrifying sets.
Read Screen's review
2. All Light, Everywhere
Dir. Theo Anthony
This fascinating examination of the very concept of seeing — and our belief that what we perceive is "the truth" — grapples with racial bias, police corruption and our inability to overcome our personal blind spots. As with his previous documentary, Rat Film, director Anthony experiments with the form while challenging the viewer to question how we take in the world around us.
Read Screen's review
3. Faya Dayi
Dir. Jessica Beshir
The year's most gorgeously photographed film uses Ethiopia's lucrative khat crop as the inspiration for a tapestry of individual portraits. The images in Beshir's film are a hazy dream mitigated by tales of despair and resilience.
Read Screen's review
Performance of the year
Oscar Isaac in The Card Counter (dir. Paul Schrader)
One of our finest actors — working with Schrader, the master of the stoic loner protagonist — crafts a performance that's controlled and edgy as William Tell, an expert poker player hiding dark secrets. Like Taxi Driver's Robert De Niro and First Reformed's Ethan Hawke before him, Isaac brings another of Schrader's tortured antiheroes to life, but the degree of vulnerability and soulfulness he harnesses is new in the veteran film­maker's oeuvre. Isaac plumbs Tell's depths and then charts his redemption.
Read Screen's review


Based in the United States.