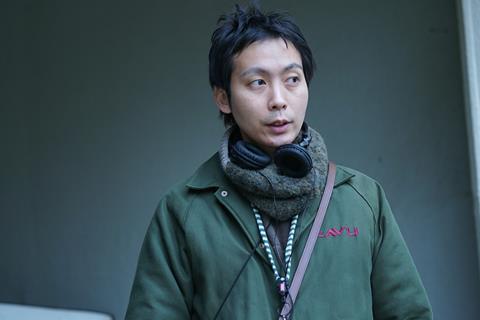 "Write what you know" might be a cliché, but if you've had experiences as compelling as writer and director Yusuke Okuda, it makes complete sense.
Okuda, one of four directors being introduced by UNIJAPAN at the EFM as part of a project to support participation in overseas film festivals, commissioned by the Agency for Cultural Affairs, Government of Japan, drew on some very personal experiences to provide material for his second feature. Somebody's Flowers explores the complicated circumstances behind a sudden death, which premiered at the 2021 Tokyo International Film Festival.
"Five years ago, I lost a family member in a traffic accident," says Okuda. "I wanted to write about the confusion and conflict that arises between so-called perpetrators and victims. I'm also interested in the idea of tragedies born from good intentions."
Another piece of unique experience gave Somebody's Flowers a high level of authenticity: before Okuda became a full-time filmmaker, he worked in the funeral planning industry.
Okuda, who trained at the Japan Institute of the Moving Image, made his feature debut in 2017 with the film Uncertain Sin That Did Not Change The World. For the director, who spent three years writing Somebody's Flowers, the jobs of screenwriter and director are indelibly intertwined.
"I put a lot of value on the things I feel occurring around me, even the uncomfortable things, and I want to deliver that to the audience from scratch," Okuda says. "For that reason, I'd like to continue to write my own original scripts."
Okuda's next script, which he is pitching at the EFM, is titled No Use. It is the story of a professional fighter who retires and returns to his hometown, where his temper gets him into serious trouble.
"I want to explore the idea that anyone can find themselves party to an incident or an accident, and to make audiences ask themselves what they would do if it were them," Okuda explains.
Having participated in a major international film festival for the first time last year, Okuda is raring to move further onto the international stage.
"In order to meet and speak with as many ardent film fans as possible, I want to make a film that makes me feel as if I'm a part of the larger conversation that's happening around the world," he adds.


In order to promote the arts and culture of Japan, the Agency for Cultural Affairs is dedicated to the promotion of media arts such as films, animation, and manga, by providing support to creative work including music, films, dance and other dramatic arts, fostering young and upcoming artists, reinforcing opportunities for children's arts and culture experiences, providing support to arts and culture activities in local communities, and hosting the Japan Media Arts Festival.
View full Profile