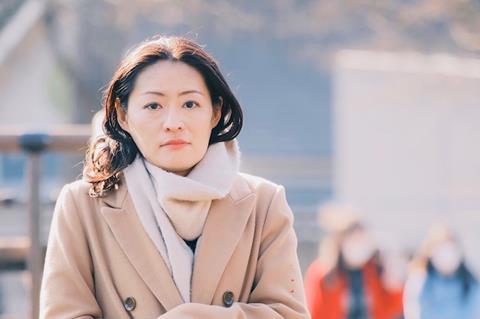 To say Mayu Nakamura has been making the most out of the pandemic would be an understatement. The Tokyo-based writer and director has already made two features since the pandemic began, including Intimate Stranger, a thriller that debuted at the 2021 Tokyo International Film Festival.
"Living under the pandemic is so stressful for many people but I always feel there's something to learn from hardships. I'm kind of thriving under these circumstances," says Nakamura, one of four directors being introduced by UNIJAPAN at the EFM, as part of project to support participation in overseas film festivals, commissioned by the Agency for Cultural Affairs, Government of Japan.
Nakamura earned an MFA from the graduate film program at New York University and made her debut with the narrative feature The Summer of Stickleback in 2006. She cites Krzysztof Kieślowski and John Cassavetes as influences, the former for "focusing on the small dramas of ordinary people" and the latter for "capturing actors really living the characters in an almost documentary manner".
Nakamura has also made documentaries, including 2015 feature Alone in Fukushima, which follows a man who stayed behind in the Fukushima nuclear zone to care for the animals left behind.
"I perceive documentary and narrative in similar ways, since both are really about portraying people and how they live," says Nakamura.
One of Nakamura's goals in both narrative and documentary filmmaking, including with Intimate Stranger, is to feature members of society who do not get a lot of attention in mainstream Japanese film.
"There are more women directors now than a decade ago, but not so many Japanese films about women over 30 years old," says Nakamura. "Most Japanese films are about young women or middle-aged men, but not so many films about middle-aged women, although we make up more than half the audience. So I wanted to make films about women that women over 30 can enjoy."
The project she is next trying to fund sheds light on another group not often portrayed in Japanese film: the non-binary community. Nakamura says she has had difficulty convincing Japanese producers to let her cast non-binary actors and has decided to set the film in the US instead.
"Hopefully, by making this film in the US, it will have international impact, but also help change the climate surrounding sexual minorities in Japan," she adds.


In order to promote the arts and culture of Japan, the Agency for Cultural Affairs is dedicated to the promotion of media arts such as films, animation, and manga, by providing support to creative work including music, films, dance and other dramatic arts, fostering young and upcoming artists, reinforcing opportunities for children's arts and culture experiences, providing support to arts and culture activities in local communities, and hosting the Japan Media Arts Festival.