From tales of lesbian romance, errant villagers and unwanted pregnancy to a road movie and dreams of escape, Screen profiles the five South Asian films submitted to the Oscars' foreign-language film category.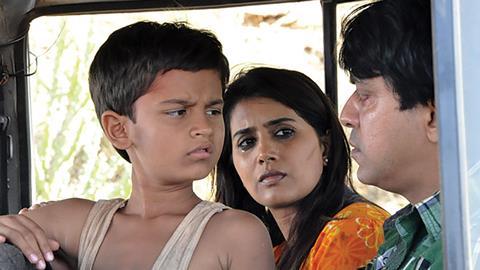 The Good Road
Gyan Correa talks to Liz Shackleton about working with non-professional actors on his debut feature.
Filmed on location in the Indian state of Gujarat, Gyan Correa's The Good Road touches on several social problems - a divided society, child prostitution and the harsh life of India's truck drivers - but it is a character-driven rather than issue-based film.
"My film is about small people," Correa says. "The idea was to give a voice to people who are normally never heard."
The story follows three groups travelling on a highway that borders the Great Rann of Kutch salt marsh in Gujarat: a middle-class couple and their son, a small girl on the run, and a weary truck driver and his assistant. When the couple lose their child, the characters collide in ways that transform them.
Correa wanted the story to be rooted in a particular region of India, which led to the casting of real-life truck driver Shamji Dhana Kerasia. "We looked at a lot of very good actors but figured it would be easier to put an actor into a driver, rather than a driver into an actor," he explains.
Non-professionals play several other characters in the Gujarati-language film, while professional actors Sonali Kulkarni and Ajay Gehi play the couple and child actor Keval Katrodia plays their son.
Correa says in some ways it is easier to work with non-actors as they come with fewer preconceptions, but you cannot wrap a scene halfway through: "You have to shoot the whole scene so they really feel like they're living in it."
Fully financed by the National Film Development Corporation (NFDC), The Good Road took part in Film Bazaar's Screenwriters Lab in 2008 and Work-in-Progress Lab in 2011. It won an award for best Gujarati film at India's prestigious National Film Awards in May and is screening at this year's International Film Festival of India (IFFI).
Wajma - An Afghan Love Story
Paris-based Afghan film-maker Barmak Akram tells Liz Shackleton about shooting in Kabul.
Barmak Akram's second feature tells the story of a young woman, Wajma, who begins a romance that she believes is going to lead to marriage. But when she accidentally falls pregnant, her boyfriend refuses to accept responsibility and her world begins to collapse around her.
The Persian-language film premiered at Sundance where it won the screenwriting prize in the World Cinema Dramatic competition, a fact that amuses Akram as he filmed in the caméra-stylo method without a script.
"I wanted to make a film that shows the reality of Afghanistan - it's not all Taliban and burkhas," Akram says. "Young people represent 68% of the population but nobody talks about their lives."
Akram was keen to shoot inside Afghanistan, rather than use substitute locations, so he filmed for two-and-a-half months in Kabul, choosing the height of winter when the Taliban insurgency is usually less active.
Theatre students Wajma Bahar and Mustafa Habibi play the leads. "It was actually quite a good experience as I had no pressure from producers or insurance companies. You can't stick to a shooting schedule in Kabul."
Despite the domestic violence and other tribulations that Wajma endures, the film is quietly hopeful about Afghan society. "I didn't want to make a film about honour killings - I wanted to show there are other options," says Akram, who also produced through his two companies Paris-based Ariroad and Kabuli Film.
Akram previously directed Kabuli Kid, about a taxi driver forced to look after an abandoned baby, which screened in Venice film festival's Critics Week in 2008. Kabuli Kid was produced by France's Fidélité Films.
Since Sundance, Wajma has screened at around a dozen festivals, including Montreal, Valladolid and Amazonas, and is receiving a theatrical release in France through ASC Distribution on November 27. Doc & Film International is handling international sales and Film Movement has US rights.
Soongava - Dance Of The Orchids
Subarna Thapa's debut feature tackles a lesbian romance in Kathmandu.
Directed by France-based Nepali film-maker Subarna Thapa, Soongava - Dance Of The Orchids tells the story of a love affair between two women who come from distinctly different backgrounds.
Kiran is a working-class teacher while her girlfriend, aspiring dancer Diya, comes from a wealthy family that informs her of their plans for an arranged marriage. Further complications arise as the couple struggle to make their relationship work. The two women are played Nepali actresses Nisha Adhikari and Deeya Maskey.
Despite legalising same-sex marriage, Nepal remains a difficult place for women to openly conduct a lesbian relationship.
"My first inspiration and question was, 'How would it be for someone gay in our kind of society to come out of the closet?'," Thapa says.
The Nepali-language film, which marks Thapa's feature debut, was co-produced by two French companies - Raphael Berdugo's Cité Films and Virginie Lacombe's Rapsodie Production - with Nepal's Ami Films. Cité Films is handling international sales.
Released in Nepal in January this year, the film has played widely at festivals including Montreal World Film Festival, Hamburg, Palm Springs, Mumbai and the Toronto LGBT Film Festival.
Zinda Bhaag
Pakistan's first Oscar submission in 50 years is a comedy about three men attempting to emigrate.
Directed by Meenu Gaur and Farjad Nabi, comedy thriller Zinda Bhaag tells the story of three young men in Lahore plotting to emigrate overseas.
While the film begins on a light-hearted note as the trio dream of the riches that await them, it takes a darker tone as their schemes become ever more desperate, involving a local gangster, visa forgery and gambling.
Produced by Mazhar Zaidi, the film stars Indian actor Naseeruddin Shah as the gangster, while the young trio is played by local newcomers Khurram Patras, Zohaib and Salman Ahmed Khan. Gaur and Nabi are award-winning documentary film-makers who make their narrative feature debut on the film.
Nabi says: "Zinda Bhaag has been described as funny, natural, hip and casually audacious [by author and Pakistan Oscar committee member Mohsin Hamid] and others have talked about the inherent pathos in the film. We were tired of the ways in which Pakistan was represented, so we stayed away from themes of terrorism or other themes that exoticise Pakistan."
Gaur adds: "Our film is an out-and-out tribute to the now collapsed Pakistani film industry, aka Lollywood, and we used devices, songs, background score and even our poster to evoke a lost era of Pakistani cinema."
Zinda Bhaag was released in Pakistan in September and in the US in October. The film-makers are hoping to secure releases in Canada, India and the UAE. The film played at the recent Abu Dhabi Film Festival and is screening at Film Bazaar in the Viewing Room.
Pakistan has previously submitted only two films to the Academy Awards since the ceremony's inception, the last one being Khawaja Khurshid Anwar's The Veil in 1963.
Television
Bangladeshi film-maker Mostofa S Farooki's Television examines a clash of modernity and tradition.
Following its premiere as the closing film of Busan International Film Festival last year, Mostofa S Farooki's Television has had a successful festival career, winning a special mention in the Muhr AsiaAfrica competition at Dubai. More recently, the film has been nominated for best feature and best screenplay at the upcoming Asia Pacific Screen Awards.
The Bengali-language film follows a village elder in a water-locked village who has banned all moving images, including television, as un-Islamic. When the villagers rebel, the elder embarks on a pilgrimage to Mecca. But unable to complete his journey, he discovers that television may have its uses after all.
Produced by Farooki's Chabial Film and Star Cineplex, and co-produced by Germany's Mogador Film, Television was a Film Bazaar project in 2010.
It racked up more than 1 million admissions in Bangladesh and was recently released in five theatres in Korea by local distributor At Nine. Korean sales company M-Line Distribution picked up the film and has sold it to pan-Asian broadcaster Astro for multiple territories.
Farooki's latest project as director, Ant Story, about a young man living in a fantasy world, is in post-production and is close to completion.