Mainstream Spanish films are thriving as TV broadcasters fill the gap in public funding. But at what cost to auteur film-making? Could a new Pedro Almodovar emerge now?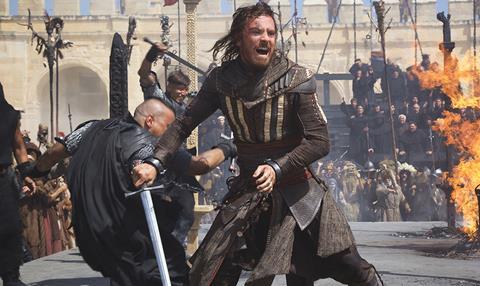 The Spanish film industry has started 2016 on an optimistic note. Emilio Martinez-Lazaro's broad comedy Spanish Affair 2 (Ocho Apellidos Catalanes), the sequel to the all-time local hit Spanish Affair, was the top grossing film of 2015, taking $34.7m (€32m), and Fernando Gonzalez Molina's romantic period drama Palm Trees In The Snow, released on December 25, out-performed Star Wars: The Force Awakens on its second weekend on release and has garnered more than $17m to date.
The label 'made in Spain' on a commercial, locally produced film is now a positive note for local audiences. "As in France, we're learning to make films that work for a big audience," says Ramon Colom, president of producers' association FAPAE.
And despite the economic crisis, which still holds Spain tightly in its grip, total admissions went up a healthy 9.7% year-on-year in 2015 with receipts of $618m (€572m).
Hopes are high for this year. Two of Spain's internationally renowned film-makers, Pedro Almodovar and JA Bayona, are readying films for release this year, while Fernando Trueba is preparing to shoot The Queen Of Spain, starring Penelope Cruz.
The industry is also united in efforts to reduce the 21% levy on cinema tickets in Spain, the highest in Europe. And online piracy remains a major concern. It is widespread throughout the country due to the absence of real penalties, despite an ongoing campaign by producers and distributors who insist the government must do more.
While political uncertainty lingers, few producers are willing to predict what the long term holds for public funding policy. Elections at the end of December failed to deliver a decisive victory for either of Spain's two main political parties. The conservative People's Party (PP) and the left-wing Spanish Socialist Workers' Party (PSOE) are still negotiating alternatives and pacts to form the new government. As of early March, no government had yet been formed.
In the short term, producers are adjusting to the changes in the public funding policy approved in December. The bulk of government support is now for films that meet requisites such as a solid production company, a minimum budget of $1.5m (¤1.3m), a release that covers a minimum of 20 theatres and 'economic viability' — measured by contracts with TV, distribution and international sales companies.
The schedule for payments has also changed in a move that will appeal to international co-producers looking to work with Spanish partners. Films that have been granted public funding will no longer have to wait until after their release to receive it. This means producers can skip the so-called 'middle man', bank loans to manage the gap between production and the receipt of the cash funds.
"2016 will be a difficult year, with the small amount of public help for the industry and the adjustment to the changes in the public funding formula," says producer Edmon Roch of Ikiru Films, whose credits include animation Capture The Flag, which has grossed $12.5m. "But in 2015 the industry has proved it can cope, scoring hits at the box office."
Rise in documentaries
The average production budget for a Spanish film fell to $1.5m (€1.3m) in 2015, from $3.5m (€3.2m) five years ago. While the big features backed by broadcasters including Atresmedia Cine and Telecinco Cinema are thriving, mid-range and smaller films more reliant on public funding are struggling.
The TV companies remain the major power in Spain and the arrival of streaming giant Netflix and local competitor Movistar Plus is shaking up the industry as the theatrical audience for these smaller films shrinks further.
There has been a rise in the number of documentaries produced to 42.7% of all feature films made in Spain in 2015. This is due to their relatively low production budgets and easier route to TV. Local documentary film-makers include seasoned auteurs such as Jose Luis Guerin, who made La Academia De Las Musas, as well as newcomers Marcos Cabota and Toni Bestard, whose I Am Your Father — a documentary about David Prowse, the man behind Darth Vader's mask — was released in Spain a month before Star Wars: The Force Awakens.
But as the influence of the broadcasters increases and public funding wanes, there is a growing sense of unease about the creative direction the industry may be pulled in. Can a new Almodovar emerge and thrive in Spain's new prime-time friendly context?
"The healthiest scenario is an industry where both auteur and commercial films co-exist," says Mod Producciones' Fernando Bovaira, the long-time producer of Alejandro Amenabar's films.
Others believe the power of the TV companies is a great asset for the industry. "It's good for all of us, because it's a matter of strengthening the foundations of the business," says Ghislain Barrois, CEO of Telecinco Cinema.
Barrois has co-produced some of Spain's biggest hits of recent years, including Spanish Affair, Spanish Affair 2, The Impossible and the upcoming A Monster Calls. The latter two are both in English and Barrois is keen to see greater support for Spanish-produced, English-language productions. Government funding presently excludes films made in languages other than the official ones in the country.
"The limitations for shooting in English limit the growth of the industry in Spain," Barrois suggests. "It's the kind of old-fashioned protectionism that Spanish, as a language, does not need."
Dramatic locations
The increased tax rebate for international film and high-end TV productions announced last year (15% for Spain, rising to 35% for the Canary Islands) is ensuring Spain remains one of Europe's busiest shooting destinations.
After filming some of season five of Game Of Thrones in the Moorish palaces of Andalusia, HBO returned to Spain for season six, filming in locations including the semi-desert area of Bardenas Reales in the southern region of Navarre as well as the medieval city of Girona in the north. Last year also saw 20th Century Fox's Assassin's Creed, directed by Justin Kurzel and starring Michael Fassbender, shoot in Andalusia.
The dramatic volcanic scenery of the Canary Islands has attracted Ridley Scott's Exodus and Ron Howard's In The Heart Of The Sea. In the latter it stood in for the Ecuadorian coast. Now, the Canary Islands are hosting Lennart Ruff's US-UK sci-fi thriller The Titan, starring Taylor Schilling and Sam Worthington.