Studios have reassessed their approach to specialty units in recent years, selling or closing down several major outfits. Anthony D'Alessandro looks at those still in business and asks how they are approaching the future.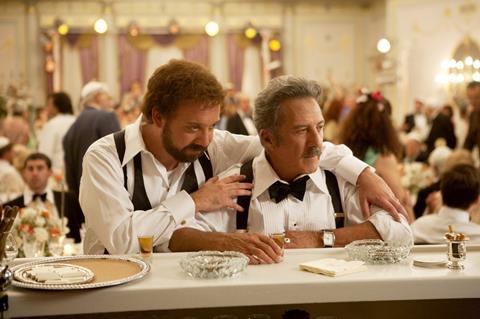 On paper, specialty films looked like a decent investment for the major studios: titles carried low budgets, profit margins existed and awards opportunities were rife.
But as the 2007 recession hit, Paramount, Disney and Warner Bros re-assessed their need for divisions which yielded nickels and dimes. Paramount Vantage collapsed in 2008 after overspending on such Oscar darlings as There Will Be Blood, though the label has notionally been kept alive atop such studio pick-ups as the documentary Waiting For 'Superman'. Disney sold off Miramax Films to Ron Tutor's Filmyard Holdings for $663m, and Warner simply closed down both Warner Independent Pictures and Picturehouse.
"Why spend time and money chasing a Golden Globe nomination when you can cut your overhead and use your money to make Pirates Of The Caribbean 4 and theme-park attractions?" asks a former studio specialty chief.
However Universal, Sony and Fox have kept their respective specialty units Focus Features, Sony Pictures Classics and Fox Searchlight in business, sticking to their core financial missions.
Of those units that withered, their woes stemmed from tentpole overspending and excessive acquisitions. Disney had bought Harvey and Bob Weinstein's Miramax in 1993 and enjoyed years of hits but when the Weinsteins started to make films on studio-level budgets, such as Cold Mountain, the relationship soured. By the time Daniel Battsek came in to run the division, survival in the specialty business was an expensive game. Films such as No Country For Old Men (US gross $74.3m) and The Queen ($56.4m) were Oscar winners and found audiences but the cost to get them there was enormous. The MPAA declared the average cost to make and market a film from a studio specialty unit in 2007 was a prohibitive $74.8m. The bubble had burst.
Arthouse habits die hard
The studios have historically had a tumultuous love affair with the arthouse. Paramount's 1980 Louis Malle title Atlantic City was a crossover success, scoring $12.7m and leading Fox to jump on the indie bandwagon with hits such as South African import The Gods Must Be Crazy (US gross $30m). Meanwhile, Columbia Pictures and Gaumont formed Triumph in 1982 with an emphasis on foreign and UK films.
But regional exhibitors griped over the majors' dual distribution arms and these labels soon recessed. The 1990s saw a rebound in the arthouse business following the success of Miramax and the growth of multiplex chains, which further distinguished studio and specialty routes. But when Searchlight and Focus entered the game, competition drove prices up and the arrival of Paramount Vantage took them even higher.
Ironically the longest running team in the studio specialty business — Michael Barker and Tom Bernard at Sony Pictures Classics — has kept to its original mandate of cost-effective acquisition and distribution of high-end English-language films and the cream of world cinema. While others spent themselves out of business, SPC remains the distributor of choice for a world of arthouse titles.
Wisdom has it that in the next cycle of the business, the studios will return to specialty film distribution; after all these labels handle a different type of film to blockbuster franchises, they can reap the benefits of the parent's pay-TV deals and international distribution networks and they bring prestige in the shape of good reviews and awards. In the meantime, however, the studios' loss is the independents' gain.
Sony Classics' efficiency
For Sony, its classics division is an essential component of its diverse slate. CEO and chairman Michael Lynton praises the unit's co-founders Bernard and Barker as a duo who make "the smartest of bets" and has a "fantastic social network of film-makers from around the world which is crucial to success in a relationship-driven business".
Since their beginnings with partner Marcie Bloom at UA Classics and Orion Classics during the 1980s, Bernard and Barker have profited from their consistently frugal approach: keeping a 25-person staff, avoiding expensive festival acquisitions and committing to director-driven projects with a finished script.
Their expertise also lies in exploiting all available platforms to swell a film's future ancillary worth. On Get Low (US gross $9.1m), Sony Classics saw the film's potential in southern states, not just the big cities, and tapped the region's Christian marketing and radio ad drivers. Whenever possible, free media is as valuable as word of mouth — fashion glossies, for example, fuelled the box office for An Education ($12.6m) as they made star Carey Mulligan their new cover girl.
"We have decided to be hands on," says Bernard about the unit's well-oiled machine. "We get involved in booking, advertising and acquisitions. There's usually a natural process where people add people whenever there's a crisis. No job is too small for us."
Focus Features' international reach
As the Comcast-NBC Universal merger nears, the industry has been speculating about the fate of Focus Features (at press time Universal had been presented with an informal sales offer for Focus from investors the Gores brothers, however the studio cannot offload the unit until the Comcast-NBC merger is finalised). Nonetheless, Focus CEO James Schamus and Universal co-chair Donna Langley could not be more optimistic about the merger.
"Having owners that are buying the company because they're interested in content sounds great. They're buying NBC Universal for the right reason, not to go to premieres and meet girls," says Schamus who is yet to have official talks with the new owners about Focus' future.
Langley notes that Focus "made a profit in each of its eight years of existence" and scored "66 Academy Award nominations… Their global reach sets them apart from other specialty studios with their own international sales arm."
Glancing at Focus' slate next year (see below) it is obvious their titles have worldwide appeal. International sales have been a core part of Schamus' financial strategy since his days at indie finance/production firm Good Machine.
On George Clooney's Italy-set thriller The American, Focus spent a thrifty $20m and kept the US and seven other territory rights which it handled through Universal Pictures International. The total global haul amounted to $66m, with Focus/Universal territories generating 70% of that cume.
Fox Searchlight balances financing
In producing films for a global audience, Searchlight both acquires films and develops in-house. It is known for turning niche awards-season fare such as Slumdog Millionaire and Juno into $100m-plus breakout hits; however, the division will only spend to get those grosses if the demand exists.
"We keep the budgets as low as possible, ideally under $10m and utilise tax incentives whenever available and seek equity partners for relevant projects," says Searchlight president Steve Gilula on the outfit's business model.
In addition, to minimise risk Searchlight does not sell off territories. The company initially passed on Darren Aronofsky's awards contender Black Swan, finding its $15m budget too high. After financier Cross Creek Pictures stepped in to assist, Searchlight acquired global rights.
Searchlight approached Aronofsky's The Wrestler from a different angle, buying North American rights from financier Wild Bunch for less than $4m and ultimately minting $26.2m at the domestic box office.
At a glance: Studio Specialty arms (domestic grosses)
FOCUS FEATURES
2010 box office to Dec 19 $74.5m
2009 box office $161.5m
CEO James Schamus says "Since Good Machine, we've kept an international perspective — not making movies purely for the North American marketplace. We rarely acquire for that purpose. We love the fact our films garner awards attention, but we're not in the business of winning awards, rather making specialised films."
Next up in the US: The Eagle, February 11 (wide); Jane Eyre, March 11 (select cities); Hanna, April 8 (wide); Beginners, June 3 (select cities);
One Day, third quarter.
FOX SEARCHLIGHT
2010 box office to Dec 19 $126.6m
2009 box office $257.1m
President Steve Gilula says "Fox Searchlight is a global distributor that welcomes co-financing equity partners and has partners on many of its films. Regarding acquisitions, Searchlight finances solely and, where possible, acquires all rights for the world."
Next up in the US: Cedar Rapids, February 11; Win Win, March 25; The Tree Of Life, May 27.
SONY PICTURES CLASSICS
2010 box office to Dec 19 $62.4m
2009 box office $48.7m
Co-founder Tom Bernard says: "We do not acquire a movie just to buy it. That's not fair to those people who have worked to make the movie. You go into business with us because you have a good sense that we will exploit the film to the very best of our abilities."
Next up in the US (selected): Barney's Version, January 14; Of Gods And Men, February 25; Winter In Wartime, March 18; The Skin I Live In, autumn.