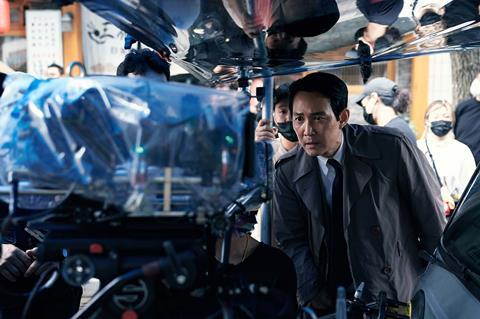 Actor Lee Jung-jae was not looking to become a director. A well-known star of TV and film in Korea since the 1990s, the actor achieved global stardom with Net­flix hit Squid Game last year, but had never so much as directed a short. Previously in Cannes with Im Sang-soo's Competition title The Housemaid (2010), Lee returns to the Croisette with the world premiere of his directorial debut Hunt in Midnight Screenings.
"I just wanted to produce this film," he explains, describing how director Han Jae-rim (Emergency Declaration) had previously approached him with a role in an espionage script that the filmmaker ultimately gave up on.
Lee thought its story, focusing on a single protagonist, could be better expanded into a film with two leads. So, Lee's picture focuses on two unit chiefs in the Korean Central Intelligence Agency (KCIA), plying their trade in 1980s Korea at a time following dictatorial assassination, coup d'etat and massacre of civilians protesting for democracy. Tasked with uncovering a mole, they end up investigating each other as well as discovering a North Korean plot to assassinate the latest authoritarian president.
"It's hard to hit a balance with a two-top-leads structure, but it's set in the 1980s, with action and overseas locations so the production budget was going to cost a lot. It had to be a script [with two leads] that would attract solid casting," says Lee.
After meeting with a string of writers and directors who ultimately thought the project too difficult, Lee found himself working on the script at night while acting on films such as Warriors Of The Dawn (2017) and Deliver Us From Evil (2020) as well as series such as Squid Game. "Most Korean spy films do feature North-and-South stories, but I thought it would be worth it if I could make something different," Lee says, admitting that working out the twists within twists turned out to be more difficult than he imagined and that he nearly quit several times.
"After seeing audience reactions to films I had been in before and others that have succeeded or not, I knew a film needs a theme that can be grasped fairly easily — situations where performers' acting abilities can be displayed," he adds.
Knowing how an actor's emotions would unfold on screen also helped Lee pace his shots and cuts ahead of time, making his work as a director easier. At one point, he approached Sanai Pictures head Han Jae-duk, with whom he had worked when starring in New World (2013). Han had already rejected an earlier iteration of the project, but when he saw how much Lee had done with it, he encouraged the actor to direct it himself.
Sanai Pictures produced Hunt with Artist Studio, the production offshoot of Artist Company, a talent management agency that Lee and fellow actor Jung Woo-sung set up six years ago. Megabox Plus M came on board to finance and distribute the newbie director's $15.4m (krw19.5bn) film off the back of the script.
Hunt co-stars Lee with Jung (The Good The Bad, The Weird), whom he had acted alongside many years before. "We had been saying to each other that we should do a film together every year since City Of The Rising Sun. It took 23 years," says Lee.
The picture filmed from May to November 2021 for a total of 100 shooting days. Covid-19 restrictions meant everything was filmed in Korea except for one drone shot in Thailand that Lee directed over Zoom. Most of the production took place in Busan, where sets were built that included 1980s Tokyo streets and KCIA interrogation rooms. Lee says the toughest aspect of the shoot was not that he did almost all his own stunts in the action-heavy film, but that his work as actor, director, scriptwriter and producer did not stop at the end of the day.
"Sometimes when you're shooting, you're about to go over budget and have to combine two or three scenes. If it were another director, they would have said, 'We have to shoot all of it, no matter what.' But since I was also the producer, I would say, 'Oh, if we're about to go over budget… hey, let's combine them like this!' And then, as the writer, I would say, 'Got it. I'll go home and come back with it written,'" he says, adding that it resulted in sleep deprivation, exhaustion and weight loss.
Lee expects to be shooting Squid Game 2 next year and hopes to find a script he likes for a film to act in before then. Meanwhile, he will be working on a couple of his own. He is willing to appear in the next film that he directs, "but this time, a smaller part!"