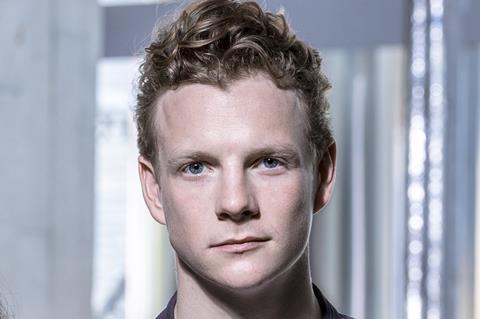 Growing up in Dublin, Patrick Gibson ("I'm generally known as Paddy," he grins) would make short films on a VHS camera.
Click here for the complete list of 2017 Screen Stars of Tomorrow.
His acting career took off while he was still at school, with roles in Ireland-based TV series The Tudors for Showtime and Neverland for Sky Movies and SyFy. He was then cast in Lenny Abrahamson's coming-of-age film What Richard Did in 2012. "I realised this is what I want to do with the rest of my life," he says.
Balancing school with acting jobs became balancing university with acting jobs, as Gibson took up a place to study philosophy at Trinity College Dublin. He appeared in Niall Heery's 2014 feature comedy Gold and starred in the BBC's First World War drama series The Passing Bells. Two years into a four-year course came the call that would change Gibson's life, when he was cast in Netflix's The OA.
He left to shoot the otherworldly series in New York in February 2016. "I've not done two jobs the same and I've been out of my comfort zone a lot of the time," Gibson says of his eclectic résumé. "As long as something has a distinctive strand of truth in it… That's what I look for in scripts and characters."
This year, Gibson has also appeared in John Ridley's 1970s-set political drama Guerrilla for Sky Atlantic, and Starz's historical drama The White Princess. Now his feature career is poised to take off with lead roles in Jennifer Yuh Nelson's The Darkest Minds, based on the young-adult trilogy about supernatural teenagers, for 20th Century Fox, and the US comedy drama In A Relationship, with Emma Roberts. A second series of The OA starts shooting in October.
Gibson is keen to emulate the career of Jake Gyllenhaal. "His work resonates with me. The choices he makes are incredible," says the young actor.
Contact: Katherine Darke, Artists Rights Group