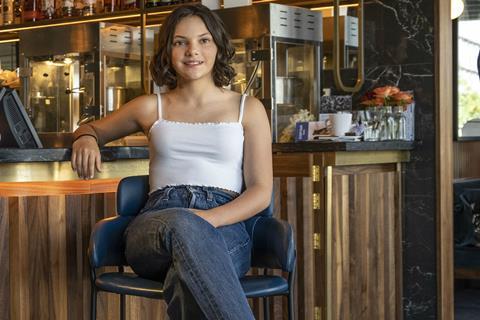 By her own admission, 13-year-old Dafne Keen had an unusual childhood. Growing up in Spain and England in a bilingual household with her Spanish actor/writer/director mother Maria Fernandez Ache and UK actor/director father Will Keen, she would delight in creating performances at home. "Toys are for lots of kids, and acting was my toy," she says. "I am a child of actors. I've always lived basically on set or in a rehearsal room."
Keen scored her first screen role aged nine opposite her father in BBC Worldwide and Atresmedia's Spanish TV series The Refugees, then earned international acclaim as the genetically weaponised child Laura opposite Hugh Jackman in Logan. Her next assignment is an even bigger responsibility: playing Lyra, the protagonist of the BBC's new eight-part adaptation of Philip Pullman's His Dark Materials (recently confirmed for a second season), scripted by Jack Thorne and lead-directed by Tom Hooper. The lengthy shoot wraps in November.
Snagging Lyra was a two-year audition process for Keen, which began before Hooper was attached. "They thought I had grown out of the part," she says, before revealing that Lyra was then reconfigured as a 13-year-old.
"Lyra is a curious, adventurous, profound and unique child who needs love," is her characteristically precise description of the story's protagonist. "She is waiting for the right opportunity to seize the world."
Keen pays tribute to her mother. "My mum teaches me things every day," she says, quoting as an example Stanislavski's dictum that "action generates emotion". "Another that stuck with me is, 'Don't let Dafne get in the way of telling the character's story.' You have to be listening. You have to have your eyes on the ball, not thinking about other things when you're telling someone's story."