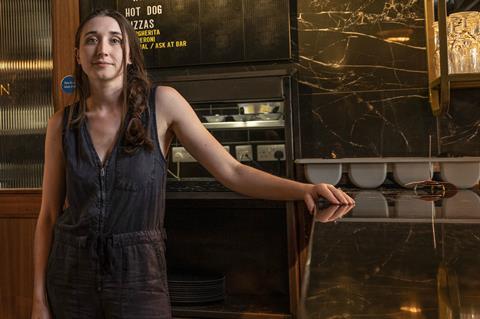 Originally planning to be a lawyer, Helen Simmons had her head turned at the University of Cambridge where she ran Watersprite, a short-film festival. After striking partnerships for the event with Bafta and Women In Film & TV, and getting Eddie Redmayne and Neil Gaiman to deliver talks, she began to envision a career in film.
The next step was to gain experience, taking development work at Film4 and an internship at the now-defunct Weinstein Company. Her time at the latter was free of the harassment stories that have since plagued the company, and she says the experience, which included being a director's assistant on Justin Chadwick's Tulip Fever, was "an incredible education".
Simmons then started producing short films with directors including Chloe Wicks and 2016 Star of Tomorrow Kate Herron. Looking for feature experience, she contacted Andy Starke's Rook Films and was given a two-week stint on the shoot of Steve Oram's surreal comedy Aaaaaaaah!. That experience would influence what would eventually be her debut feature, Chubby Funny, which she began working on after meeting writer/director Harry Michell in 2014.
The micro-budget feature received good reviews and a small theatrical run in the UK. "It opened doors and made people talk to us about what we were doing next," says Simmons. The pair's next feature, Ilkley, attracted sales outfit Independent Films, which boarded at an early stage and, along with Screen Yorkshire, helped to get it made. The $1.3m (£1m) film is close to being completed.
Alongside work on Michell's third feature, Simmons has a raft of projects including a sci-fi that has The Levelling director Hope Dickson Leach attached, a romcom from writer and 2017 Screen/FrightFest genre rising star Danny Morgan, and a comedy from director Adrian McDowall. Simmons' slate reflects a desire for stories that appeal to her own tastes. "There's a huge appetite for genre, stuff that can take you out of everything that's going on in the world."
Contact: Helen Simmons