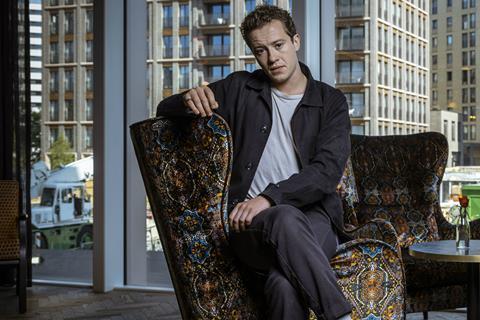 "I am desperate to give comedy a crack. It's been a bit serious so far," says south London-born Joseph Quinn of his burgeoning career. After a role in the BBC's Dickensian and a small part in Game Of Thrones, Quinn began to attract attention when he was cast as the enigmatic Leonard Bast in the BBC and Starz' Howards End, adapted by Kenneth Lonergan and directed by Hettie Macdonald. He then snagged the role of Enjolras in the BBC's epic retelling of Les Misérables.
While on a break from the production's six-month shoot, Quinn found time to star in his first feature film, Make Up, written and directed by the UK's Claire Oakley and co-starring Molly Windsor. The Cornwall-set psychological thriller is produced by Emily Morgan and was developed through Creative England's iFeatures initiative. "It's really ambitious," he says of the project. "I play Tom who works in a holiday park over summer. All kinds of stuff goes down when his girlfriend comes to live with him."
After shooting the film in the early summer, Quinn is now auditioning for "some stuff I'm really excited about. I like to work with people who write great scripts and make great films," he says.
His stage work includes starring opposite Olivia Colman and Olivia Williams in Mosquitoes at the National Theatre.
In between jobs, Quinn writes comedy scripts with some friends. "It's a good exercise even if nothing comes of it," he says. "It's always good to stay creative."
Contact: Sam Turnbull, Curtis Brown