Making Scorsese's latest film was an ordeal, before and during the shoot.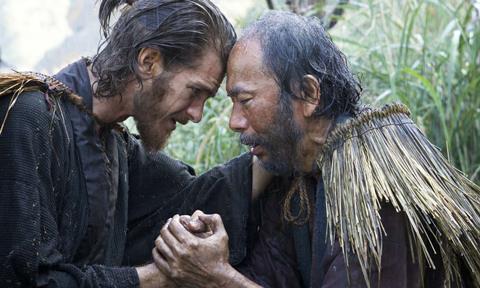 Trials and tribulations are in the DNA of independent filmmaking, but what it took to get Silence into theatres makes most other backstories seem like a walk in the park.
"It was a very challenging film to make for all involved," says Emma Tillinger Koskoff, president of production at Martin Scorsese's Sikelia Productions and one of the film's producers. "Physically, emotionally and spiritually for Marty, myself, the actors and the crew."
On-set challenges were pre-dated by a sinuous development history and the source code to the complexities of an adaptation that refused to surrender easily lay embedded in seven words.
Martin Scorsese passion project. Chain of title.
For 25 years, the Catholic director dreamt of adapting Shusaku Endo's 1969 tale of Jesuit priests on a rescue mission in hostile 17th-century Japan.
Scorsese famously almost became a priest and related deeply to the material. Yet life had a habit of getting in the way. He was constantly in demand, other films came together sooner and it took forever to crack the script with co-writer Jay Cocks.
Read more: 'Silence': review
Finding the money
Even when the screenplay was ready by 2006, Silence was mired in a swamp of rights holders as a changing guard of producers and financiers and the odd lawsuit held up production.
It was only when Len Blavatnik's AI Film and a hitherto unknown Mexican producer-financier named Gaston Pavlovich alighted on the project several years ago that things came together.
Silence took its first significant lurch out of oblivion in 2012, when super-agent Ari Emmanuel approached Randall Emmett of Emmett Furla Oasis Films and asked if he would be interested in finding financiers and producing.
Emmett was enthusiastic, but the budget was too high and the project was put on hold. A year later, it circled back closer to the final budget the film would eventually get made for: $46m.
Emmett got the blessing of Scorsese, Koskoff and producer Irwin Winkler and began the process of sifting through a chain of title dating back 25 years that included Scorsese's former frequent collaborator Graham King and Cecchi Gori, the once mighty Italian production giant behind Il Postino and Life Is Beautiful.
The latter company is now restructuring after filing for Chapter 11 bankruptcy protection last year. Vittorio Cecchi Gori had previously sued Scorsese for breach of contract after he moved ahead with The Wolf Of Wall Street despite allegedly making earlier promises to prioritise production on Silence. The parties settled in 2014.
Emmett thought it best to pre-sell Silence in Cannes and Emmett approached AI Film in March 2013 to pre-buy international rights.
"Who wouldn't be in business with Martin Scorsese?" says AI Film COO Vince Holden. "We structured it in an old-fashioned way because I'm a child of the 1980s and thought we'd do it as a negative pick-up where we pay on delivery. Keep us out of harm's way during the production, so to speak.
"We took it to Cannes with IM Global [as sales agent]. We'd taken The Butler to [IM Global CEO] Stuart [Ford] the previous year and they did a cracking job so it made sense to continue that partnership. We flew in Mr Scorsese to do a pitch."
That was May 2013, an occasion the parties involved will not forget. "We were astonished to learn that in his 40-plus year career Marty had never previously come to the Croisette to help sell one of his pictures and so we decided to make it an event," Ford says.
Oscar-winning Scorsese pitching his passion project over and over again to seen-it-all independent distributors was a "pinch-me moment", Ford recalls. "We were all breathing rarefied air at the top of the movie mountain."
"Then we started the tortuous process of closing the financing," Holden says. "At that time, Randall was very involved in pulling the financing together. AI was half the piece and he was bringing the other piece, which was investors putting up money against the US rights and also cash-flowing tax credits."

"It became a drawn-out process. Finding a window to shoot the film and keeping financiers engaged while that was going on was difficult."
After certain financiers whom Emmett had corralled dropped out at the eleventh hour, existing investors Pavlovich of Fabrica de Cine and, to a lesser extent, Texas-based Dale Brown of Sharpsword stepped up and put money against the tax credits and US rights. AI increased its investment too, in order to push Silence over the line.
The convoluted nature of the financing of Silence had left Fabrica de Cine especially wary and Pavlovich and his team went through everything with a fine-toothed comb, including the chain of title.
The untested Mexican producer-financier impressed his partners with his diligence and in July 2014 Paramount acquired US rights. The key cast of Liam Neeson and Andrew Garfield had signed on. "We got there in the end," Holden says.
Filming
That spring [2014], Koskoff had taken Scorsese on a director's scout of Taiwan, where Silence would eventually shoot with subsidy and production support from Taipei City government and Taipei Film Commission. It was also partly financed by the film's Taiwanese distributor Catchplay.
"Taiwan was great for a number of reasons," she says. "It was budget-friendly and the natural resources like the unspoiled coastlines and the mountains had everything we needed to replicate 1642 Japan.

"We had fantastic help from the tax credits and lots of support on the ground from the film commission to the government. Everybody wanted us there and helped us achieve our budget goal and more importantly, Marty felt it had everything he needed."
Decades after he read Endo's book for the first time and resolved to adapt a story of great personal resonance, Scorsese was about to start production in late January 2015.
On January 28, however, a tragic setback during pre-production delayed the start of production when an independent contractor died in a ceiling collapse on the Taipei backlot of the Central Motion Picture Corp's Chinese Culture and Movie Center.
"It was a terrible, terrible accident and it was very upsetting and difficult for our cast and our crew," Koskoff says. "We did everything we could do to sympathise with the family."
Production began a few days later and the physical challenges combined with Scorsese's exacting manner kept his cast and crew on their toes.
From the opening scene doubling for the Unzen Hot Springs to the crucifixion sequence, each day presented a problem waiting to be solved. "There's slight room for interpretation but everything tends to be very well researched and correct on the day," Koskoff says of her director's style.

"For the crucifixion location, Marty didn't want CG shots and he wanted [the actors to be there]. It was difficult because it's a natural park and those were untouched reefs, but the authorities were very accommodating and came up with a rig that didn't interfere with the ecosystem.
"Some of these locations were very difficult to get out to. We had an extremely capable Australian crew and I don't think anybody else in the world could have got us in and out of those places."
Koskoff, who earned her first associate producer credit on The Departed, served as executive producer on Hugo and producer on The Wolf Of Wall Street, spent eight months in Taiwan and relocated her family there until production wrapped.
"It was an all-encompassing journey for everyone involved," she says. "We were speaking five languages on set every day with interpreters. Marty had this wonderful Japanese woman who was by his side to make sure his direction was properly communicated to the Japanese actors."
Away from the logistical headaches, Koskoff, who was raised in an agnostic household by a Jewish father and Protestant mother, says Silence offered the chance of profound introspection.
"The final result of the movie offers you the chance to look inward on your own faith and it's incredibly important in this day and age."
Koskoff talks of shielding Scorsese on set to ensure he got what he needed. She concedes there were difficult conversations, yet overall the goal was to help the director complete a personal odyssey that she had been privy to throughout their many collaborations dating back to the early 2000s.
"We kept trying to put it together and he would always say this would be his next movie and he finally said after [The Wolf Of Wall Street], 'I won't make another film again until I have made Silence, so tell me what money we can get, where we need to go and I will do it.' He gave us our marching orders and off we went and here we are."
After the film premiered at the Vatican last November and went on general release in December, it is days away from an Oscar ceremony in which cinematographer Rodrigo Prieto will fly the lone flag for the film.
Silence mustered a paltry $7m at the US box office but there are hopes it will perform better when it launches in international markets in the months ahead.
Too contemplative to make a splashy late arrival in awards season, it nonetheless has won over critics, some of whom have hailed it as a near masterpiece.
Read more:
Brad Grey confirms Paramount exit
Scorsese dislikes watching TV at home, despite Netflix deal for 'The Irishman'