Dir: Giuseppe Capotondi. Italy. 2009. 94 mins.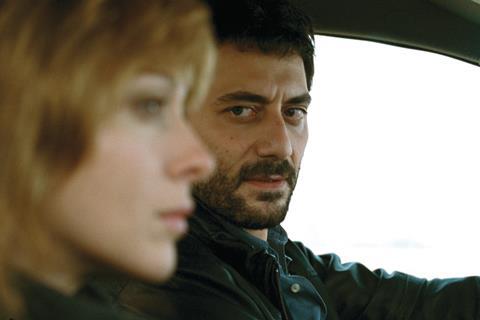 With this tasty genre piece, first-time director Giuseppe Capotondi proves there is life in Italian cinema beyond ponderous glossy dramas and pneumatic sex comedies. Mixing film noir, thriller, love story and supernatural horror, The Double Hour has some of the dour provincial atmosphere and subtly menacing tone of 2007 Italo murder mystery The Girl by the Lake; but it's more intricately plotted, and takes us into much more intriguing dream-and-reality territory. It also features a standout performance by Italy-based Russian actress Ksenia Rappoport which won her the best actress prize on the Lido.
The camerawork plays subtle games with the characters' point of view
Picked up by French sales company SND just before its Venice competition debut, the film should chalk up a few sales outside of Italy among distributors who service smart, urban audiences with a taste for plot-led arthouse-genre hybrids (13 and Lantana are comparisons that spring to mind). In Italy, where it opens on October 9, the Double Hour should clock up decent theatrical takings – though local audiences can be resistant to homemade genre fare.
Sonia (Rappaport) is a Slovenian woman who works as a chambermaid in a Turin hotel. There's something going on behind her rather wary expression and hesitant manner, but we assume at first that it may just be shyness, and root for her when she meets Guido (Timi), an awkward, reticent but romantic former policeman, at a speed-dating session.
The widowed Guido and the lonely Sonia have just begun to connect when he is murdered in front of her during a break-in at the villa where he works as a security guard – and she finds herself mourning a lover she hardly knew. Soon – in some scenes that are genuinely scary – she begins to see, or perhaps imagine, Guido's ghost.
Spin this story out over an hour and a half and you would have a fairly standard European arthouse number. But that synopsis barely accounts for the first thirty minutes – and it's what happens in the rest of the film (impossible to reveal without spoilers) that turns The Double Hour into a real word-of-mouth, talking-point title, which will appeal especially to connoisseurs of clever mystery scripts.
But it's not just the script that impresses. The camerawork plays subtle games with the characters' point of view, sometimes granting and sometimes witholding sympathy, and a disjunctive editing keeps us guessing. The predictable, linear ending is perhaps a little disappointing after the intricate audience mindgames that preceded it, but this was always going to be a difficult one to wrap.
Pasquale Catalano's electronic mood music ably caresses the noir atmosphere, and there's also an inventive use of pop and roack tracks – particularly a Cure song which plays a key part in the narrative.
To sign up for Screen's weekly Reviews Newsletter with all the week's new releases, internationalopenings and full festival reviews delivered free to your mailbox every Friday, please click HERE
Production companies
Medusa Film
Indigo Film

International sales
SND
+33 1 4192 6666

Producers
Nicola Giuliano
Francesca Cima

Screenplay
Alessandro Fabbri
Ludovica Rampoldi
Stefano Sardo

Cinematography
Tat Radcliffe

Production design
Totoi Santoro

Editor
Guido Notari

Music
Pasquale Catalano

Main cast
Ksenia Rappoport
Filippo Timi
Antonia Truppo
Gaetano Bruno
Fausto Russo Alesi
Michele Di Mauro