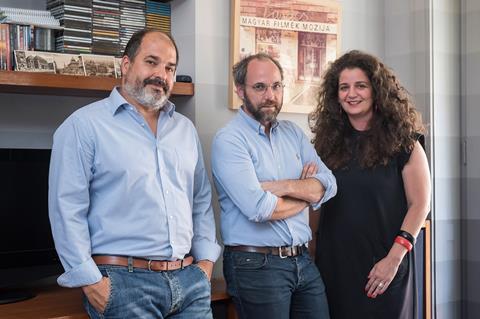 Need to know: Budapest-based Laokoon Film Group helped bring Oscar winner Son Of Saul to the screen. Directed by Hungarian debut filmmaker Laszlo Nemes, the Holocaust-set horror won myriad international plaudits, kicked off Nemes' career, and cemented Laokoon as a blue-ribbon production stable and co-producer. Laokoon went on to back Nemes' second feature Sunset, a Hungary-France co-production. The complex drama was set in Hungary on the eve of the First World War and debuted at Venice in 2018. Laokoon's output spans arthouse features, TV series, documentaries and shorts. As well as working as co-producers on international projects, it also provides production services for independent international films and for commercials.
Key personnel: Gabor Rajna, Gabor Sipos and Judit Stalter, co-CEOs.
Incoming: Laokoon is readying Cristina Grosan's Ordinary Failures, a Czech Republic-Hungary-Italy-Slovakia co-production backed by Eurimages and Arte for a May 2022 rollout. Stalter is developing director Attila Till's English-language feature drama debut Prison Mama, teaming with New York-based writer/director Ellie Foumbi who is co-writing. Foumbi is also developing An African In Greenland with Laokoon. The company has screenplay My Own Forest in development with prize-winning Hungarian novelist Peter Nadas.
Judit Stalter says: "We will continue to work with European partners but at the same time we're also interested in developing English-language content and to co-produce with North America. We're optimistic about finding a balance between the two worlds to create a new type of cinema that keeps a European vision and aesthetics with an eye on global markets."
Contact: stalter@laokoonfilm.com