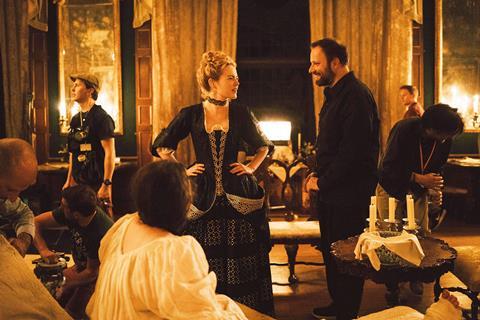 After nearly two decades in development, The Favourite, a story of love and power in the court of 18th century British monarch Queen Anne, was on the verge of being ready to go when director Yorgos Lanthimos put the brakes on for a little longer as he waited for his perfect cast to become free. "I wanted specific actors," he explains: "It was a challenge to figure out when they would be available."
Lanthimos had always conceived of UK actress Olivia Colman as Queen Anne and "couldn't see anyone else playing the role". He was similarly fixed on Rachel Weisz, who had starred in his previous film The Lobster, to play the Queen's chief confidante Sarah Churchill, and he wanted Emma Stone to portray Abigail, a new scullery maid in the Queen's court. However, Stone's commitments to projects including La La Land and then Battle Of The Sexes meant The Favourite had to wait for her, and Colman was also busy filming UK TV series Broadchurch. So Lanthimos decided to first make The Killing Of A Sacred Deer instead.
After completing that film, which would go on to screen in Competition at Cannes Film Festival in 2017 where it won best screenplay for Lanthimos, and following Stone's best actress Oscar for La La Land, The Favourite was finally ready to go. "It was a lot to do back to back," Lanthimos admits now.
Radio play beginnings
The Favourite was originally written as a radio play in 1998 by the relatively unknown Deborah Davis, who is credited as a writer and executive producer on the film. It was partially developed by London-based producer Ceci Dempsey of Scarlet Films who then took the project to Ed Guiney and Andrew Lowe of Dublin and London-based Element Pictures in 2006.
Dempsey, Guiney and Lowe had been impressed by Dogtooth, the third feature by Lanthimos, then an emerging Greek filmmaker. The Greek-language film about three teenagers cruelly isolated by their parents had proved a sensation when it premiered in Un Certain Regard at Cannes in 2009, and two years later Lanthimos's profile rose further when the film was nominated for a best foreign-language Oscar.
The producers sent Lanthimos the script to consider for his English-language debut. It was an ambitious move considering Lanthimos had not at that point directed a feature outside of his native Greek. The distinct period setting of The Favourite also meant he would need to make a significant step up in terms of budget and scale. But Lanthimos was not fazed by the challenge. He also says he wasn't surprised to be approached for the job.
"There has been a trend of getting European filmmakers to do period or historical stuff, I think because they have a different point of view," he suggests.
With Lanthimos attached as director, The Favourite subsequently entered into what would turn out to be a lengthy development process, affording him the opportunity to continue working on other projects with his regular writing partner Efthymis Filippou. First was The Lobster, which was produced by Scarlet Films and Element Pictures and went on to premiere in Competition at Cannes in 2015. That was followed by The Killing Of A Sacred Deer. Those two projects, as well as The Favourite, were backed through development and production by Film4.
Although The Favourite is the first film Lanthimos directed that he did not co-write with Filippou from an original idea by the pair, the director suggests the process itself wasn't particularly different. "I worked on [the script] initially with original writer Deborah Davis," he explains. "Her script was interesting but I wanted to make a very different film, tonally. We restructured the story to focus more on the three women and pared down the politics."
Lanthimos spent longer working on the script for The Favourite than he had on the screenplays for several of his previous films, as he did not want to approach the film "just as a directing job [from another person's idea]". Rather, he wanted to engage with the project in a way that would make it a film he actually wanted to direct. "I wasn't going to make something completely outside of my sensibilities," he adds.
After reforming the project into a shape that suited his vision, Lanthimos wanted a writer who could achieve the "very specific tone" he had in mind. After looking at hundreds of writers from around the world, he identified Australian Tony McNamara, whose credits include comedy features The Rage In Placid Lake and Ashby, as the right fit for the job. The pair began collaborating on the script. "It was evident early on [McNamara] had the right voice. We felt comfortable and confident we could do something together."
Lanthimos's rehearsal process with his actors was somewhat unorthodox, involving a variety of intriguing activities. "I never like to sit down and intellectualise the scenes too much, speak about background stories or motivations," explains the director. "I come up with exercises and games on the spot —various silly things — in order to take the actor's attention away from the actual scene. It helps to see how an actor's mind works and to explore whether they're free and open to trying things without feeling intimidated or taking the scene too seriously."
The three-week rehearsal period saw Stone panting like she was giving birth while reading lines and acting "like a human noodle" during the sessions, the actress has recalled.
Co-star Nicholas Hoult, who plays a conniving politician, remembered being asked by Lanthimos to imagine force fields around the rehearsal room and to sculpt them into things while practising his scenes.
On-set limitations
The Favourite shot for 40 days at Hatfield House in Hertfordshire, in the UK countryside, and Hampton Court in Richmond, southwest London. Looking back, Lanthimos says he took the period setting in his stride, despite the location's multiple limitations. They included strict rules about filming in protected buildings such as Hatfield House and Hampton Court Palace, which meant the team had to be conscious of how they dressed their interiors.
"You have to be very careful with how close candles are to tapestries and paintings, and you can't mount things on the building. It takes a lot of care and you need to spend time figuring out how to approach it," the director says.
However, lighting was not an issue for Lanthimos, who does not tend to use artificial lights in his films. But blacking out rooms to shoot night scenes was particularly tricky given the production was not allowed to attach anything to the exterior walls.
The Favourite premiered in Competition at Venice Film Festival in September, winning both the Grand Jury Prize and the Volpi Cup for best actress for Colman. As awards momentum builds around the film, Lanthimos is happy to acknowledge the huge benefits of being in the race.
"[After the Oscar nomination] people saw Dogtooth who you would never have imagined would see it," he says. "This project came out of that."