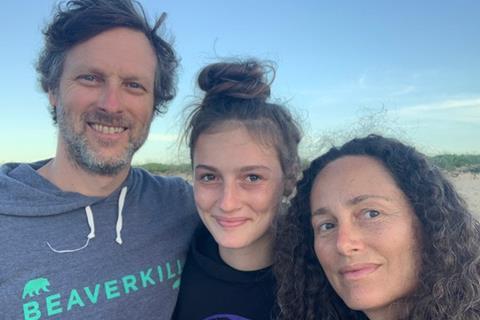 It's rare to find a family who live and work alongside one another harmoniously, but Toby Poser and John Adams, together with their daughter Zelda, seem to be pulling it off.
The family founded Wonder Wheel Productions in the United States, along with Poser and Adams' other daughter, Lulu Adams. Besides producing their films, they take on most roles and credits, including writing, acting, shooting and editing, and they create the soundtracks with their punk band H6LLB6ND6R.
Hellbender is Wonder Wheel's sixth production. The self-financed supernatural horror follows 16-year-old Izzy (Zelda Adams), who has been hidden away in the mountaintops for her whole life by her mother (Toby Poser), and believes she has a rare illness. One day, Izzy starts questioning her sickness after an encounter with a charismatic and charming teenage girl named Amber (Lulu Adams). They strike up a friendship and when a dare to eat a live worm triggers something dangerous within Izzy, she is compelled to confront a malevolent secret about her family.
The film premieres at Montreal's Fantasia International Film Festival today (August 14) and is the follow-up to the family's 2019 debut that also played the festival, The Deeper You Dig. Genre streaming platform Shudder has acquired the film for English-speaking territories including UK and Ireland, Australia and New Zealand and will make it available in early 2022. Yellow Veil Pictures handles international sales.
The family speaks to Screen about working together, their love of the horror film community, and the extraordinary discovery that inspired the film.
Why did you decide to start filmmaking as a family?
John Adams: We started about 10 years ago. Toby was having a little bit of trouble with her acting career so decided to write a script. The kids were talking about being actresses – who was it you wanted to be at the time?
Zelda Adams: Bella from Twilight.
John Adams: All of our dreams were coinciding, so we bought an RV and we made our first film.
Toby Poser: I started acting in high school, 15 or so, and then I went and studied drama at Goldsmiths in London for a while. Hellbender was interesting because it was 10 years since we had taken off for the first film, Rumblestrips, so it was a beautiful homecoming. The kids were six and 11 when we shot the first film, and Zelda turned 17 when we were shooting Hellbender.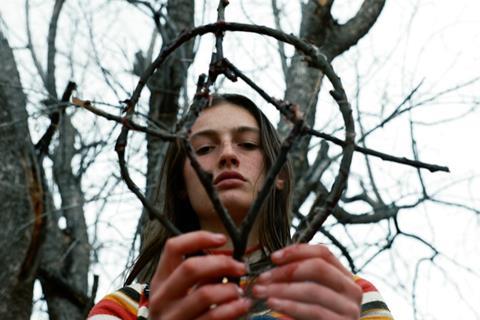 You take on every role in your films – even operating a drone camera. How have you honed so many skills?
Toby Poser: While we're working as a family we're all we have, so we've been mastering our skills little by little. Whoever is not on camera is the one behind it. Each film, you can see our evolution of us starting to understand filmmaking a little bit more.
John Adams: It's also whose interests lie where. In Hellbender, Zelda was really interested in getting the camera to move. Normally we set up the camera on a tripod – it's a lot easier that way – but Zelda was really interested in getting the visuals moving so she's the one who got the drone.
Where did this particular story come from?
Toby Poser: There were a number of elements – first of all, we've got a band together called H6LLB6ND6R. The videos for H6LLB6ND6R were crystal ball peaks into what the film might actually look like. Also, right when we were finishing making The Deeper You Dig, I learned some interesting genetic news – I was donor-conceived, which is wild to learn at 50 years old, so all the ideas were popping from that. What if this biological father was the devil? It led into fascinating ideas that eventually culminated in a mother-daughter story.
Whereabouts did you film?
Zelda Adams: We shoot around where we live, right in the Catskill Mountains in New York. At the start of Covid we bought a truck and a trailer. I'm home-schooled basically so we decided to start travelling around. We went all across America. A lot of the film is actually filmed in the Northwest – Washington and Oregon and all these beautiful locations.
Toby Poser: We don't have any fancy lights, so we rely on nature and nature gives the best light.
John Adams: You don't know how nature is going to act. When we were in the White Mountains in New Hampshire it was a beautiful day, we decided to quickly get to the top of the mountain to shoot a scene. It was close to evening and then a storm rolled in and changed everything – we wouldn't have expected how wonderful it would turn out. The wind blew, the sky cut dark. When we got home, we were frostbitten and our camera was ruined, but the footage was phenomenally good. Here in the US if you have anything more than a tripod you have to start getting permits, but we never have more than a tripod and we're just a party of three.
Did Covid impact the shoot at all?
Toby Poser: Covid in the end was a strange gift. Originally we had planned quite an ambitious storyline, which we realised quite quickly we wouldn't be able to do. It would have taken place in a school with lots of extras, and so the pandemic brought us back down to our roots which are very intimate, small shoots. That was a gift. Our story has a lot to do with isolation and closeness. Covid killed closeness for everyone. For the characters of the mother and daughter there's fear – the fear to be close to others. One of the lines is, "Nobody can get closer to one another." There are all these strange parallels that start to mirror Covid, but we didn't mean it.
What do you love about genre filmmaking?
Zelda Adams: The horror community is amazing. When we made our first horror film four or five years ago, we put it into some festivals and quickly realised the community is so welcoming and so enthusiastic about everyone. Also, in horror films you have so much artistic freedom. You can create whatever rules you want, and you get to play around with blood.