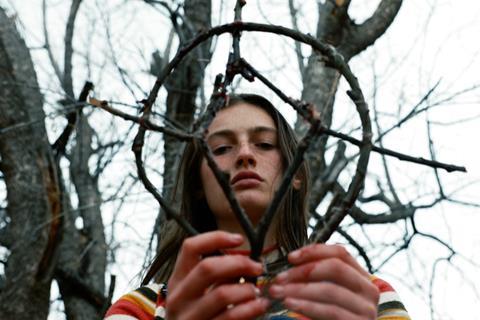 Genre streaming platform Shudder has picked up multiple English-speaking territories from Yellow Veil Pictures to occult horror Hellbender ahead of its world premiere at Fantasia International Film Festival.
Shudder will release the film from family-run Wonder Wheel Productions in North America, the UK and Ireland, Australia and New Zealand in early 2022.
Toby Poser, John Adams and Zelda Adams wrote and directed the story about 16-year-old Izzy (Zelda Adams) who suffers from a rare illness that has kept her isolated her entire life on a mountaintop with her mother (Toby Poser).
As Izzy questions her sickness she pushes back against her confinement and befriends Amber (Lulu Adams), another girl living on the mountain. However her newfound happiness is derailed when she eats a live worm as part of a game and must confront her family's dark secrets after a violent hunger is awakened within her.
Emily Gotto and Samuel Zimmerman negotiated on behalf of Shudder with Hugues Barbier, Justin Timms, and Joe Yanick of Yellow Veil Pictures on behalf of the filmmakers.
Hellbender is the sixth feature from Wonder Wheel, the production company founded by Poser and Adams and their children Zelda and Lulu. The family also produced the music for the feature with tracks from their experimental punk band H6LLB6ND6R. The Adams family first played at Fantasia in 2019 with The Deeper You Dig.
Hellbender will receive its virtual world premiere on August 14. The mostly virtual festival kicks off today (August 5) with the world premiere of Brain Freeze, and runs until August 25.