Feedback on the screens has been overwhelmingly positive.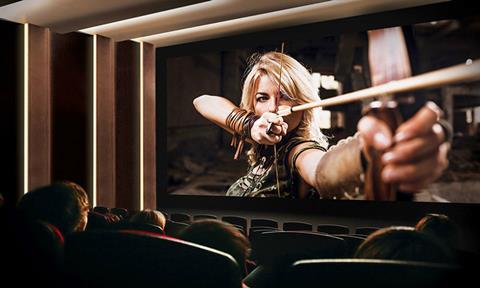 The use of special-purpose LED screens is at a very early stage but has caused a buzz in the exhibition community.
These 4K panels, currently referred to as direct or active-view, do not use projection. Instead, content is displayed through back-lit screens with multiples of them arranged together to create a single canvas.
"Direct view is potentially very disruptive in the sense that there is no projector booth or projection screen," says EDCF president David Hancock.
"It flips the traditional approach to the cinema experience and business model upside-down," says UNIC president Phil Clapp. "It is materially different from anything we've seen before."
Electronics giant Samsung is leading the field. It demonstrated a 10-metre LED screen to exhibitors at CinemaCon in Las Vegas in April, which subsequently gained DCI certification. Samsung's product uses an integrated media block, necessary for all digital cinema projectors to process the DCP, from Asian company GDC Technology.
What's more, GDC is introducing the Jetreel PLF format into Asia using Samsung LED screens. Sony also demonstrated a version using Crystal LED (CLEDIS) displays. This is already being sold into the automotive industry for car design. "It was never designed with cinema in mind but the feedback has been overwhelming," reports Oliver Pasch, sales director at Sony Digital Cinema Europe. "We're commercial modelling to decide whether we make this a cinema product."
Visually, cinema-purposed LED screens surpass traditional projection. Sony claims brightness levels 20 times those of conventional projection and a contrast ratio of a million to one — specs that would eliminate any problem displaying HDR, HFR, 3D content or artefacts from laser speckle. Displays with 8K resolution could also be built, a whopping 16 times the resolution of most cinemas today.
Economically, a case could be made too. Aside from saving physical space, lamp replacements and manpower (less need for maintenance), the return on investment is reputedly better. "Even if you operate at 100% power, 24 hours a day, the lifetime expectation is 87,000 hours compared to the 30,000 hours of laser," says Pasch. Most projectors operate just 3,500 hours a year.
It is not yet clear how immersive audio, such as Atmos, will be played back but the main issue will be cost. "If manufacturers solve the cost issue, or at least present a business case for it, there is a future for LED screens," says Hancock. "However, even if cinemas began putting in LEDs today, it would still take 20 years for the whole industry to migrate."
More likely is that screen real estate will become increasingly divided between xenon, mercury and laser-illuminated projection and direct-view displays. Exhibitors currently investigating laser are reported by Pasch as being prepared to wait another two years for direct-view to come to market. Vue CEO Tim Richards says of the CinemaCon demonstration, "We all saw a piece of the future. It's early days but the quality of the picture excites our imagination."