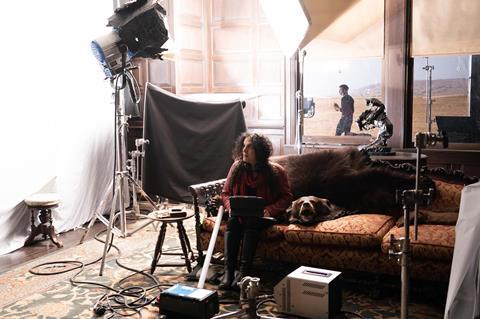 "And then Covid hit." As UK producer Tanya Seghatchian tells the story of how she put together the production of Venice Competition title The Power Of The Dog with writer, director and producer Jane Campion, it is apparent it had been a dream job until March 2020, when the pandemic forced the shoot to shut down and the cast and crew to flee to their homes around the world.
In the adaptation of Thomas Savage's forgotten literary epic, Seghatchian and Campion had finally found the perfect project on which to work together since first collaborating on Campion's Bright Star a decade earlier. (Seghatchian had funded the latter project while at the UK Film Council.)
"It is a riveting piece of story­telling," says Seghatchian of Savage's novel, which was first published in 1967. "It's something Jane and I felt immediately would translate into a very taut cinematic feature. It was also beguiling to come across a piece of material that wasn't well-known, that we knew we could put our mark on."
They met with Roger Frappier of Canada's Max Films who held the film rights to the book and, over dinner in Rome, convinced him that Campion was the director to adapt it as a feature with Seghatchian by her side as creative producer. Set in Montana in the 1920s, The Power Of The Dog is, in broad terms, the story of a wealthy ranch owner who tries to destroy his brother's new marriage.
Campion and Seghatchian visited the US state, renowned for its majestic vistas, as the guests of Brokeback Mountain writer Annie Proulx, who had written the afterword to Savage's novel. Proulx acted as their guide to Montana's otherworldly landscapes and the trip gave the filmmakers the chance to get under the skin of the book and a way into the look and feel of the world they wanted to create on film. But for financial and creative reasons, Campion — who lives between Australia and New Zealand — was keen to make the film closer to home, working with a New Zealand and Australian crew.
"It became clear in terms of physical production infrastructure, availability, soft money and financing, that we might not actually end up shooting in Montana," Seghatchian recalls. "Also we wanted 360-degree views. Jane knew instinctively that due to the sparsely populated nature of New Zealand it might be possible to recreate that closer to her home.
"Clearly we weren't going to be able to do that in the UK," the producer continues. "We might have done it in Canada, but we concluded New Zealand was going to be the most useful space for us to make the film in January."
Access to incentives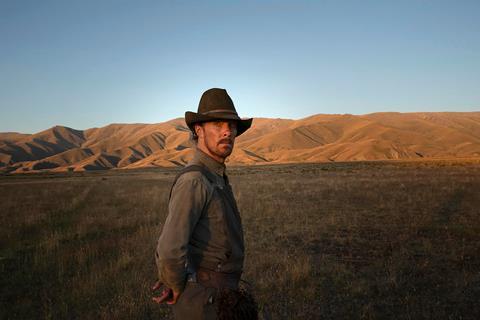 With Campion as the New Zealand producer through her Bad Girl Creek outfit, they decided to set up the project as a New Zealand-Australia co-production and brought on Emile Sherman and Iain Canning's UK and Australian company See‑Saw Films as the Australian partner. See‑Saw had executive produced both seasons of Campion's limited series Top Of The Lake, while Seghatchian had worked with the pair while at the UK Film Council on The King's Speech. The project could then access national incentives in both territories, including Screen Australia's Australian producer expenditure offset and substantial support from the New Zealand Film Commission.
Principal photography would take place in Central Otago on New Zealand's South Island for the exteriors before moving to Auckland on the North Island for studio-based interiors. Post would take place in Australia. (Although Seghatchian is the lead producer through her Brightstar outfit and is based in the UK, and BBC Film invested in the script development, the film is not an official UK co-production.)
See-Saw Films' in-house sales arm Cross City Films took a financing draft of the script to Cannes in 2019, with Benedict Cumberbatch and Elisabeth Moss attached to the project. It was there that Netflix bought international rights, excluding Australia and New Zealand where Transmission Films will release the film, and UK broadcast rights which have been retained by the BBC.
"There was palpable enthusiasm for the project in the room from the executives who we met in Cannes," says Seghatchian, in reference to the US film team at Netflix led by Original Films chief Scott Stuber, vice president of independent film and documentary features Lisa Nishimura and director of acquisitions Sean Berney. "It was quite clear they had appreciated and understood the film we wanted to make, and they were very keen to get into business with Jane. They were also the people who gave us the most generous offer, all in, of what we were going to get with their support and backing. It was a clear indication they were going to allow Jane to make the film she wanted to make, the way she wanted to make it."
The subject of a theatrical release was discussed during that Cannes meeting. "We were clear that our intention was to make a film that had cinematic ambition," says Seghatchian. "[Netflix was] very supportive of that and proactive about saying they would endeavour to give it the best platform they could and the best level of exposure they could. And that they would engage with us in an ongoing conversation about how that would play out once the film had actually been made."
The decision was also a pragmatic one. "It was a film we desperately wanted to make," notes Seghatchian. "We wanted to ensure we could make it with the best resource and the best support possible."
When Moss had to drop out due to scheduling issues, along with Paul Dano who was attached for a while, Kirsten Dunst and real-life partner Jesse Plemons were cast. Shooting began in January 2020 before going on a short hiatus in March ahead of the move up to Auckland.
"And then Covid hit," Seghatchian recalls. The team initially thought they would be okay, tucked away in bottom-of-the-world New Zealand. But as case numbers grew and the world began to shut down, it became clear filming would have to stop with only three weeks to go. "We got everyone out of the country who needed to get out of the country," says Seghatchian. That included Dunst and Plemons, who returned to the US with their young child.
Cumberbatch, whose family was with him during the shoot, decided to stay put, figuring New Zealand to be as good a place as any to sit out a pandemic. Seghatchian was already back in the UK due to the planned hiatus. "We went into this bizarre limbo of not knowing whether or not we would ever be able to start up again or how we would approach putting the film back together and getting everyone back," she says.
But talks to restart the production resumed as it became clear how successful New Zealand's lockdown had been. "Jane lobbied very hard to get the travel exemptions [from the New Zealand government] to enable us to come back over, including cast from Australia and the US," Seghatchian recalls.
All returning cast and crew were required to undertake a 14-day government-mandated quarantine and, arriving back slightly later than the rest, Seghatchian set up a remote link to the Auckland set in her hotel room. This allowed her to talk to Campion and the actors and see the set, all the while having her meals delivered outside her door in a brown paper bag and fitting in 20 minutes of exercise each day on a treadmill in a neighbouring hotel room.
Post-production was then done in Australia, with Seghatchian returning to the UK and working through the night in London as she was unable to travel to Sydney where Campion edited the film during the day. Ultimately, the technology and the backing of a deep-pocketed single financier meant Seghatchian and Campion were able to keep the production on track during Covid. But it was the strong creative relationship the two women had nurtured over the years that kept alive the spirit and artistic vision of the project.
"We trusted each other implicitly," says Seghatchian. "We had a complete shorthand about how we wanted to make the film and how we wanted to make it work artistically. Working with great filmmakers is what inspires me, and Jane was everything I could have dreamed she would be."