With cutting-edge premium cinema systems being pushed into the global marketplace, are mainstream exhibitors ready to make the technological and financial leap to adopt them? John Hazelton reports.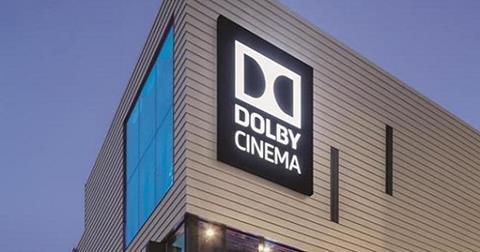 Premium cinema has already emerged as one of the most promising concepts of cinema's digital age. Now that the vast majority of exhibitors have made the transition from film to digital projection, many are experimenting with the use, in selected locations, of high-definition or laser projection, immersive sound and even motion seating.
The payoff - in theory at least - is that such hi-tech auditoriums help differentiate cinema from home entertainment, attract tech-savvy younger audiences and, through ticket upcharges, produce more revenue from each movie-goer. No surprise, then, that among the products currently being touted by leading cinema technology companies Dolby and Barco are branded premium cinema systems.
"It's something you need to get off the couch, put down your iPad and go to the cinema to experience."

Todd Hoddick, Barco
Dolby Cinema combines the new Dolby Vision laser projection system, geared to delivering images with exceptionally high contrast and brightness, with the existing Dolby Atmos immersive audio system, sleek design elements intended to minimise distractions inside the auditorium and a curved, wall-to-wall-to-ceiling screen. The idea, says Dolby's director of content and creative services Stuart Bowling, is to "really encapsulate everything that we believe delivers the best-in-class movie-going experience".
Immersive cinema
Dolby has also developed post-production tools that allow film-makers to colour grade their films to make the most of Dolby Vision's capabilities, with Disney's Tomorrowland and Pixar's Inside Out having been the first projects to go through the process. Though the company declines to reveal specific numbers, Dolby says it is offering Dolby Cinema to theatre operators on a revenue-sharing basis, with those exhibitors making a bigger upfront payment getting a bigger share of revenue. In Europe, the system made its debut at the UCI/Cinesa La Maquinista complex in Barcelona and at the JT Cinemas location in Eindhoven, Netherlands. Two more JT locations are set to come online by the end of this year, one in Hilversum, also in the Netherlands.
In the US, Dolby has a deal with AMC, the country's second-largest circuit, to combine the system with the latter's own premium offering, AMC Prime. A handful of 'Dolby Cinema at AMC Prime' locations are already operating and up to 100 are set to open over the next decade, with Dolby providing upgraded technology as it is developed. According to AMC senior vice-president of facilities, sight and sound Cynthia Pierce, the partnership "gives us the ability to grow with the concept. As they continue to come up with better solutions and improve the output, we'll be along for the ride."
"Staying on the cutting edge is really important to keep cinema as the premier place to watch movies."

John Fithian, National Association of Theatre Owners
The Barco Escape format, meanwhile, uses three digital projectors and three screens - one at the front of the auditorium and two angled along the side walls - to create an immersive image, either of specially shot sequences in feature films or of advertising or alternative content. It is, says Barco's vice-president of global entertainment Todd Hoddick, "an experience you can't have at home. It's something you need to get off the couch, put down your iPad and go to the cinema to experience."
Exhibitors are being asked to pay an upfront fee of $85,000 (significantly below Barco's costs, according to Hoddick) for a turnkey installation of the system and then $10,000 per auditorium for each Escape format title they screen. The business model, says Hoddick, "guarantees that we don't make money unless we provide content, which is a great comfort for the exhibitor". What it doesn't do is require exhibitors to share revenue from ticket upcharges with the technology provider.
The format was launched last autumn when Kinepolis cinemas in Antwerp and Brussels and five Cinemark locations in the US showed a version of 20th Century Fox's The Maze Runner that included 10 minutes of Escape footage. And this autumn, sequel Maze Runner: The Scorch Trials will screen with Escape content in 25 locations in the US, Europe and China. Over the next three to five years, Barco anticipates installing Escape in 2,500 locations - half of them in China.
To ensure a flow of content, the company recently signed deals with producer Jerry Bruckheimer - who will use Escape on an upcoming project and look at retro-fitting a past hit - and Fox, which has committed to release at least two films in the format annually for the next five years. Hoddick says Barco is also "in negotiations with some of the largest directors in the world, and studios both in Hollywood and China".
Uncertain reception
Big-name content providers will certainly be an asset to both Dolby and Barco as they push their new premium cinema systems. But it will take the support of exhibitors for either to take off, and that support may not be won easily.
For exhibitors, says John Fithian, president and CEO of US trade group the National Association of Theatre Owners, "staying on the cutting edge is really important to keep cinema as the premier place to watch movies. On the other hand, we just spent 10 years going through the most expensive, involved technological transition in the history of our business. So our members have to look at each of these opportunities with an eye towards offering the best experience, but also an eye towards the business model. You're not going to do it just because it's a fun bell and whistle."
"The way that cinema is evolving now, and the way it's positioning itself within the digital environment, is as a premium film-watching venue."

David Hancock, IHS Technology
Some exhibitors are taking a cautious approach. "We are investigating all of this," says Mark Collins, director of projection technology at US circuit Marcus Theatres. "You can't just ignore it. But we do need to investigate it and see what the costs are and what the benefits are."
Others appear more willing to embrace the new offerings, at least on a selective basis. "There's absolutely a place for these new technologies in our cinemas," says Tim Richards, CEO of European exhibitor Vue International, which already has its own Vue Xtreme premium option but is considering introducing Dolby Cinema at a number of its locations. "A lot of these new technologies are very expensive," he concedes, "but we have found that by introducing technologies like this you're getting a higher occupancy rate and more attention, which makes [the cinema] potentially more interesting for younger audiences."
Ultimately, the success or failure of the new premium cinema offerings may depend on the extent to which they can serve the needs of both tech companies and exhibitors. And in the age of digital cinema, suggests David Hancock, research director, film and cinema, at information company IHS Technology (and moderator of a premium cinema session at this month's CineEurope convention), serving both is possible.
"The tech companies obviously started this," says Hancock. "They are looking to extend their businesses and become the linchpins of the new cinema world. But now more and more exhibitors are starting to embrace this stuff. It's allowing cinemas to be a lot more flexible in what they offer to their customers. The way that cinema is evolving now, and the way it's positioning itself within the digital environment, is as a premium film-watching venue."
Innovation hunter 20th Century Fox's resident futurist on 'immersive cinema'
Ted Schilowitz has what he cheerfully acknowledges as "an odd gig, but a good gig". A co-founder of digital camera company Red, Los Angeles-based Schilowitz has been serving as resident futurist at 20th Century Fox, and as what the company calls a 'cinema-vangelist' for global imaging operation Barco.
The consulting relationships, says Schilowitz (who, for good measure, is also president of super-computing start-up Silverdraft), "are essentially two full-time jobs blended together into one very rewarding and interesting life". Schilowitz is currently most visible as a proponent of Barco Escape, Barco's new three-screen immersive movie format, first used on last autumn's Fox release The Maze Runner.
Clear vision
The idea of the format originated when he decided to leave Red and started having discussions with a Barco executive "about what the future of cinema could look like. We both had a very clear idea that just putting an image on a single screen should be coming to an end. We wondered if it were possible to 'break out of the rectangle'. How can you make something more modern and more appropriate for a modern world? That's when we started to get into what we call immersive cinema."
Now, Schilowitz is on the lookout for other technological innovations that might pique the interest of Fox and Barco. "It's my role to bring interesting ideas to the table, and then discuss them openly with the various teams," he explains. "To get out into the world, go meet with developers, go to the various trade shows and conferences and see what might be hiding around the corner.
"It's not the obvious things that are the most valuable and the most important, it's the little oddball things from the young developers and the groups that don't really have any traction."
The role is an unusual one in an industry that could, until it went through the digital transition, seem tradition-bound. But it is a role for which Schilowitz believes he is well suited. "I'm willing to accept that I might not be right about any of this," concedes the affable tech expert, "that I'm just learning and exploring. My goal is to put people at ease, to not scare them about the future, to make them comfortable with what might happen and then start to explore and experiment."
Sign of the times How digital technology will radically alter cinema lobbies
Digital technology is doing more than just giving auditoriums a makeover. Under a 'Lobby Enchantment' banner, Barco is trying to sell exhibitors on a package of lobby signage options that includes LCD and LED displays, video distribution hardware and content creation and management services. It has supplied exhibitors including JT in the Netherlands and ShowBiz Cinemas in the US with animated box office and concessions boards, and lobby trailer displays that allow customers to book tickets directly from the screen.
The hi-tech signage, claims Barco's Todd Hoddick, "is differentiating you from your competition and driving attendance, concession sales and advance ticket sales".
Display technology outfit Christie is working on cinema lobby projects in Asia, South America and the US and, says senior director of experience strategy and creative services Denys Lavigne, having discussions with exhibitors in Europe. Christie offerings include branded MicroTile arrays for large-scale lobby displays, and a digital-out-of-home advertising network that can turn lobby wall-space into a source of revenue.
"Historically, the lobby has been under-utilised in cinemas," argues Lavigne. "We have relationships with studios and with ad agencies and brands, and we can play a role in selling advertising and helping exhibitors generate revenues from these investments."
Tech companies even see untapped potential in the spaces between the cinema lobbies and the auditoriums. One of the design elements of the Dolby Cinema premium offering is an 'audiovisual pathway' that leads movie-goers into the auditorium. For screenings last year of The Hobbit: The Battle Of The Five Armies, Warner Bros made a CGI animatic of Bilbo Baggins'home, the Shire, that Dolby projected along the pathway. The video wall, says Dolby's Stuart Bowling, "really ties into the experience of going to see a movie. You're leaving the noise and business of the theatre lobby and it puts you in the mindset of going on this journey."
Vue International CEO Tim Richards sees digital technology as a way for exhibitors to move beyond static posters and cheesy cardboard standees. "I want our customers to come into one of our cinemas and think this is the future, not the past," he asserts.
Laser-based projection beaming into premium large-format theatres.
Adrian Pennington reports.
Laser-based projection is primed to be the de facto standard for theatrical presentation within a decade, following early adoption at premium large-format sites (PLFs). There are two types: laser-phosphor illuminators are a direct replacement for xenon lamps and will be cheaper to operate; laser RGB has the added benefit of delivering more brightness during 3D screenings.
What that means is an arms race among vendors to equip cinemas with their systems, despite the fact laser-RGB systems currently cost up to $1.1m to install, compared to less than $100,000 for the laser-phosphor systems. "Christie has designed its laser offerings to meet the needs of PLF theatres," says the company's senior director of product management, Don Shaw. "This technology hasn't achieved production economies of scale yet to compete with xenon-lamp-based systems."
Christie is marketing its own laser systems, and has allied with Dolby to supply projectors for Dolby Cinema; other, non-Dolby cinema sites are also in the queue for take-up of Christie's laser projection.
Rival Barco has won five European installs of its own DP4K-60L laser, including Kinepolis in France, Brussels and Madrid, and at JT Bioscopen Hilversum in the Netherlands.
Christie parent Ushio owns laser device supplier Necsel, which also supplies Barco. "We know better than anyone what lasers cost and that xenon solutions are the most economical choice for all but the world's top PLF and premier theatres," insists Shaw.
Imax is rolling out its own system, which incorporates Barco tech, at its largest auditoriums including Toronto's Scotiabank Theatre and London's Empire Leicester Square. Releases need regrading for the greater brightness. Last year, Fox pledged to master all its future 3D titles for laser, and Imax plans to master all its releases separately, starting with Avengers: Age Of Ultron and Tomorrowland.