Dir: Stephen Daldry. 2008.US/UK/Germany. 122 mins.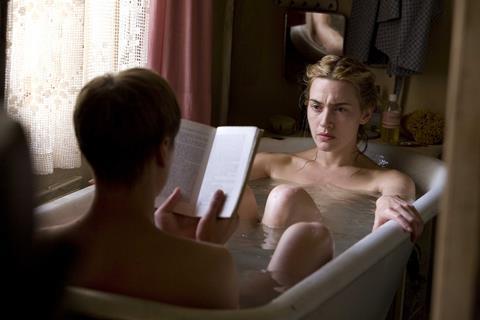 Although it struggles under the weight of its source novel's multiple temporal shifts, The Reader is for the most part a superbly fluid, elegant film crafted with distinctly European sensibilities which suit the bitter story at its heart. Stephen Daldry's third film tones down the heart-on-sleeve emotion of Billy Elliot and The Hours and brings Bernhard Schlink's bestseller to the screen with all its melancholy and stomach-churning dilemmas intact. It takes Daldry to another level as a film-maker of great nuance, and should be a major draw for intelligent audiences everywhere.
The Hours screenwriter David Hare delivers an intelligent adaptation of the book, again in roughly three parts, and the performances here, in particular by Kate Winslet in the film's central and most difficult role, are stupendous. Although older awards voters will find the Holocaust-themed film an uncomfortable one to watch, it will inevitably be a leading contender in multiple categories and could finally deliver Winslet her Oscar.
In a season full of stories about life under The Third Reich (Valkyrie, Defiance, Good),The Reader is the most meaningful, in that it looks at the legacy of Nazi evil on the next generation of Germans. Schlink's provocative story becomes an analogy for all Germans as they struggled - and indeed still struggle - to balance the shame at their parents' actions and complicity with notions of love, understanding and forgiveness.
International film-goers will respond to the story more than wider US audiences. There are no black and white characters or situations in The Reader, and the difficult questions it raises for the viewer will be hard for the multiplex crowd to embrace. Even in its final sequences, The Reader can only offer limited redemption. For that reason, not to mention a measure of unbridled sexual activity, it feels like a European film, and not what you'd expect from a Weinstein-backed end-of-year awards contender set in Europe like Chocolat or Finding Neverland.
The story starts in 1958 in a West German town when the lead character Michael Berg (played by 18-year-old German actor Kross) is 15 years old. While walking home one day, he falls sick with the first symptoms of scarlet fever and is helped back to his parents' house by a passer-by called Hannah Schmitz (Winslet), a bus conductor more than twice his age.
Once he has recovered, the two begin an affair which consumes Michael's thoughts. The two have sex every day after which he reads literature to her at her urging. One day, however, Hannah packs her bags and disappears without a trace, devastating the youthful Michael.
The second section of the film moves forward eight years to 1966. Michael is now at law school and is one of several students who go to witness a nearby war crimes trial. There he sees Hannah again, in the dock with four other women. All were guards at a concentration camp during the war and they are being tried specifically for letting 300 Jewish women burn to death in a church bombing. Hannah is being portrayed as the ringleader of the group and a stunned Michael realises that he has information which could help her case.
The third section stops at points throughout the next three decades as Michael (now played by Fiennes) battles his own feelings for the imprisoned Hannah with his disgust for her crimes. This is the film's least successful part, relying on jumps between large stretches of time and heavy ageing makeup on Winslet which jars with the authenticity of what has come before. (Similar attempts to age Lena Olin, playing a survivor of the fire, are equally distracting.)
Kross is notably natural as the young Michael and he meets every challenge thrown his way from the charged scenes of sex and nudity with Winslet to his character's disillusionment in the second section. Fiennes carries a wrenching sadness in his scenes. But the film belongs to Winslet as Hannah. Speaking with a hard, monotone, German accent, the actress brings a blank, haunted quality to this isolated woman, who is on the one hand lonely and hungry for love, on the other a willing, not entirely unrepentant participant in genocide. As the character ages, Winslet makes her both heartbreaking and pathetic as she achieves a level of remorse.
The film is dedicated to the late producers Anthony Minghella and Sydney Pollack and it is a fitting testament to their legacy. As if on cue in the light of the former's untimely death, Daldry proves himself a worthy inheritor of Minghella's mantle as one of Europe's most compassionate and literate film-makers.
Production companies
Mirage Enterprises
Neunte Babelsberg Film GmbH
US distribution
The Weinstein Company
International sales
The Weinstein Company International
+ 1 646 862 3400
Producers
Anthony Minghella
Sydney Pollack
Donna Gigliotti
Redmond Morris
Screenplay
David Hare
Based on the book by Bernard Schlink
Directors of photography
Chris Menges
Roger Deakins
Production designer
Brigitte Broch
Editor
Claire Simpson
Music
Nico Muhly
Main cast
Kate Winslet
Ralph Fiennes
David Kross
Lena Olin
Bruno Ganz
Susanne Lothar
Linda Bassett
Karoline Herfurth
Hannah Herzsprung
Alexandra Maria Lara