The Red Turtle is the result of a collaboration between Dutch director Michael Dudok de Wit and the iconic Studio Ghibli.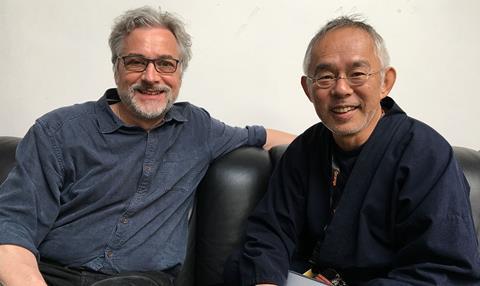 Studio Ghibli had never planned to work with directors outside of its legendary stable. But that changed when the Tokyo-based company's former president and now producer Toshio Suzuki saw Netherlands-born, London-based film-maker Michael Dudok de Wit's Oscar-winning short Father And Daughter 15 years ago. "Michael is different. He is an exception," says Suzuki [pictured top with Dudok de Wit].
Isao Takahata, co-founder of Studio Ghibli with Hayao Miyazaki, took the first step by heading to the 2004 Hiroshima International Film Festival where Dudok de Wit was a jury member. The two became friends, and in 2006 Dudok de Wit was asked if the Ghibli Museum could distribute his short. The studio also asked if he would be interested in making a feature.
Dudok de Wit agreed — on the condition he could tell an original story. Takahata became the project's go-between; Dudok de Wit headed to Tokyo several times and Suzuki and Takahata visited Paris, where co-producer Why Not Productions is based. "I had this idea of a man on a deserted island. I didn't want to tell the story of how he survives, but rather the extreme solitude, the dangers, the insects," says Dudok de Wit.
He travelled to the Seychelles to gain inspiration. The script was written, and then verbally submitted to Ghibli. The animatic stage was next, where pencil sketches were created to visualise how the characters and landscapes would initially look. But Dudok de Wit was struggling with the pacing of his first feature. To help him restructure, Pascal Caucheteux of Why Not Productions brought in scriptwriter Pascale Ferran.
"I had made the classic mistake — my script was too detailed," says Dudok de Wit. "And every time I changed something, I would have to re-draw. The writing process took me a long time; I had over 10,000 drawings. So Pascale and I met each other for months, trying to work out how to keep the elements of isolation without affecting the rest of the story. Initially, we went through this process of adding in more dialogue.
"But when I presented it to Takahata — after many conversations with Studio Ghibli — he came back suggesting the alternative, to do away with the dialogue altogether."
Suzuki adds: "Since his animation is so emotional and powerful, the more we thought about it, the more we liked this bold idea of removing the dialogue. This was new for us too."
Putting pen to tablet
Dudok de Wit was introduced to the Cintiq — a digital pen that allows you to draw on a tablet — while making The Red Turtle at Prima Linea studios in Paris and Angouleme. Both he and his animation team tried two versions of a shot, one with pencil on paper and the other with the digital pencil. "I liked the line of the Cintiq better," Dudok de Wit explains. "And if you want to change something, you don't have to rub it out, redraw and rescan. It also had huge advantages when zooming in or flipping the characters."
The raft and turtles were digitally animated by Jean-Christophe Lie, whose credits include Tarzan and The Hunchback Of Notre Dame. The backgrounds were made with Dudok de Wit's signature style of charcoal drawings with broad strokes and smudged by the palm of the hand. Takahata also helped with "the small details that seem insignificant, but that are actually very strong".
"There was a level of trust in working with Takahata," adds Dudok de Wit. "There was no competition. Sometimes we would have different ideas, but we always found a common ground to work from."
Suzuki admits it was a learning process for the studio: "We are used to working hand-drawn. But Michael showed us another way."
The Red Turtle was awarded the Un Certain Regard Special Jury Prize at Cannes last month.
As for Studio Ghibli's future, it will stay active. While there are no features in the works, the studio says it has not retired from making them (and is not seeking further collaborations).
Famous for its hand-drawn animations, the studio is even exploring digital. "You cannot avoid the use of technology with animation," says Suzuki, noting that 75-year-old Miyazaki is trying his hand at 3D animation, producing a short in-house for the Ghibli Museum. "He [Miyazaki] is used to doing things one way. But the younger animators are teaching him another — that is something he is struggling with," smiles Suzuki.