Actor-filmmaker Shady Srour on his debut feature, which premiered in Tribeca and plays in Jerusalem this week.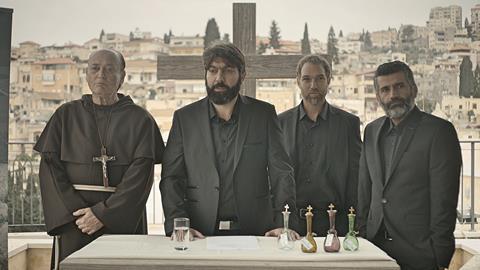 Actor-filmmaker Shady Srour takes a deep breath with Holy Air, his feature debut as a writer-director. Tom Grater reports
Palestinian-Israeli actor Shady Srour rose to prominence in 2015 when he starred in Basil Khalil's short comedy Ave Maria, which premiered at Cannes and went on to be nominated for an Oscar at the 2016 Academy Awards.
He's now made his feature debut as a writer-director with Holy Air (in which he also stars), a comedy about an Israeli man living in Nazareth with his wife who tries to strike it rich by selling bottled air from the Holy Land to tourists.
Despite studying for an acting degree at Tel Aviv University, Srour set his sights on working as a filmmaker early on in his career.
The decision to write material he could act in himself came about after Srour hit a stumbling block in his fledgling acting career, when his agent at the time kept submitting him to auditions for inappropriate roles. "He was sending me to auditions as an Arab, but everybody thought I looked either Jewish, Argentinian or Russian, so I didn't get the parts," he says.
It was around this time that Srour had the initial inspiration for Holy Air, when his wife fell pregnant with his first son, leaving the couple facing significant changes to their lives. He considered producing a docudrama about their situation, featuring his wife, but struggled to attract the required funding. Further down the line, he reimagined the film as a narrative feature, and found the Israeli funds more receptive to the project, eventually receiving backing from the Israel Film Fund and Gesher Film Fund.
Labour of love
Srour produced the film alongside Ilan Moscovitch. The budget was $150,000, which the director describes as "much less than we needed to make the film", but with the money secured they decided to go ahead and jump into production. Shooting was scheduled to take place in a 17-day block, but was disrupted 15 days in when Srour's wife went into labour with the couple's third child. The pair arrived at the hospital at 4.30am, the baby was delivered and Srour was back on set at 7.30am to "continue delivering my other baby, the film".
The completed film was selected to have its world premiere at New York-based Tribeca Film Festival in April this year, in the event's International Narrative Competition. The experience was vindicating for Srour, and very positive for the film itself. "We had four screenings, but they called us and said it was a rush, so they put on another screening. Every cinema was full," he recalls.
The buzz was clearly felt among industry attendees at the festival too, with distributor Samuel Goldwyn Films moving to strike a deal for the title's North American rights with sales representative New Europe Film Sales.
Since then, Holy Air had its first showing in Israel just last week, a behind-closed-doors screening for members of the Israeli Film Academy. "I was really shivering when it was screening," Srour says on his wait for their reactions, but he gleefully adds that the feedback was "fantastic". At Jerusalem Film Festival (JFF), where the film has already screened twice, a final showing will take place on Wednesday (July 19) as part of the JFF On The Go mobile cinema screenings at the Beit HaKerem Community Council in southwest Jerusalem.
Srour is determined to continue acting in his own projects, and has a number of features on the go, including one that would be set in the US and one in Europe. However, he's keeping further details under wraps for now as he waits to see what doors are opened by the international reception to Holy Air.