In Indian epic RRR, song-and-dance sequence Naatu Naatu serves as both storytelling device and entertainment spectacle. Screen talks to director SS Rajamouli, Oscar-nominated composer MM Keeravani and lyricist Chandrabose about a social-media phenomenon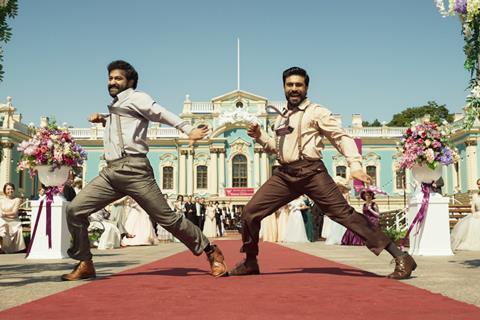 Bheem (played by NT Rama Rao Jr) being chased through a forest by a wolf and running straight into a tiger; Raju (Ram Charan) punching another big cat with a brazier — SS Rajamouli's RRR has countless stand-up-and-cheer highlights (not all tiger-related) but in terms of sheer joy, the best must surely be the 'Naatu Naatu' musical sequence, in which the two undercover revolutionaries perform a fast, frenetic dance.
'Naatu Naatu', composed by MM Keeravani with Telugu-language lyrics by Chandrabose, won a Golden Globe and has been nominated for a best original song Oscar. But before the song began collecting prizes in the west, the sequence — naatu translates as dance — had gone viral, with millions of YouTube views and hundreds of videos of fans imitating the dizzyingly fancy footwork.
Rajamouli was delighted by the phenomenon, but not entirely surprised. Suitability for social media was one of their criteria when planning the sequence with choreographer Prem Rakshith.
"He had to compose a step that would look great with two people doing it together," says Rajamouli, "but not so complicated that no-one could do it. We wanted people to imitate the steps. We wanted brothers and sisters, fathers and sons, mothers and daughters, friends to see it and say, 'That looks so fun, let's try it'. And after a couple of tries, they should be able to do it. We wanted it to go viral on social media, and it took a lot of time [to choreograph]."
Welcome to the 2020s, when the director of an action-packed, politically charged three-hour historical epic does not just have to think about story arcs, characters, themes and imagery — but about YouTube and TikTok, as well.
"Social media has altered our lives in ways we never even dreamt of," Rajamouli says, before adding that when making a film, "keeping social media in mind is a very small part of it". All the same, he hoped the 'Naatu Naatu' sequence would help market RRR around the globe — which it has done, helping the film's global box office to reach more than $150m.
He is certain that Rakshith's just-challenging-enough steps were the crucial element. "Obviously, the scene was well written, and the music was so catchy that it got an Oscar nomination," says Rajamouli. "But I give a lot of the credit to Rakshith. His choreography made the song. He is not just a choreographer — he understands the drama, the emotion of the scene, the nuances, the stardom of the actors, the requirements of the director, everything."
Rajamouli and his collaborators had to take a number of factors into consideration, right from the sequence's pragmatic beginnings.
"There were certain anticipations from the audience that we needed to cater to, and when we announced [Charan and Rao] as leads, the obvious anticipation was that there would be a dance number, because both of them are known in India as great dancers. But I can't just put in a dance number without a reason. The story should require it."
Rajamouli devised a set-piece that works in its own right, whether a viewer has seen the rest of RRR or not. Even viewing the sequence in isolation, it is clear that Raju and Bheem are in the gardens of a Delhi mansion, as guests of British society beauty Jenny (Olivia Morris). One of her snooty associates dismisses them in racist terms, adding: "What do they know about art? About finesse?" Our heroes respond with a dance routine worthy of Gene Kelly and Donald O'Connor in Singin' In The Rain. The Brits try to compete, only to collapse, exhausted, on the dusty ground. The final twist is that Raju fakes a muscle cramp and likewise falls over, so Bheem's beloved Jenny will be impressed by her suitor. "It is a story within a story," says Rajamouli. "It has a beginning, a middle and a conclusion, and it has a character arc. It is a self-contained short film in itself."
That said, the dance sequence also advances and comments on the wider narrative. "The friendship is established and reaches a deeper state," says Keeravani. "The song is a defence mechanism against hostility. There is also a sacrifice involved, because one friend loses the dance contest deliberately for the sake of the other. There are lots of emotions — pride, celebration. It is a very important scene, in the form of a song."
Longtime partners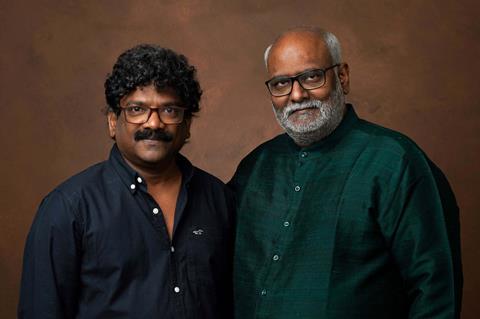 Before Keeravani wrote the music for 'Naatu Naatu', Chandrabose had penned the lyrics, continuing a collaboration that began 28 years ago with the theme tune to a television quiz show. Chandrabose estimates he has since co-written 3,600 songs for 850 films — and that he can still remember the lyrics to 3,000 of them. He was the lyricist for just one of the seven songs in RRR — and that is the one nominated for an Oscar. "By God's grace," he smiles.
The key instruction Rajamouli offered, Chandrabose says, was that the heroes should not be insulting. "You should not criticise the people around you. Your lyric should be about your strength and stamina and ability, but it shouldn't denigrate other people."
Chandrabose dreamt up evocative comparisons between dancing and "gathering under the shade of a banyan tree" and "eating a jowar roti with a chilli", and Keeravani added the melody. "We were asked to come up with a song that would showcase the ethnicity of the motherland," says Keeravani, "and the energetic things we do in childhood and in youth — playing games, dancing to a beat, and everything to do with stamina."
Keeravani is Rajamouli's cousin, and has composed the music for all 13 of his features, going back to 2001's Student No 1. For 'Naatu Naatu', he roughed out between 15 and 20 alternative tunes. "The director wanted to look into many different options, just to be sure. We tried many different tempos and different time signatures, and different lyrics. Finally he went with the first tune I had presented to him."
The process of writing, rewriting and recording the song with its playback singers Rahul Sipligunj and Kaala Bhairava took place over 19 months. "It doesn't mean we spent all of that time on one song," explains Keeravani, "but we were working on it, on and off, throughout that time. It took a consolidated two months in man hours. Normally, we would take anywhere between three and 10 days to write and record a song completely, but this is a very high-budget movie and Rajamouli is known to be a director who doesn't compromise."
Filming in Ukraine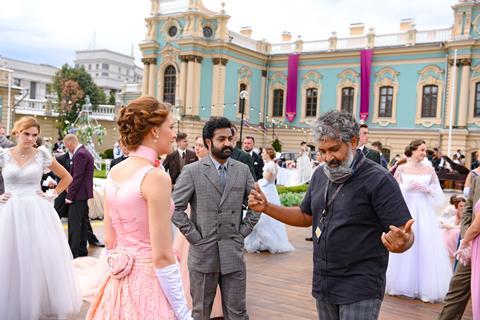 Shooting the sequence was just as labour-intensive. Filming was planned for the end of RRR's production, in the summer of 2021, when Covid-19 restrictions were still in place in much of the world. "It was hard to get a lot of fair-skinned dancers and extras to India," says Rajamouli. "Also, it was monsoon season, and filming a scene outside during monsoon season is not a good idea."
The search was on for a grand civic residence that might look as if it were in colonial India, but was actually in a part of Europe that was accessible to white western performers. The producers settled on Ukraine's Mariinskyi Palace in Kyiv. In August 2021, just six months before the Russian invasion, Rajamouli's team decamped to a setting that would soon be known by the wider world for very different reasons.
"The threat of war was there when we were shooting," he says. "We just didn't know about it because the Ukrainian unit was really cheerful and helpful and worked hard to make sure our deadlines were met.
"When I got back to India, people asked me, 'Are you crazy to film in a country on the verge of war?' but I had no idea of the situation.
"Within months, when we saw the news I felt bad because we had become friendly with the people there. We keep talking to them on the phone, offering what little help we can, and just hoping the situation gets better and people can get back to their lives."
On location, all Rajamouli knew was that he could not overrun. "There was no way I could extend filming past the stipulated time, so there was constant pressure on me. But otherwise it was a breeze."
It does not sound especially breeze-like. 'Naatu Naatu' took 15 shooting days, working 12 hours a day, followed by two hours of rehearsal in the hotel every night. "The steps were not hard, but I wanted them to be in perfect sync," he explains. Alongside Charan and Rao, there were about 50 dancers and between 300 and 400 extras, says Rajamouli — "a decent amount, but not too much."
His fabled perfectionism prompted him to call Chandrabose from Ukraine and request a further four lines of lyrics. "He asked me to include a definition of 'Naatu Naatu' within the song," says Chandrabose. "We had a conference call [with Keeravani], and I was finished 20 minutes later."
"That means the song took 19 months and 20 minutes," adds Keeravani.
A hit on their hands
Did Rajamouli know what a sensation 'Naatu Naatu' would be? "We had an inclination," he admits. "When we had the idea, we thought it might catch on. That increased a little bit after we had the song. It increased a little more when we saw the choreography. And once the song was shot, we were absolutely sure we had a winner on our hands." What he did not expect was that westerners would take to it with such enthusiasm.
Its barrier-breaking appeal was not obvious until Rajamouli attended a sold-out screening at TCL Chinese Theatre in Los Angeles, as part of Beyond Fest in September 2022. "I was thinking maybe it was Indians who had bought the tickets, but when we went to the theatre, 90% of the audience were Americans. And when 'Naatu Naatu' came on, 10 guys ran to the centre of the stage and started dancing."
Even then Rajamouli did not imagine his celebration of music, dance, national identity and male friendship would be the first song from an Indian film to be nominated for an Oscar and to win a Golden Globe. "Obviously, it feels great," he says.
Chandrabose was unable to attend the Golden Globes, but he phoned Keeravani from India after the ceremony. Without even saying hello, Keeravani started singing the game-show theme that the pair had co-written 28 years earlier, "in recognition of our long association", says Keeravani.
"He remembered every line," says Chandrabose. "I felt very, very happy."