More is most definitely more in SS Rajamouli's three-hour Indian historical epic RRR — the smash hit that lit up social media thanks to its wild ambition and adventure. Screen talks to the big-scale, bold-canvas filmmaker.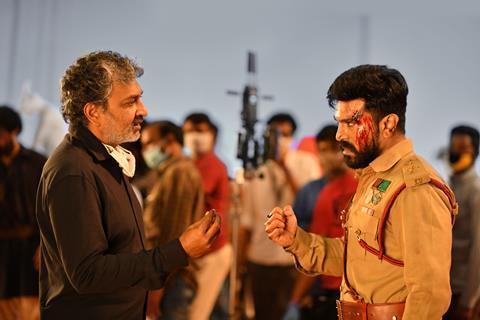 SS Rajamouli is no stranger to success as the director of India's highest-grossing film ever, Baahubali 2: The Conclusion. But the celebrated Indian filmmaker admits even he could not have foreseen the breakout triumph of his latest historical epic, RRR.
"It's unbelievable," says Rajamouli from his home in Hyderabad, south India. "Usually when we release a film, everything is over in a month, but with RRR it's different. It seems unstoppable."
The Telugu-language action drama has made $145m at the worldwide box office since its release in March, including $14.5m in North America through Variance Films, and recorded impressive numbers in markets including Australia ($2.5m), Japan ($1.7m) and the UK and Ireland ($1.1m). However, it is on Netflix where legions of viewers around the world have discovered RRR (sometimes subtitled Rise Roar Revolt), spreading the word over social media and gaining high-profile fans such as the Russo brothers, Scott Derrickson, James Gunn and Sam Raimi.
"I'm trying to find out why westerners like the film so much," says Rajamouli, whose directing career began in 2001 with coming-of-age action film Student No 1, and who has made 12 features to date. "From what I've read on social media, it's a mix of the unapologetic super-heroism and the unexpected movement from action to romance, comedy, dance and action. But this is how we tell stories in India. There's something for everyone."
The three-hour film certainly covers a lot of ground as it follows two patriotic but philosophically opposed men, played by Ram Charan and NT Rama Rao Jr, who inadvertently become friends during British colonial rule in 1920s Delhi and eventually team up to save a young girl.
The two leads portray real Indian revolutionaries Alluri Sitarama Raju and Komaram Bheem, who lived at the same time during the early 20th century but never actually met. The idea for RRR began with the suggestion — what if they had?
Heroic vision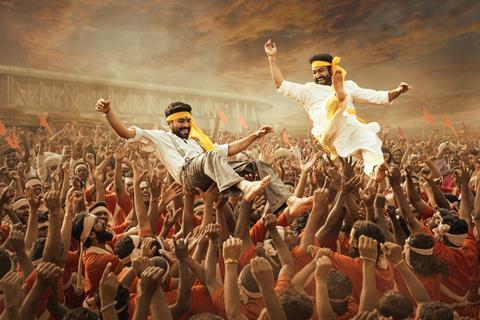 "After Baahubali 2, the idea I was most excited about was a very simple one, 'What if we brought together two heroes?'" Rajamouli recalls. "How many of us imagine two real heroes who we adore coming together to meet and to talk? The question was, which two heroes?"
Rediscovering the stories of Raju and Bheem, the filmmaker realised he had found his protagonists. "We don't know what happened to Alluri and Komaram for around two years of their lives but when they came back, each started fighting against the oppression of the people," he says. "I thought, 'What if I can take that period of time and weave a fictional tale? That way, I don't need to stick to the facts.'"
RRR is co-written by Rajamouli, based on a story by his father Vijayendra Prasad, and produced by DVV Danayya on a budget of $72m (second only to 2018's S Shankar-directed 2.0 as the most expensive Indian film ever made).
Shot over more than 300 days in Hyderabad and Ramoji Film City, with further sequences filmed in Delhi, Bulgaria, the Netherlands and Ukraine, the resulting feature comprises one wildly kinetic scene after another.
Raju is introduced as an Indian officer in the British Army, taking on an angry mob singlehandedly in a scene that involved close to 3,000 extras. Bheem enters the story through a more intimate scene, but with no less jeopardy, as the hero is chased by a tiger through the wilderness. The two heroes first meet saving a young boy who is trapped beneath a burning bridge, in a fantastical fiery scene that forges their friendship.
But it is the show-stopping pre-interval sequence, in which a menagerie of tigers, bears, wolves and antelopes is unleashed on British colonisers at a palace, that has stood out for many who have shared the scene on social media. "Physically, that was definitely the most challenging sequence by far," confirms Rajamouli. "It shot for more than 40 nights, involved almost 2,000 extras and was a logistical nightmare."
Amid the chaos of the scene, Raju and Bheem discover the true identity of each other and realise they can no longer be friends. "I strongly believe that an emotional confrontation amidst action makes for a great cine­matic experience," says the director of his intentions. "The problem we knew we would face was creating the CGI animals."
Extensive 3D animation of the animals was conducted before the shoot, working with visual-effects supervisor V Srinivas Mohan. This meant the CG animals could be composited onto the live-action stunts during filming to ensure they had captured the moment correctly.
"We grossly underestimate the speed of an animal," says Rajamouli. "A tiger runs at 50km per hour and is a 10-foot-long animal, so it's very difficult to move the camera at the speed it travels. We placed LED lights on the ground that would flash to trace the movement of the tiger so the cameraman knew at what speed to move. We also used remote-control cars with small flags showing a tiger, leopard and deer so the actors and extras knew what kind of animals were running around and how they should react."
When the Covid-19 pandemic pushed the release of RRR from January 7 to March 25 this year, Rajamouli says they used the delay to improve several of the animal shots in post-production.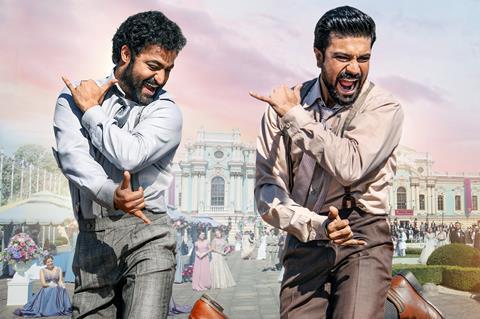 Another standout scene is the now-famous 'Naatu Naatu' dance-off sequence (named for the original song composed by MM Keeravani), clips of which have generated hundreds of millions of views on YouTube. It was shot in Ukraine at Kyiv's Mariinskyi Palace, the ceremonial residence of the president, just months before the Russian invasion.
Watching the sequence now is bittersweet for Rajamouli. "'Naatu Naatu', which is supposed to give so much happiness, makes my heart wrench every time I see it on the screen," he told Screen International in April. "It was hardly five months since we were there, in this happy place that suddenly became a war-torn country. Those feelings come so strongly at me."
Choreographed by Prem Rakshith, the two heroes dance in sync to impress a young woman and upstage their judgmental colonial British hosts. "We had an incredible experience," Rajamouli says of filming in Ukraine. "I absolutely had no idea there was political turmoil boiling over. After we came back, people here were asking me, 'How stupid can you be, going into a country where war could break out at any moment?' But we never felt that. No-one we dealt with there — from the crew to the drivers — made us feel they were going through a crisis."
Awards hopes
Many were surprised not to see RRR submitted by India for the best international feature category at the upcoming 95th US Academy Awards, with Pan Nalin's Last Film Show chosen instead. The Telugu-language film would have been the first Tollywood feature to enter the Oscars race.
"Obviously, we were disappointed when RRR was not selected because of the kind of buzz the film generated in the west," says Rajamouli. "It was like almost everyone knew RRR was the best shot from India to get the award. But we're not the kind of people who sit on it and discuss why it wasn't selected. We think what our next step is."
For RRR, that step will see Variance Films launch a full awards campaign for the action drama, submitting for the Oscars in multiple categories including best picture, director, cinematography and original song (for 'Naatu Naatu') as well as for the lead actors and supporting stars Ajay Devgn and Alia Bhatt. The film will also be submitted in all main categories for the Baftas.
Following the extraordinary success of RRR, plans for a sequel are underway and Rajamouli has had initial discussions with his screenwriter father Prasad, who is working on a story.
In the meantime, Rajamouli is in the writing process for his next feature, an as-yet-untitled project, produced by KL Narayana with Telugu star Mahesh Babu playing the lead. "I want to make an action adventure like Indiana Jones or the novels of Dan Brown [author of The Da Vinci Code]," says the filmmaker. "If everything goes well, I plan to make it a globetrotting film in different places across the world. Adventure with a lot of action."