Dir. Park Chan-wook. South Korea-US. 2009. 133mins.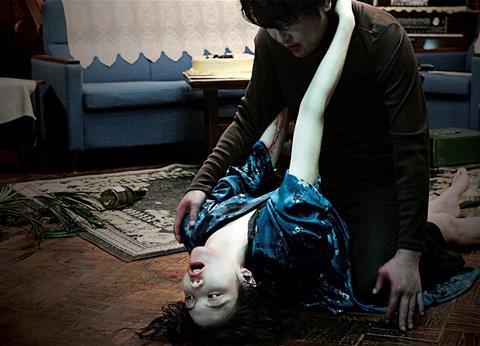 After winning the Cannes Grand Prix with his 2003 revenge epic Oldboy, Park Chan-wook has faltered somewhat (2005's Sympathy For Lady Vengeance, the poorly received I'm A Cyborg, But That's OK in 2006), but his visually arresting vampire movie Thirst looks certain to create a stir: adopting a more lyrical mode than before, this complex and supremely inventive work sees the filmmaker back on top form.
Thirst is not, as some observers expected, a return to a more audience friendly approach - Park is aiming far above the heads of mainstream viewers. But even as it confounds some audiences, Thirst's sheer creativity and cinematic brio will drive word of mouth and propel it to a solid, though not super, international career in theatrical and ancillary markets. Renewed interest in the vampire genre, manifested at the multiplexes by Twilight and in critical circles by Sweden's Let the Right One In, should add to the work's commercial potential.
The film has already recorded the biggest opening of the year in its native Korea, where distributor CJ Entertainment pulled in 1.36m admissions ($7.2m) in the six days after its April 30 release. Co-financier Universal Pictures/Focus Features will handle a forthcoming US release, and the film has secured numerous pre-sales around the world including Palisades Tartan for the UK.
Intriguingly, Park takes Emile Zola's 1867 novel Therese Raquin as the starting point for his story. Sang-hyun (Song) is a Catholic priest who, in an act of moral desperation, volunteers for a dangerous medical experiment in Africa to combat a deadly disease. Contracting the virus, he is at the point of dying when a blood transfusion from an unknown source revives him. Returning to Korea, the symptoms of the disease linger, but he is able to stave them off by giving in to his new, insatiable desire to drink human blood. To his disgust, he realizes that he has become a vampire.
Meanwhile Tae-ju (Kim Ok-vin) is locked in a loveless marriage to a sickly, infantile young man (Shin) doted on by his obsessive mother (Kim Hae-sook). When the priest - a childhood friend of her husband - becomes a regular visitor to her home, Tae-ju's previously suppressed desires and frustrations rush to the fore. Sang-hyun, locked in his own inner battle between conscience and worldly lust, submits to her advances.
Since his breakthrough with Sympathy For Mr. Vengeance in 2002, Park's work has been characterised by its visual inventiveness, dark humour, intense acting performances, and strange but compelling shifts in tone. The first 90 minutes of Thirst is a robust display of these talents, but it is anchored in a melancholic lyricism that is new to Park's oeuvre. Although the focus of its narrative movement is not always clear, in its best moments, Thirst offers something of the poetic force of cinema's timeless masterpieces.
A key plot development comes at the three quarters mark, and at this point the film displays a shift in style to the kind of highly kinetic Park Chan-wook film many viewers might have expected in the first place. Even the production design undergoes a noticeable transformation. Although logically consistent with the plot's development, the shift is slightly unnerving, and it robs some power from what might have been an even more heartbreaking final scene.
In the midst of Thirst's swings in mood and style, it is the restrained, pitch perfect performance of Korea's leading actor Song Kang-ho (The Host) that serves as the film's main unifying presence. In this sense he carries the film's broader themes of guilt, conscience and redemption almost single-handedly.
Tae-ju, modelled after Zola's Therese, is a less consistent character, despite the best efforts of young actress Kim Ok-vin. One of the film's weaknesses is that, perhaps relying too much on the implicit link with the novel, Tae-ju's characterisation in the screenplay lacks depth. Supporting performances, bolstered by a highly experienced cast, are excellent.
Technical aspects of the work, from the smoky colour palates of Jeong Jeong-hun's cinematography to the deliberate artifice of Ryu Seong-hee's antique-styled production design, are as good as anything in contemporary Asian cinema.
Production company
Moho Films
International sales
CJ Entertainment, (82) 2 2017 1193
Producers
Miky Lee
Katharine Kim
Park Chan-wook
An Soo-hyun
Screenplay
Park Chan-wook
Jeong Seo-gyeong
Cinematography
Jeong Jeong-hun
Production design
Ryu Seong-hee
Music
Jo Young-wook
Main cast
Song Kang-ho
Kim Ok-vin
Kim Hae-sook
Shin Ha-kyun
Park In-hwan
Song Young-chang
Oh Dal-soo